Dear Readers,
This edition of The Haber Report will cover the Beaune area which is sometimes considered the wine capital of Burgundy. It will be the last one on Burgundy (& probably the last report on this wonderful trip).
Day 8
We started our morning at Domaine Debray which is a very small, newer (started in only 2006) winery. We had a private tour of their cellar & wine making facility followed by a tasting of 6 of their wines, including some of their higher end products.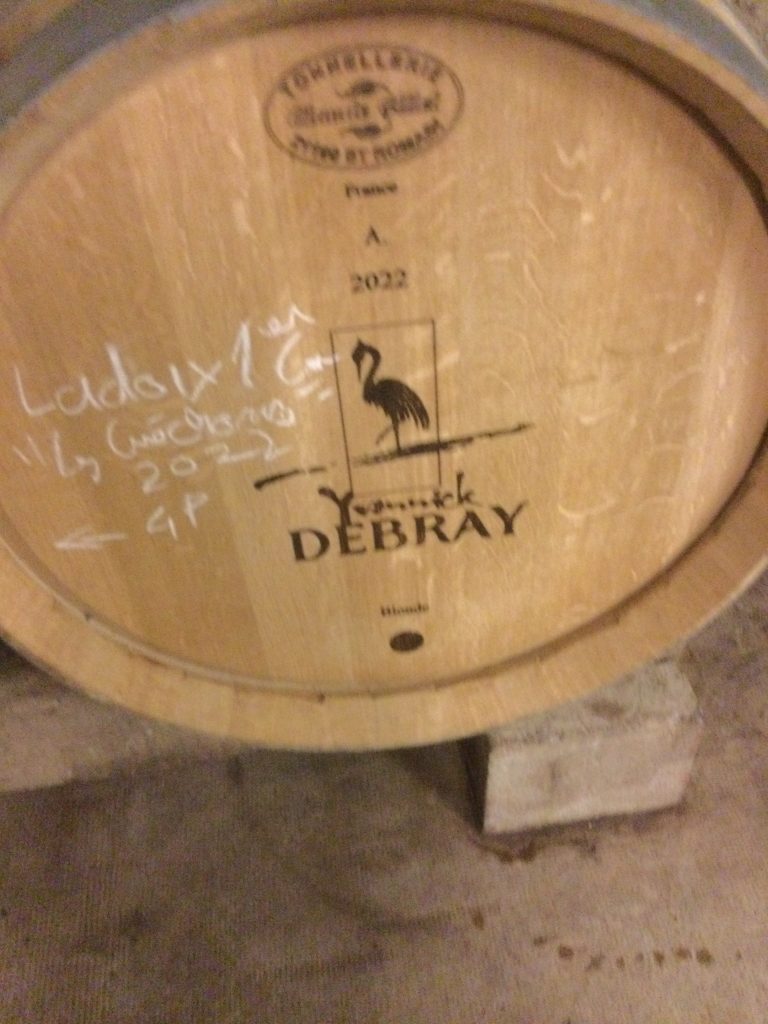 We had no other plans till the afternoon so we wandered around Beaune. It is a small charming city with a population of about 22,000. It has a very different feel to it from what we've seen before on this trip. I liked it a lot. Here's a market we came across.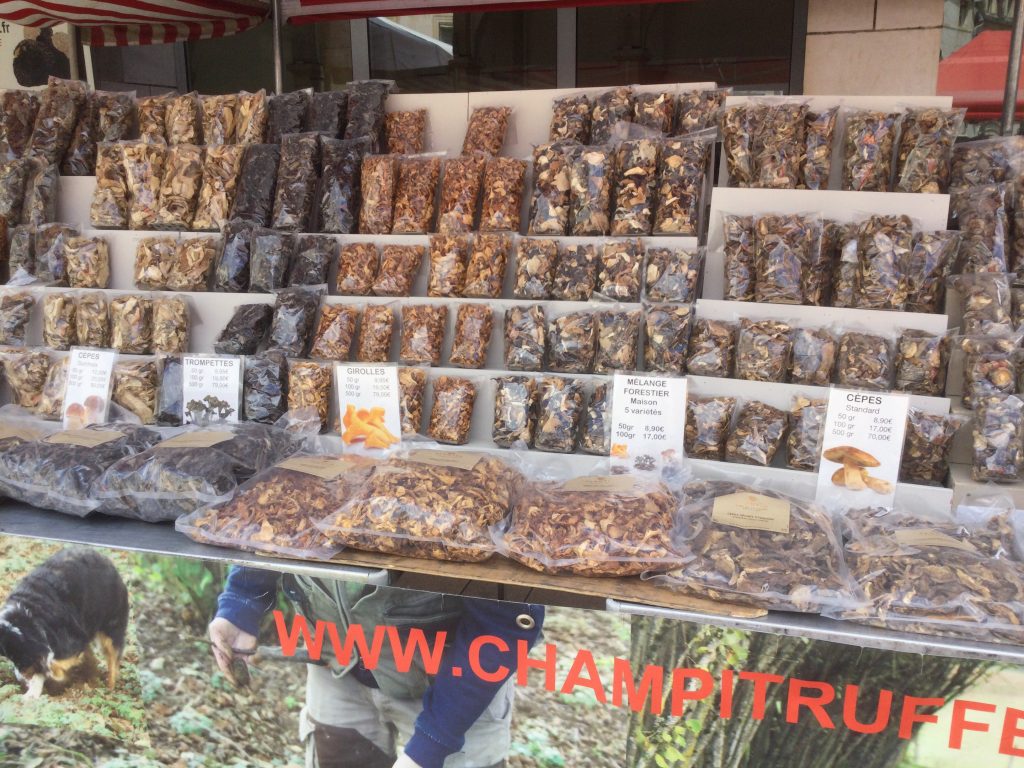 Here's a gelato store we passed.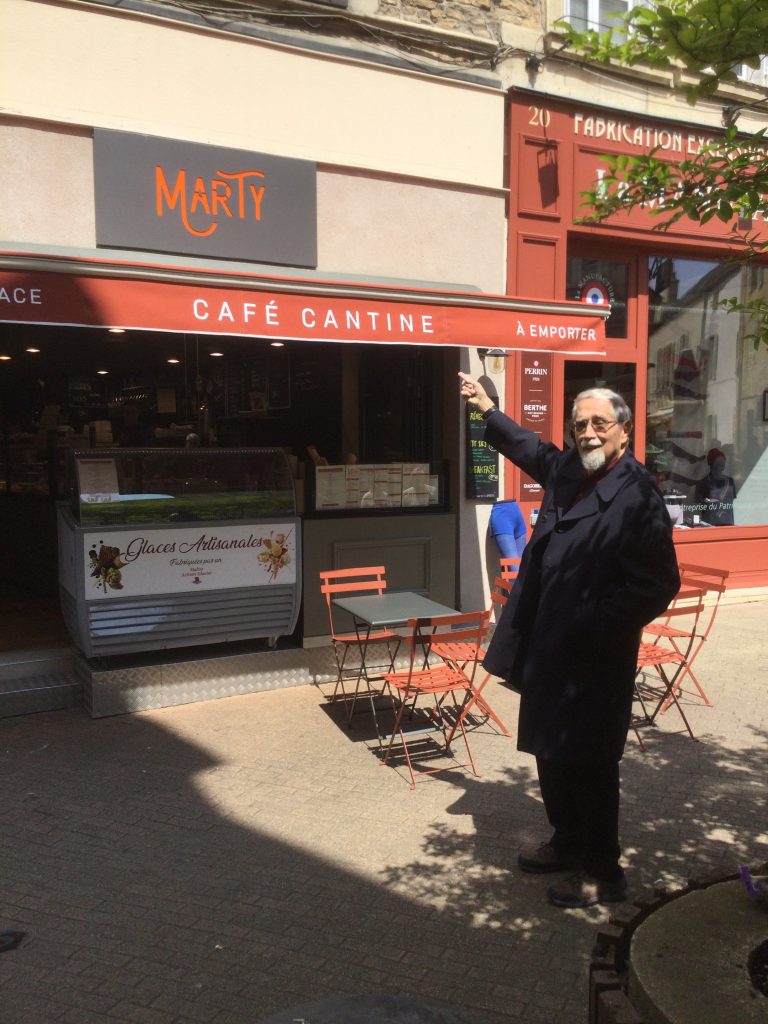 And here's a little street I liked.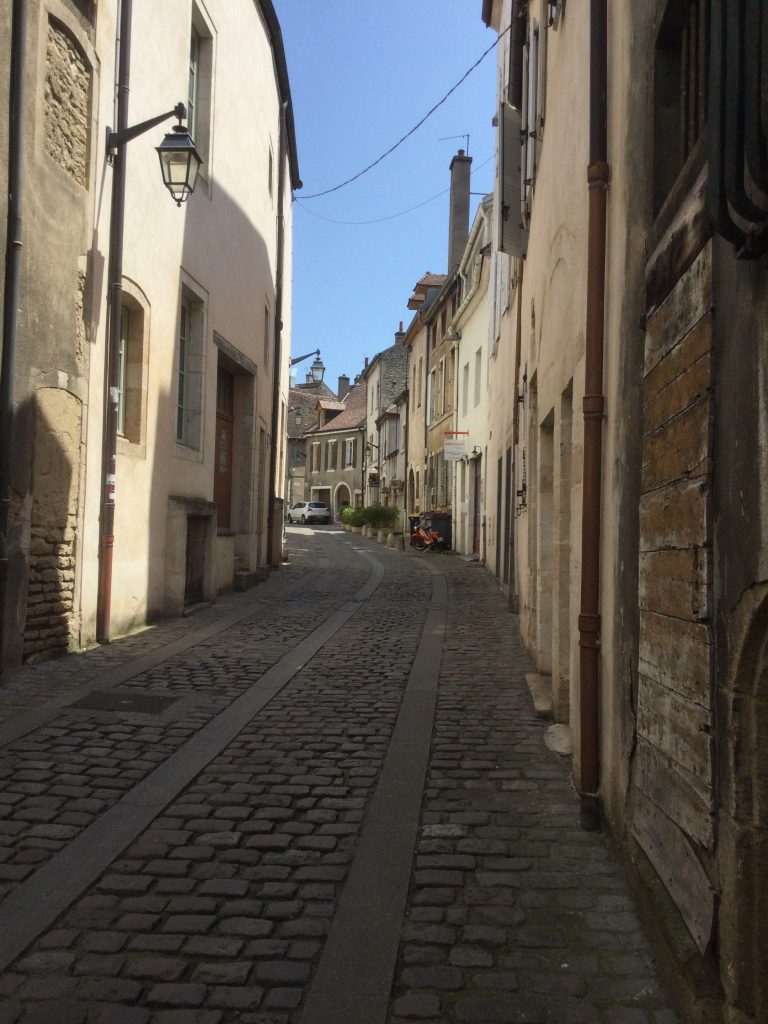 I saw a sign for the Museum of Wine so naturally we went there. The museum traces the history of vine collecting and wine making in Burgundy. I thought it was well done. Here are old bottles that were used for wine. Notice how the shape has changed over time.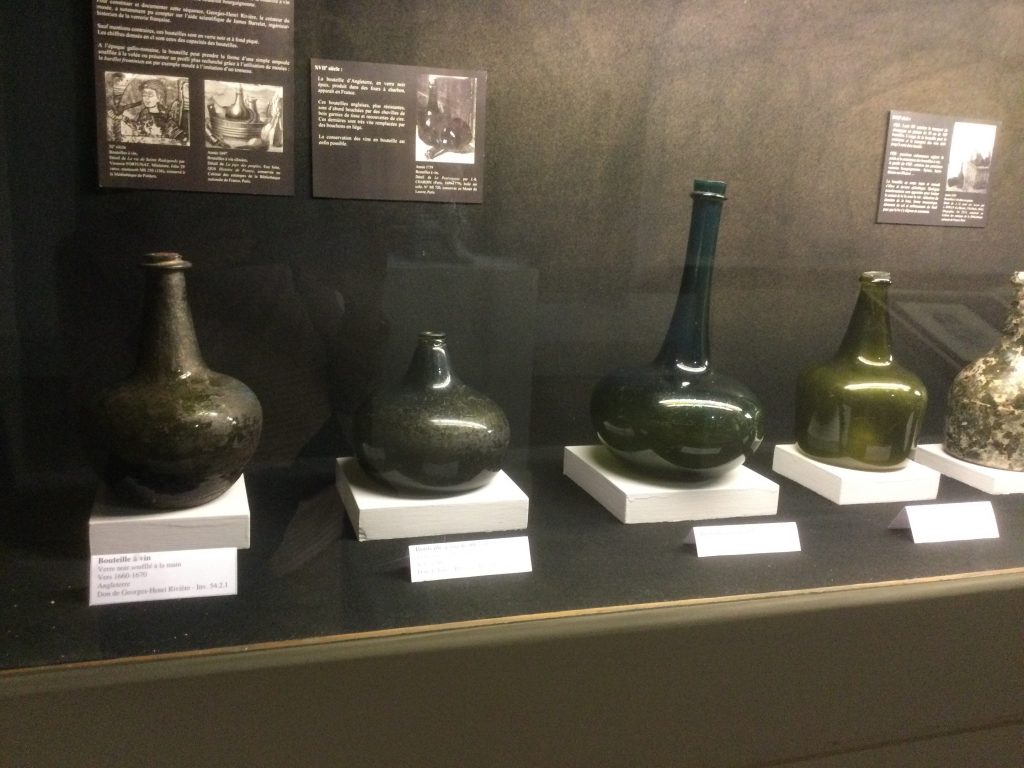 Our afternoon activity was a mustard tour and tasting, but first we wanted a bite to eat. (I know, we seem to be eating all the time!). We stopped at a boulangerie. They had a great looking baguette with ham and cheese BUT no mustard to put on it! How could this be? We decided to pass on it & continued walking a bit to Fallot Moutarde. We asked where we could get a sandwich & were directed back to the place we had just abandoned. When I said "But they had no mustard", he gave us a small jar of Dijon mustard. He even gave me a choice of flavors. I opted for the traditional plain one. We went back to the boulangerie, got the sandwich & spread the mustard on it. It was delicious.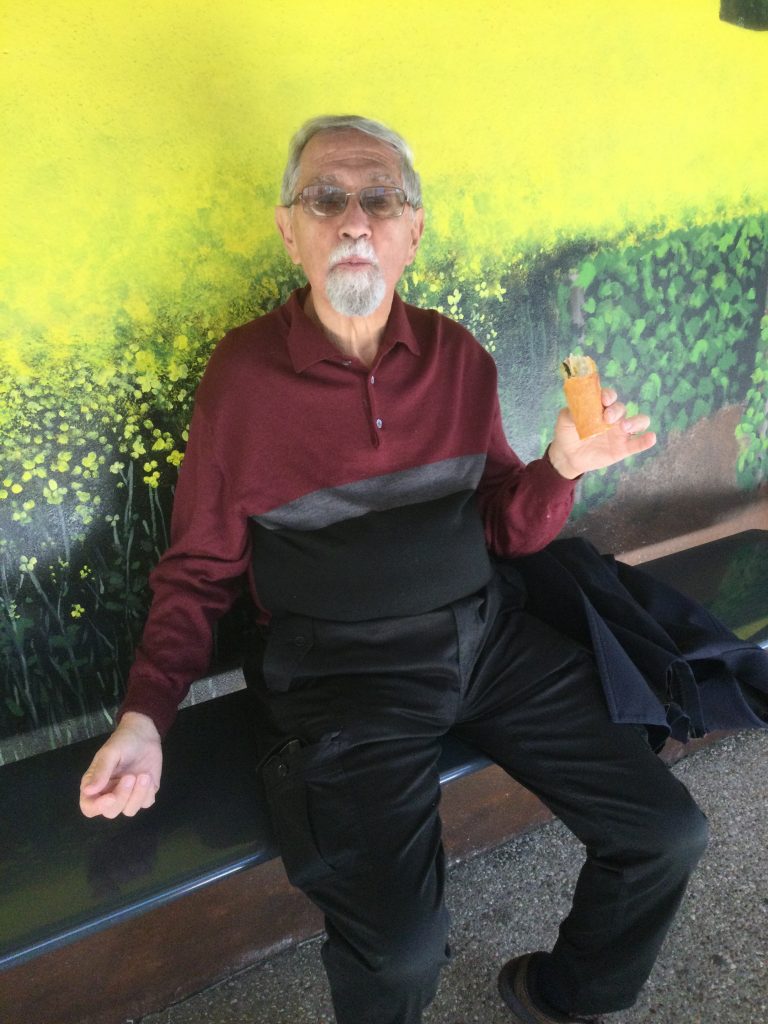 After our lunch it was time for the tour of the mustard factory followed by a tasting of several of their flavored mustards. We learned that not all Dijon mustard starts with seeds from Dijon or even from France; there's a shortage of French mustard seeds. Unlike Champagne (for example), Dijon mustard is not a protected name. So many Dijon mustards start with mustard seeds from Canada! Fallot, however, is the oldest mustard factory in France and ALL of their mustard comes from mustard seeds grown in France (& as a result, they don't produce as much mustard as other well known brands).
Among the flavored mustards I sampled I really liked one made with nuts, so I bought a small bottle to bring back home.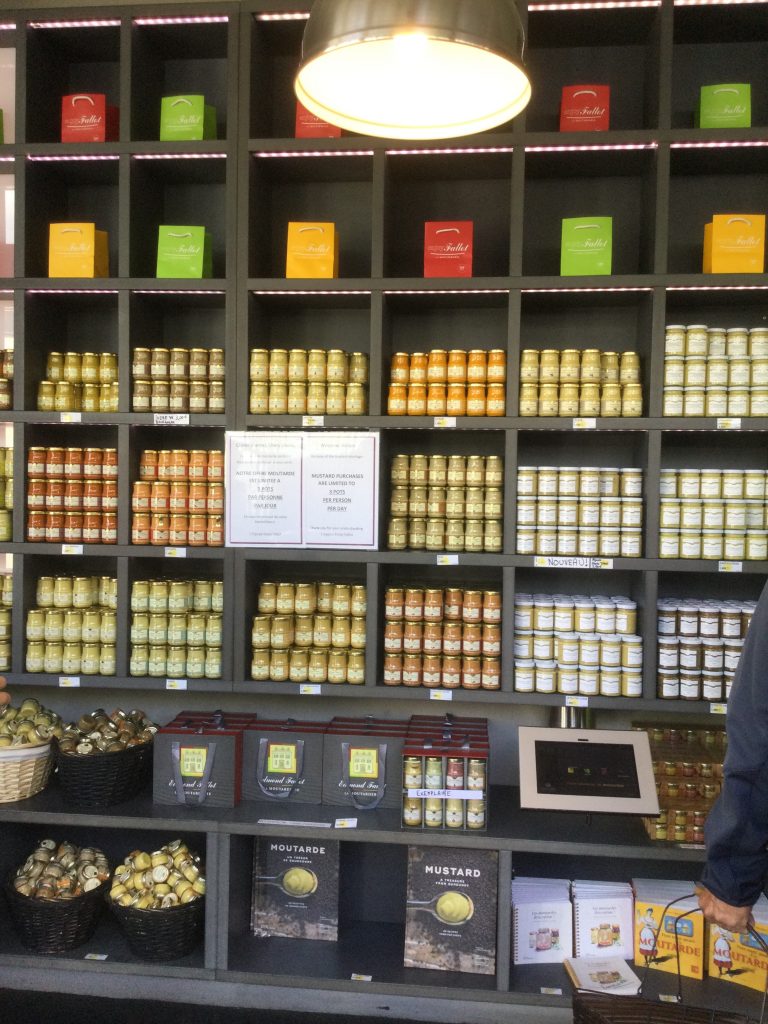 To change things up a bit, we had dinner at a small Italian restaurant. It looked sorta like a diner. There was one chef in full view doing everything. Marty had pizza (naturally) & I had poulet (chicken) Parmesan. In keeping with the spirit of the place, we drank an Italian wine. All were tasty.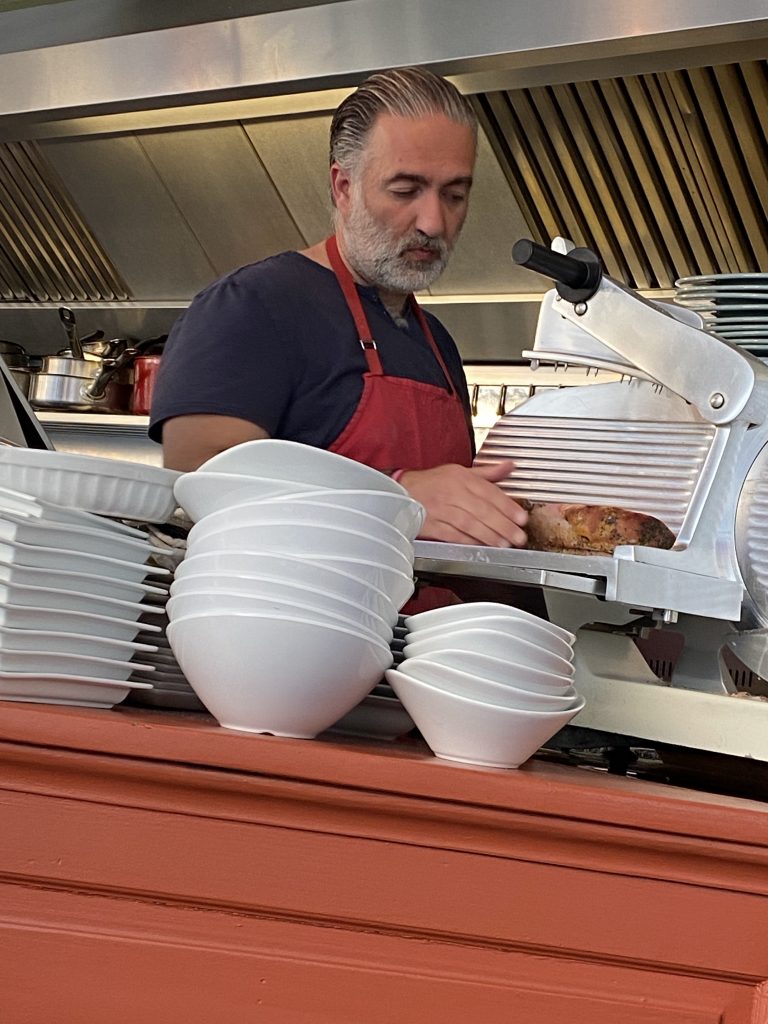 Day 9
This morning we drove 25 miles to Château Clos de Vougeot. It was constructed in the 12th century by Cistercian monks who were in need of wine for mass. It is no longer functioning as a winery, only as a tourist attraction. There are 2 huge 13th century grape pressers which are true marvels of medieval engineering.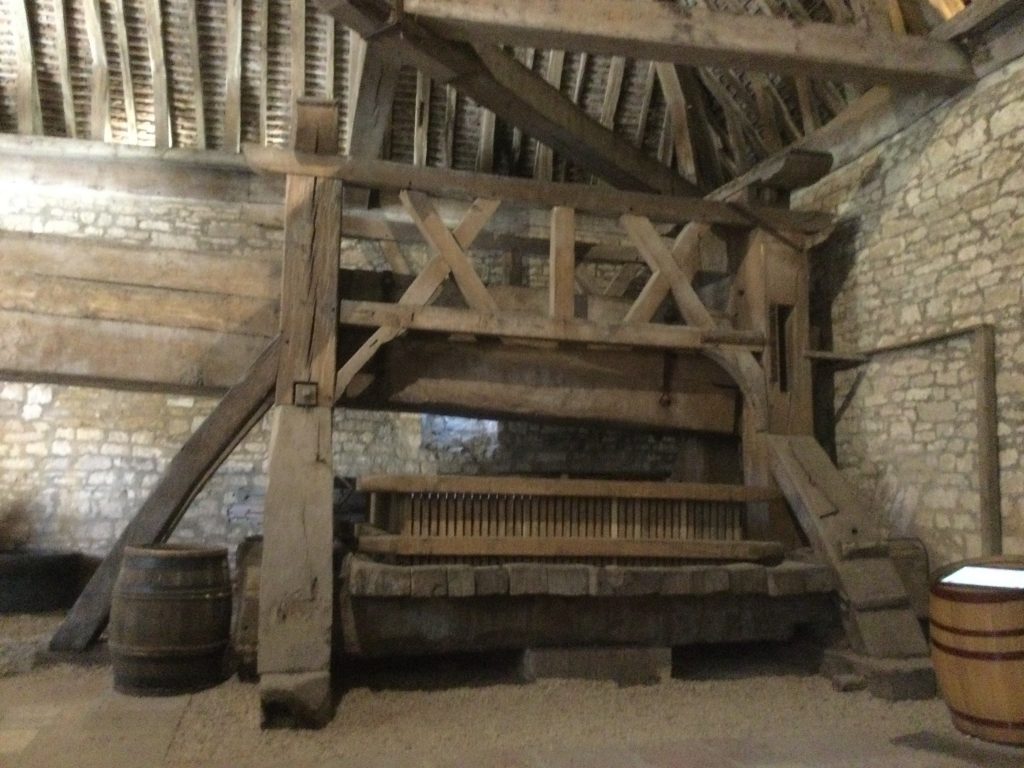 From there we drove to Chateau de Savigny. Besides being a huge castle, it contains several small museums for the owner's racing cars, planes, tractors & motorbikes. It was unusual, to say the least.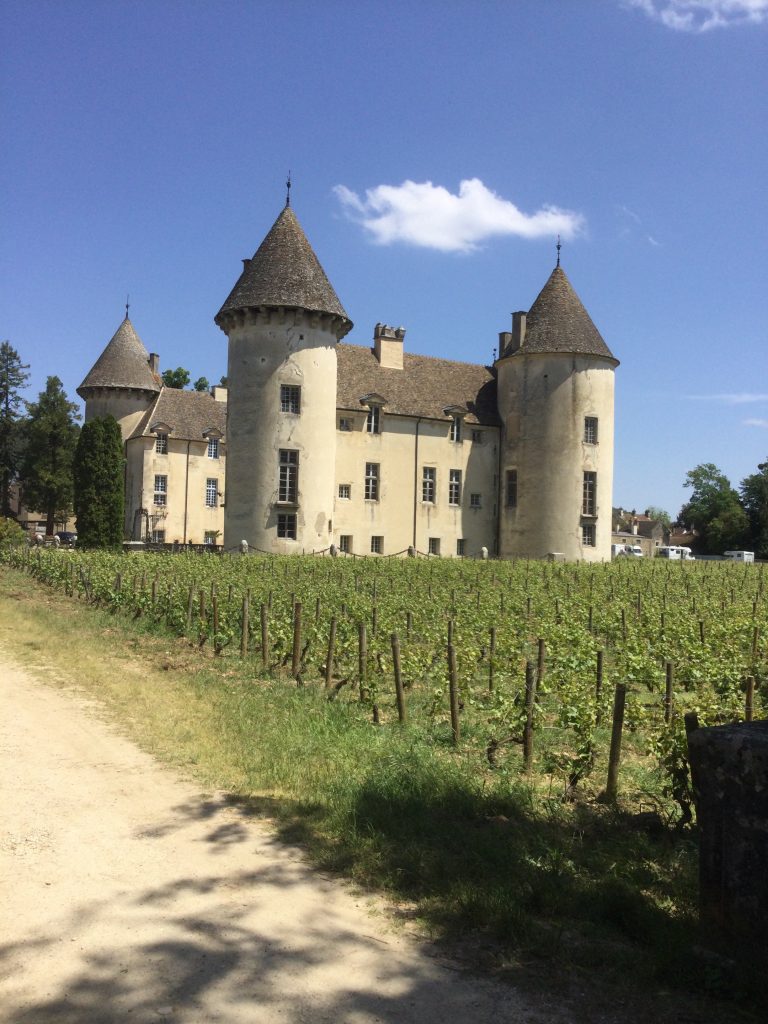 By now, of course, it was time to eat lunch. We fell into a cute little place and had charcuterie, cheese and wine. (I'll definitely need to detox and diet when we return home!!)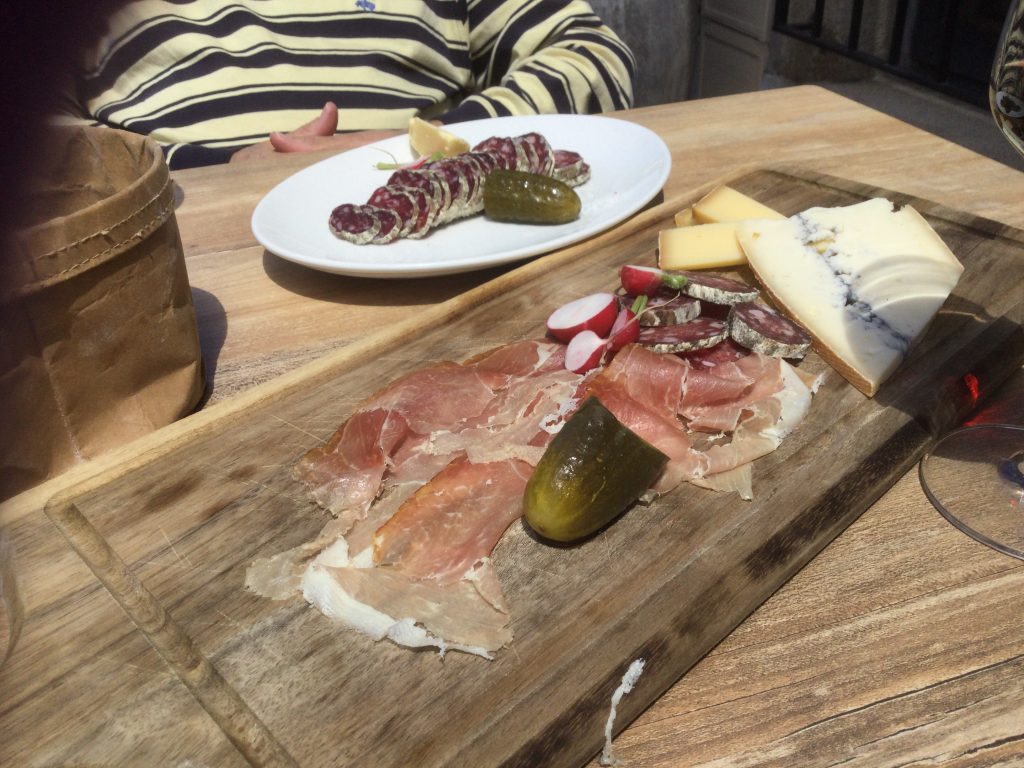 Then we drove to the Montaigne des Trois Croix (Mountain of 3 Crosses) in Santenay. I had read that there was a great view from the top of the mountain. Small winding roads up a hill to get there and in order to actually see the view, a short hike was required. Marty wasn't having any part of that, but your intrepid reporter marched on.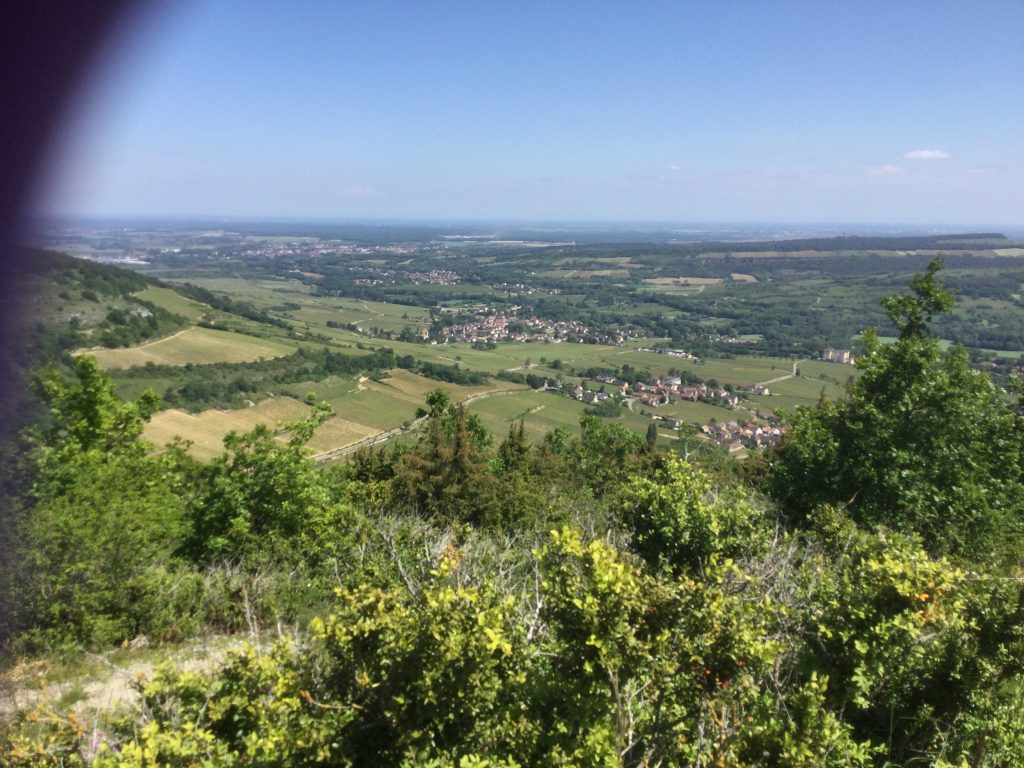 Dinner was at Le Petit Paradise (Small Paradise) & it lived up to its name. It had only 9 tables. I had read about it in 2 different publications so I had high hopes. We both had the vegetable soup to start. While it had interesting veggies in it, neither of us liked the bouillon. I was getting nervous. Well, the rest of the meal blew me away. I had a baked fish with snails & mushrooms; it was amazing; BEST dish I have had on this trip so far. AND a chocolate mousse for dessert. Finally some chocolate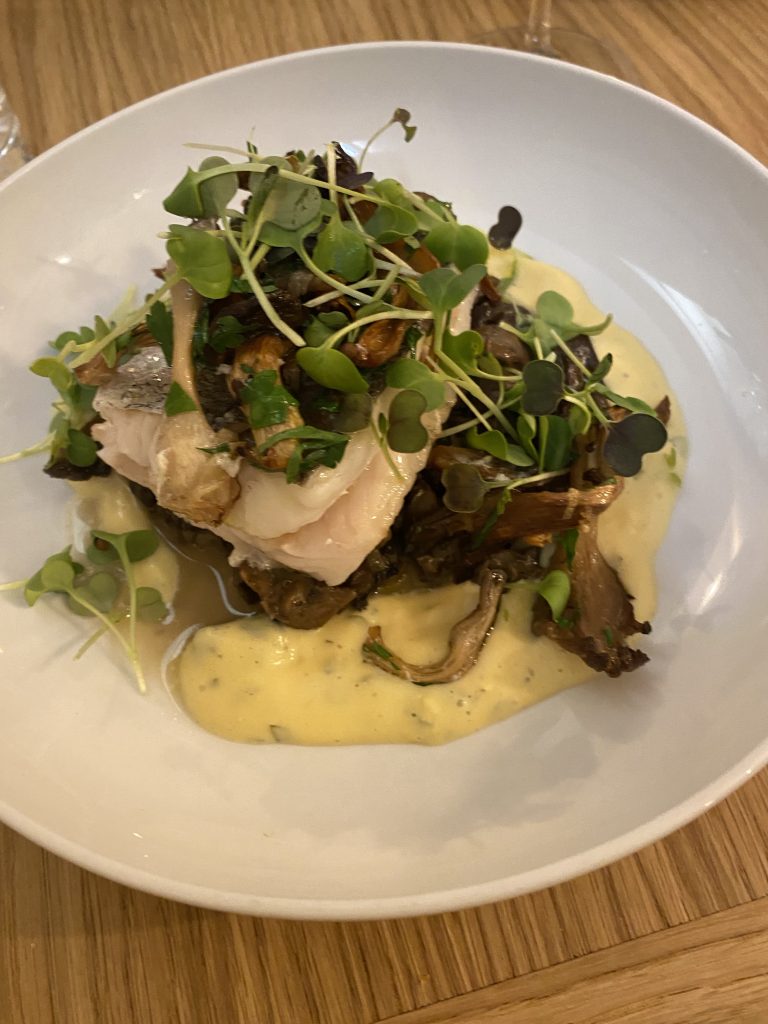 Day 10
We started the day by walking a bit through Beaune to see a mural that had been made in homage of shooting a film in Beaune.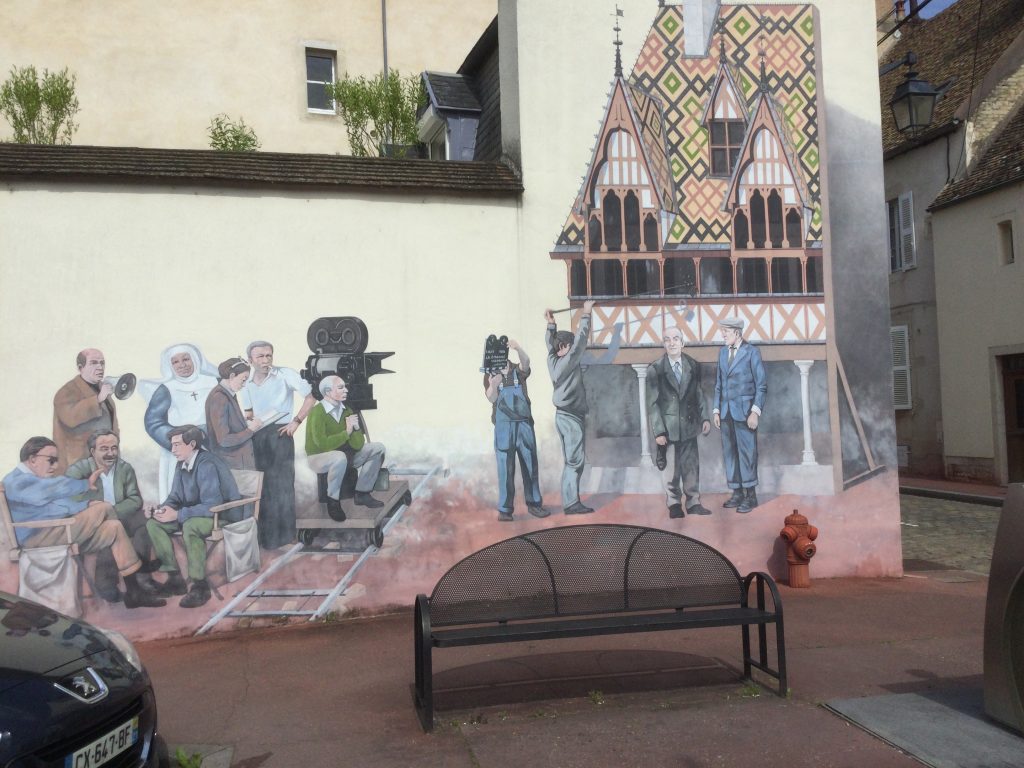 We then drove less than 10 minutes to Pommard; another one of those familiar places. Here we went to a tasting room (rather than a winery). We tasted 4 whites and 4 reds. They were accompanied with charcuterie and cheeses. Quite delicious.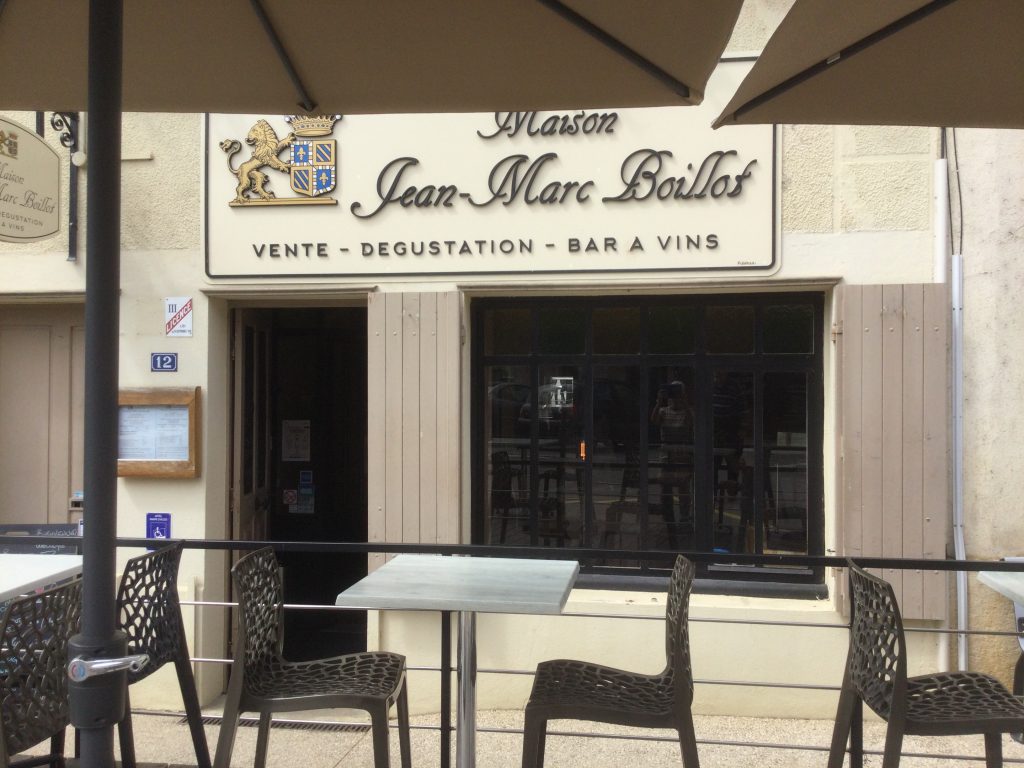 At this point we tried to find yet another chateau I had read about, but we failed in our endeavor. We returned to our hotel with a totally free afternoon! Unheard of! Marty went to take a nap & I treated myself to a massage. The masseuse was male, so that was an interesting experience.
For dinner we went to what was variously called a "gastro bar", a "tapas bar" and a "wine bar". Dinner became a repeat of lunch. We had charcuterie, cheese & wine followed by chocolate lava cake. I think I've died & gone to food heaven!!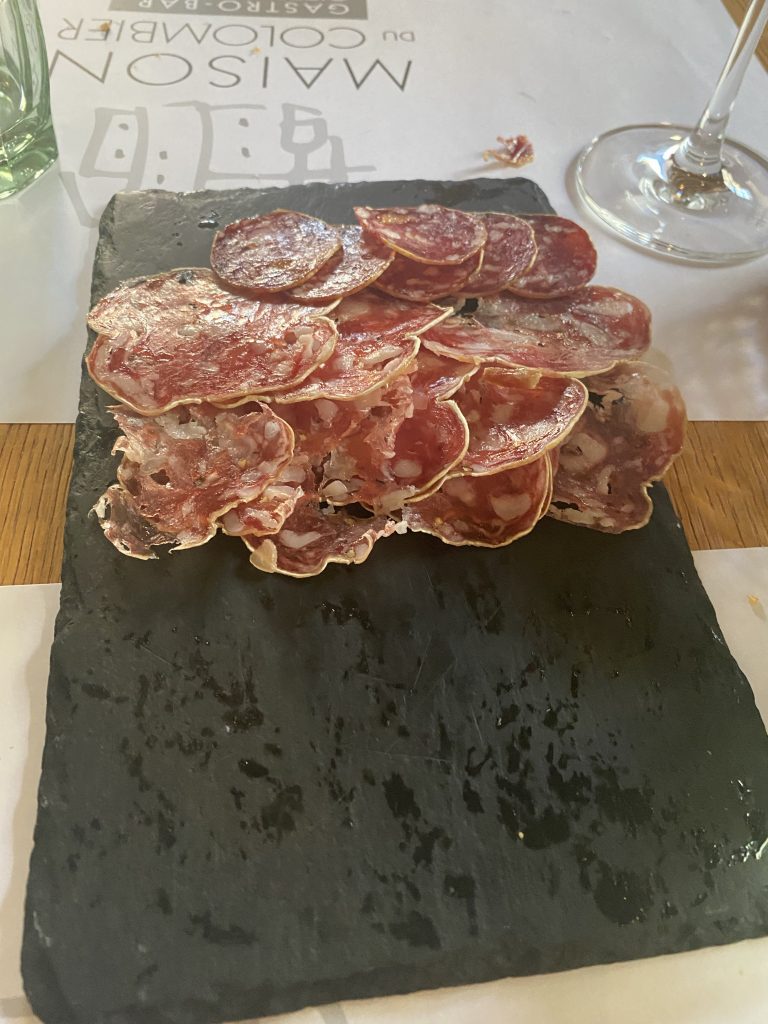 Day 11
We seem to have kept the best for last. This was our last full day in Burgundy. We decided not to have breakfast (read on; we didn't skip any meals) in our hotel (as we had been doing) & wandered through Beaune looking for a place to eat. It was Saturday morning and market day. There was an incredible market set up for many many blocks; all different kinds of food plus clothing & household items.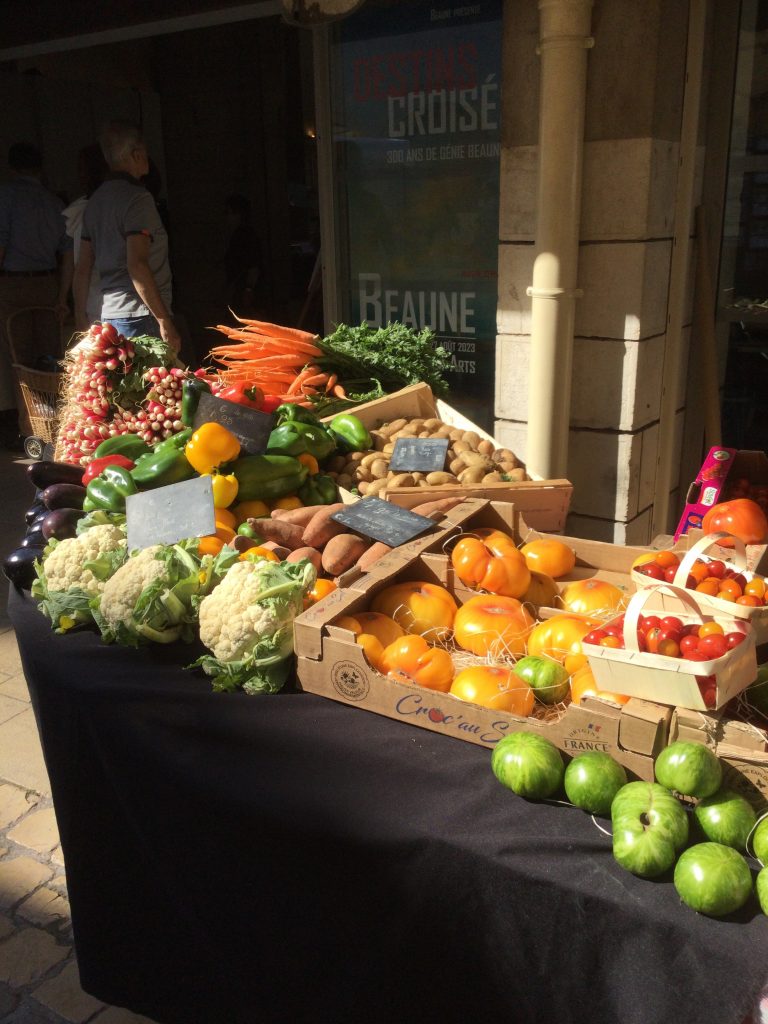 After breakfast we drove to Pommard again to the Chateau de Pommard for our last wine tasting session. This was a huge château, much more elegant than anything we had previously encountered on this trip. It was founded in 1726. We learned that each label in their collection is grown in different layers of clay and limestone which gives each one a distinctive taste. These were my favorite wines on this trip.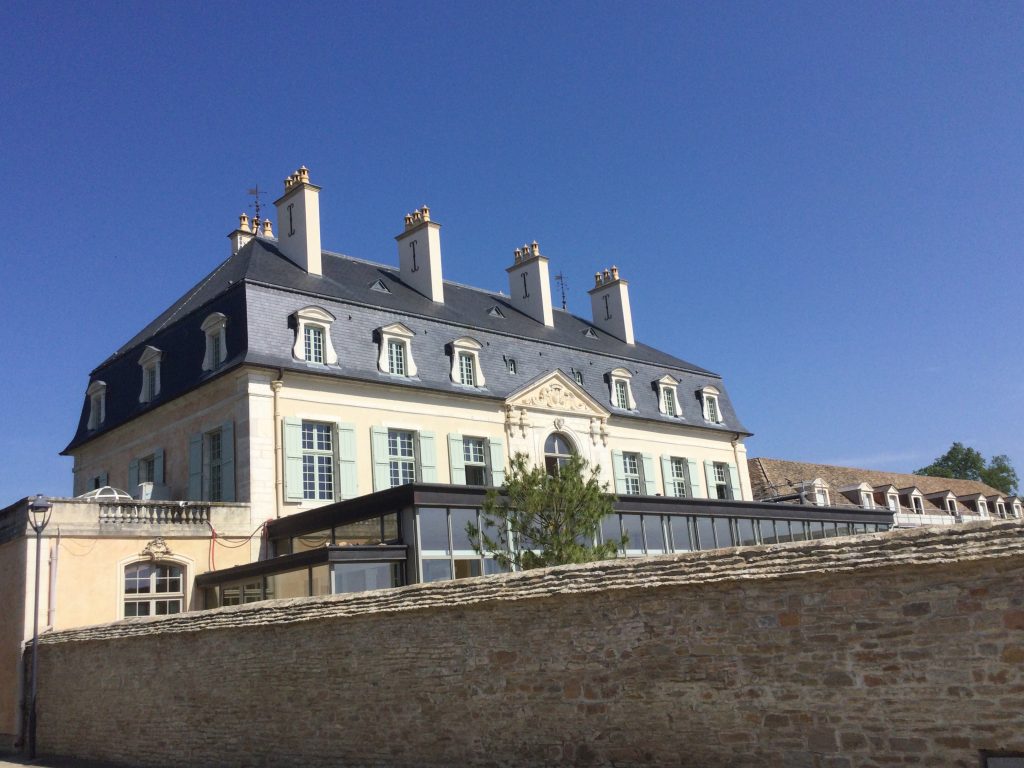 The last item on my Burgundy sightseeing agenda was back in Beaune. It was the Hospices de Beaune better know as Hotel Dieu. It was founded in 1443 as a hospital to provide free care for men who had fought in the Hundred Years' War. This was definitely a highlight of our trip. Its tiled roofs & Flemish architecture have become icons of Burgundy. As Marty put it: "Who would have thought a hospital would have been this interesting?"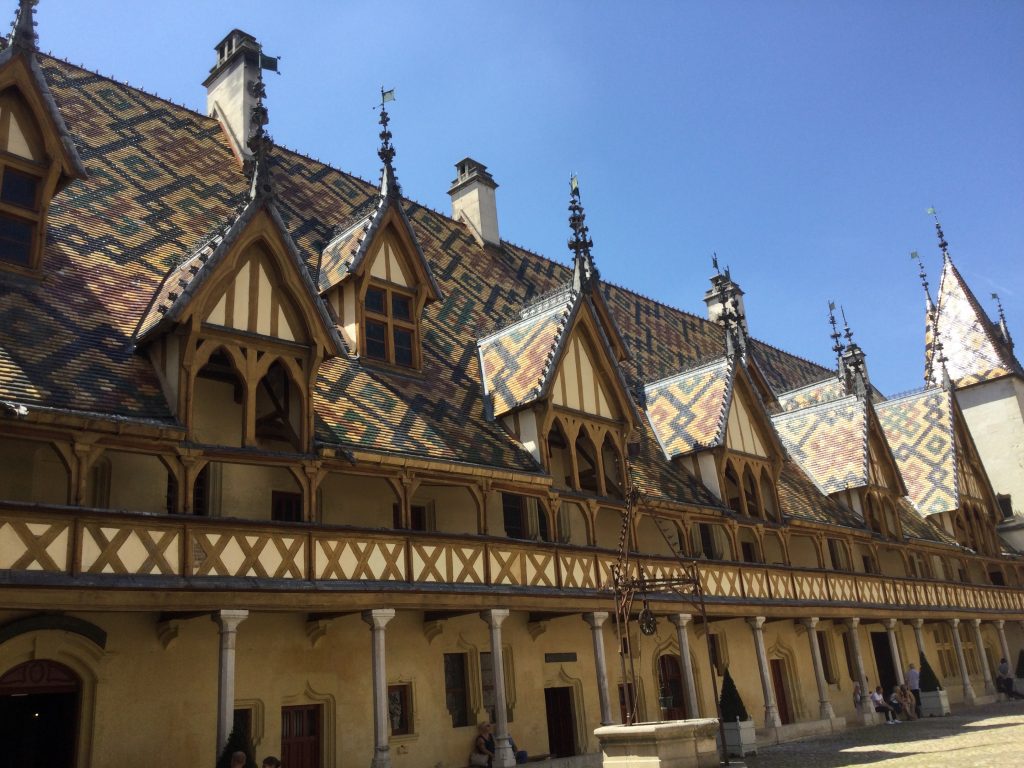 Our last dinner in Burgundy was at Bistro de L'Hotel De Beaune. This restaurant I read about in 3 different publications and it was the poulet de Bresse which was touted. The meal was excellent; the chicken dish was possibly the best chicken we've ever had. To start Marty had escargot and I had an amazing pea soup. Are you read for this: we passed on both cheese and dessert.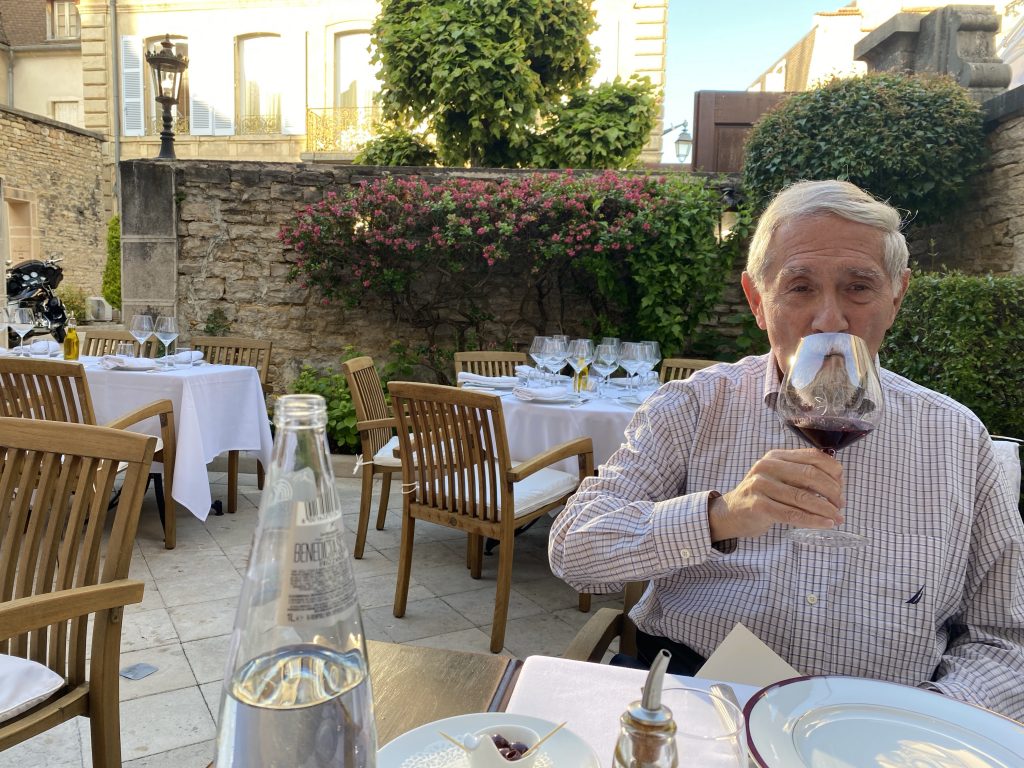 This conclude our journey through Burgundy. It's been quite an adventure, especially in terms of the wines and foods. On Sunday (Day 12 of our trip) we will be driving back to Dijon (about an hour), giving in our rental car and taking the train to Paris. I have decided not to write a Haber Report from Paris, but will give you a preview of what we will be doing.
Sunday (Day 12): arrive at the train station in Paris at 3:15 PM; being picked up by our hotel. At 6 PM we are going to the Fondation Vuitton (a relatively new museum) to see an exhibit on the collaboration of Warhol & Basquiat (& yes, we saw the play about them this past season). At 7:30 we have a reservation at a small bistro.
Monday (Day 13 – also my birthday!): We are spending the day at the French Open. Dinner will be at Arpege. This entire trip had been scheduled for May 2020 & thus this particular restaurant was selected almost 4 years ago. At that time it had been ranked the #8 restaurant in the world. I just checked; it's now #31. Should still be outstanding. It is, after all, a Michelin 3 star restaurant.
Tuesday (Day 14) – Museum Day: Hotel de La Marine (which is a house museum that's only been open since last July), followed by a Manet & Degas exhibit at the Musee d'Orsay and finally both a Picasso & Faith Ringgold exhibit at the Musee Picasso. Dinner will be at a small relatively unknown restaurant that I read about shortly before we left on this trip.
Wednesday (Day 15): A quick visit to the studio of Alberto Giacometti &, if time permits, a walk through the Butte aux Cailles neighborhood. We fly home at 4:30.
It's been a great trip for Marty & me. I enjoyed taking you all along with me. I hope you enjoyed our trip as well. Till the next adventure, I remain your loyal travel correspondent.
❤️
Irene