Dear Loyal Readers,
We are so happy to be back in London – one of our favorite cities.
By the time we flew hereon Monday, taxied into town, got into our hotel room, etc., it was 4:30 PM. Kinda late, but we're only here for a few days, so I figured we had to do something! I decided we should walk around the Marylebone neighborhood which I had not explored on prior visits to London. The next thing I knew it was 90 minutes later and 13,000 steps! Marylebone is a chic residential area with a village feel with lots of boutiques and restaurants.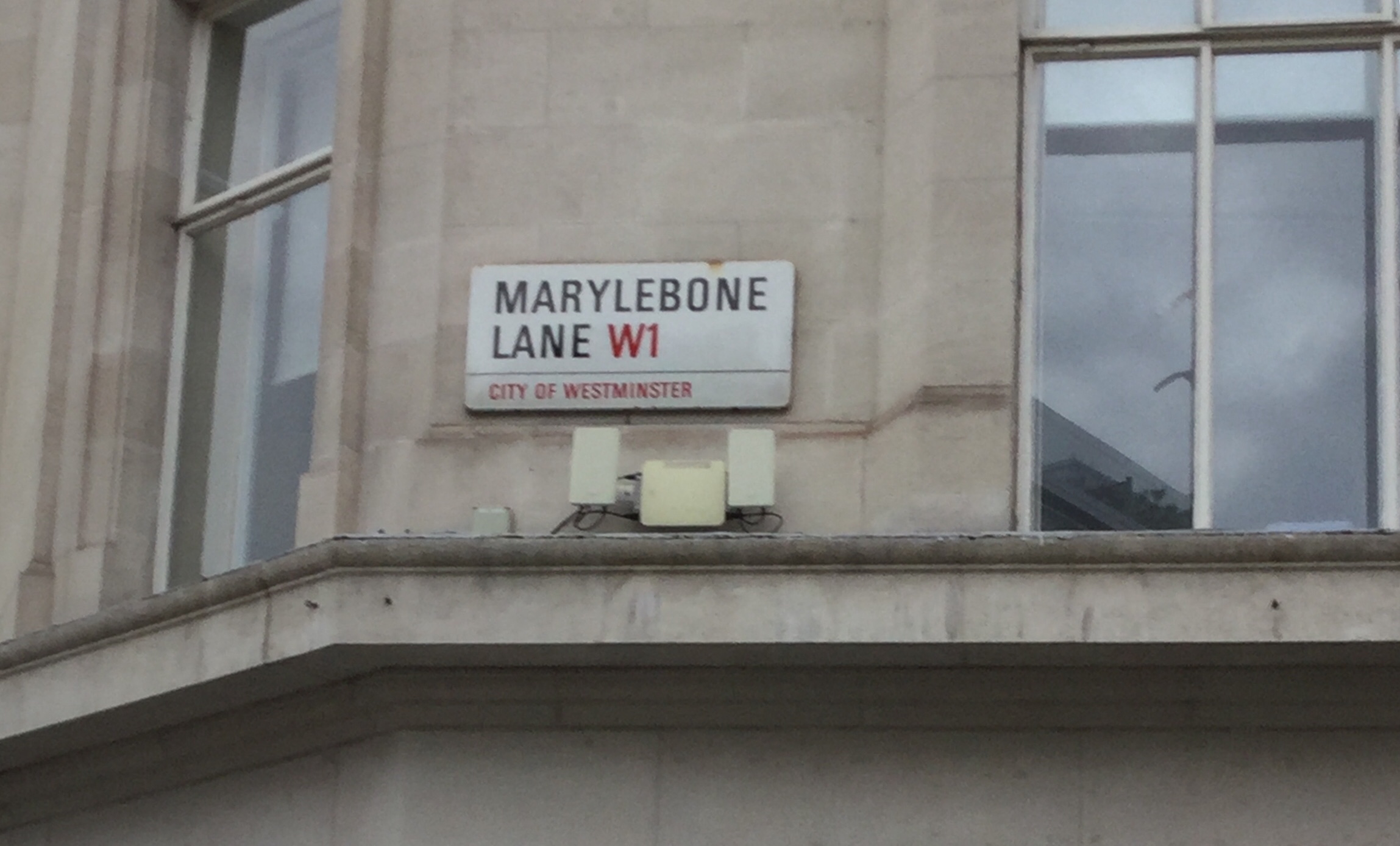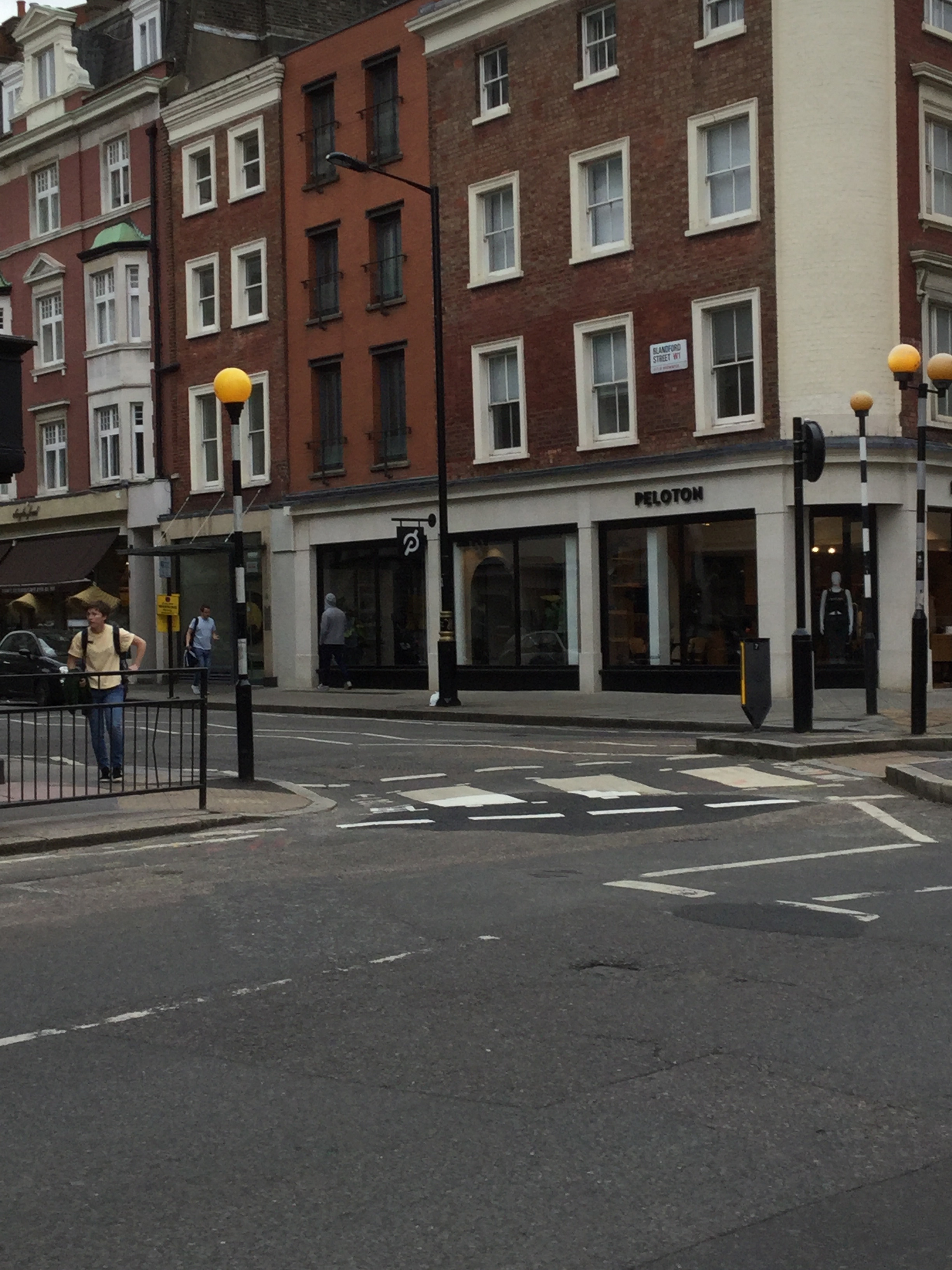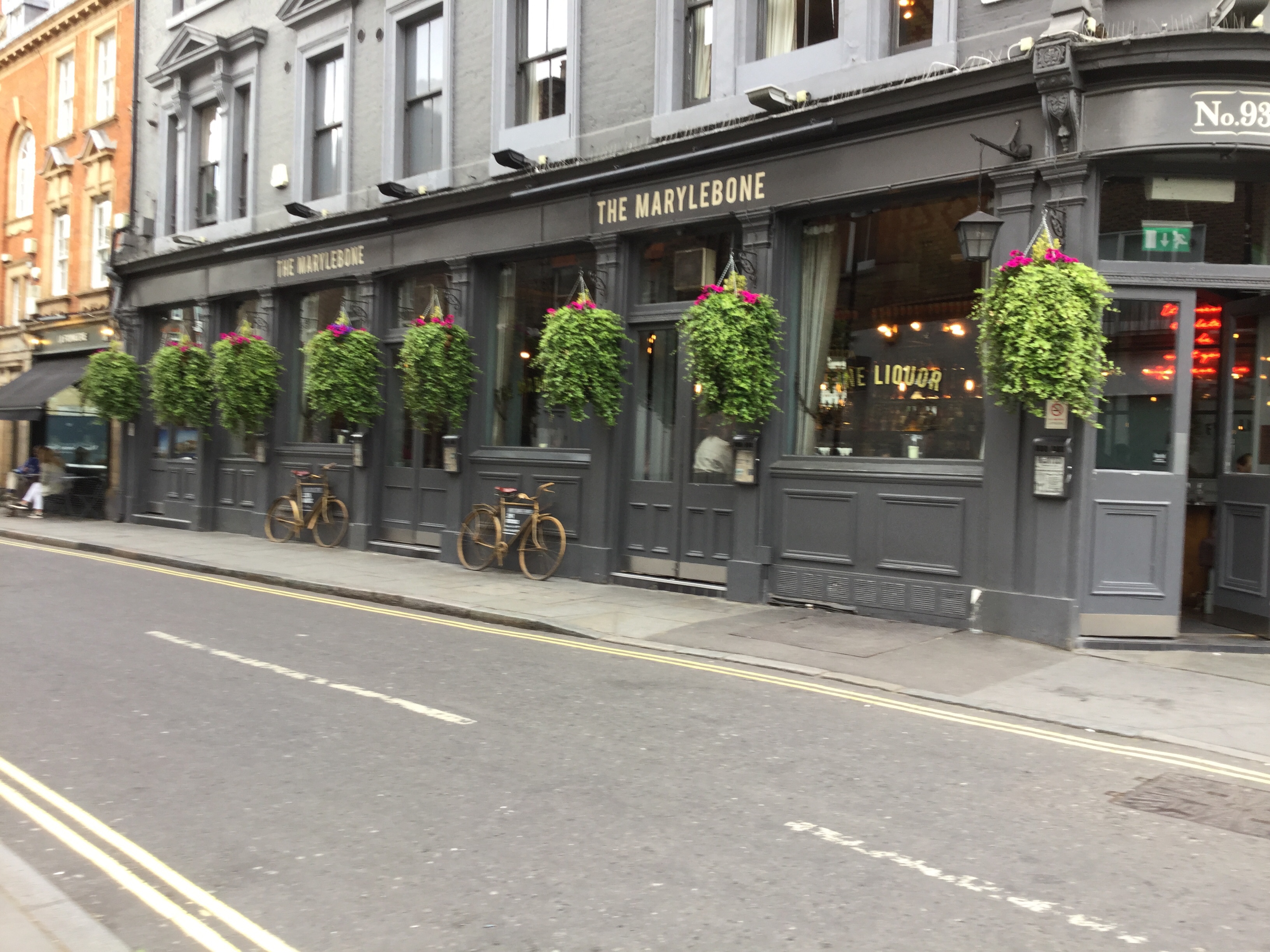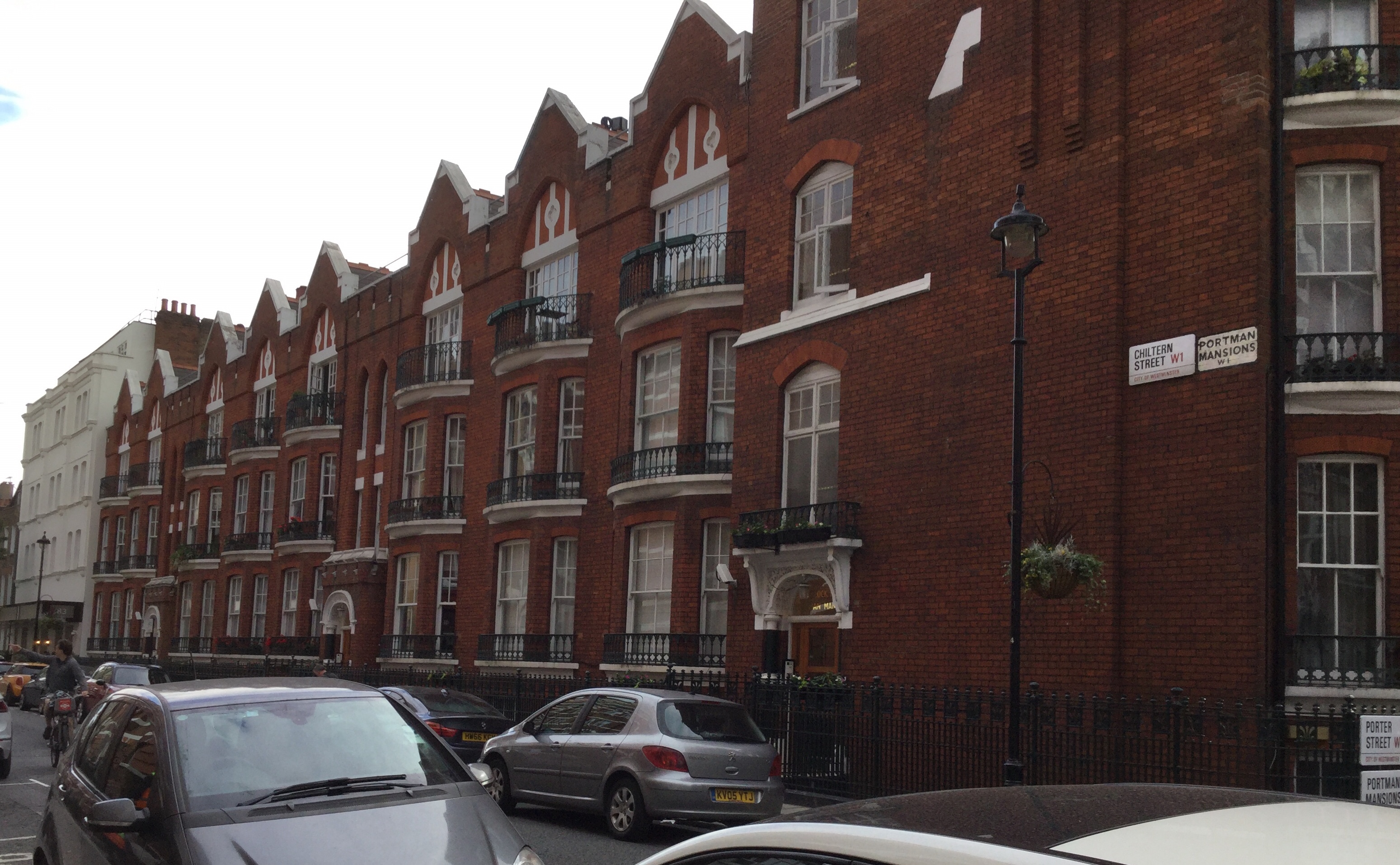 London still has its iconic red phone booths on the streets, BUT there are no phones inside any more!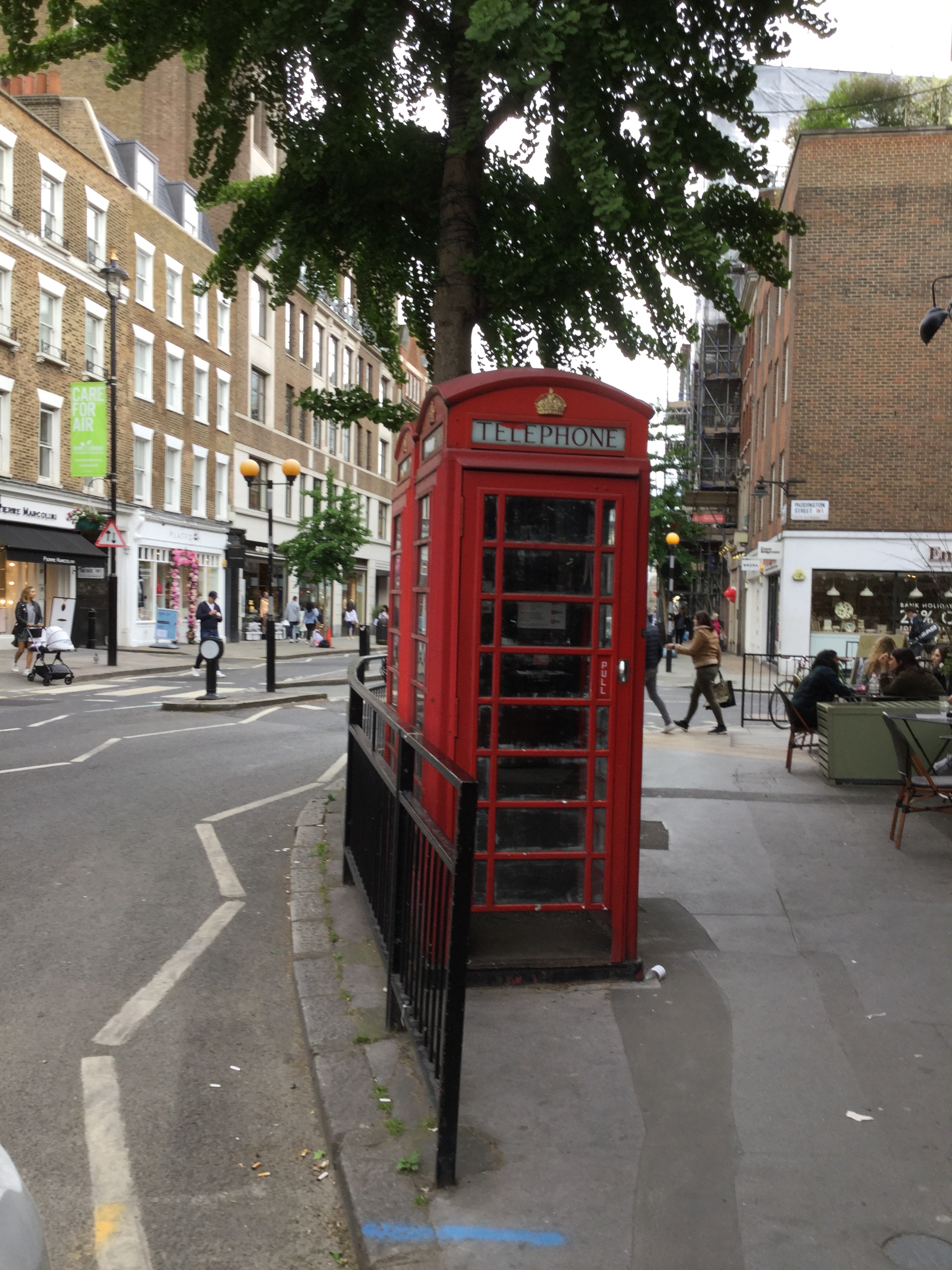 We went back to the hotel to rest for an hour and then went out for dinner. I had read about a seafood restaurant that sounded good. It turned out to be a little odd, but we did have fish and chips – a quintessential British dish. And we took the Underground back to our hotel which is always fun to do. (In our entire time in Poland we never took any public transportation.)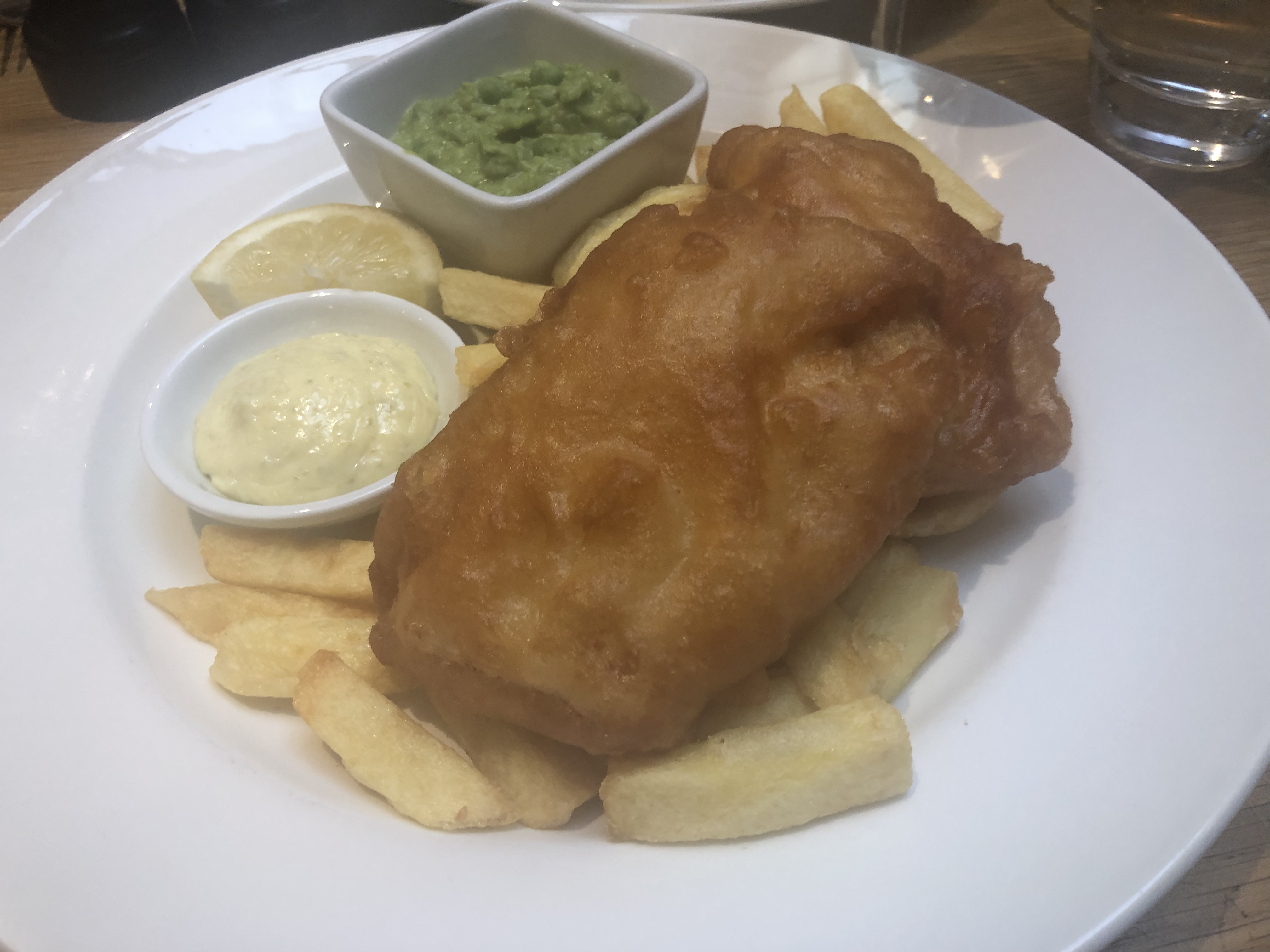 My goal In London was to explore areas and museums that I had not seen on any of our prior visits. We started our day on Tuesday by going to the East End of London. Within the East End there are several neighborhoods. We walked thru the Brick Lane one. This neighborhood is a largely working class area which has attracted a large Bangladesh community. You can see evidence of this on the bilingual street signs.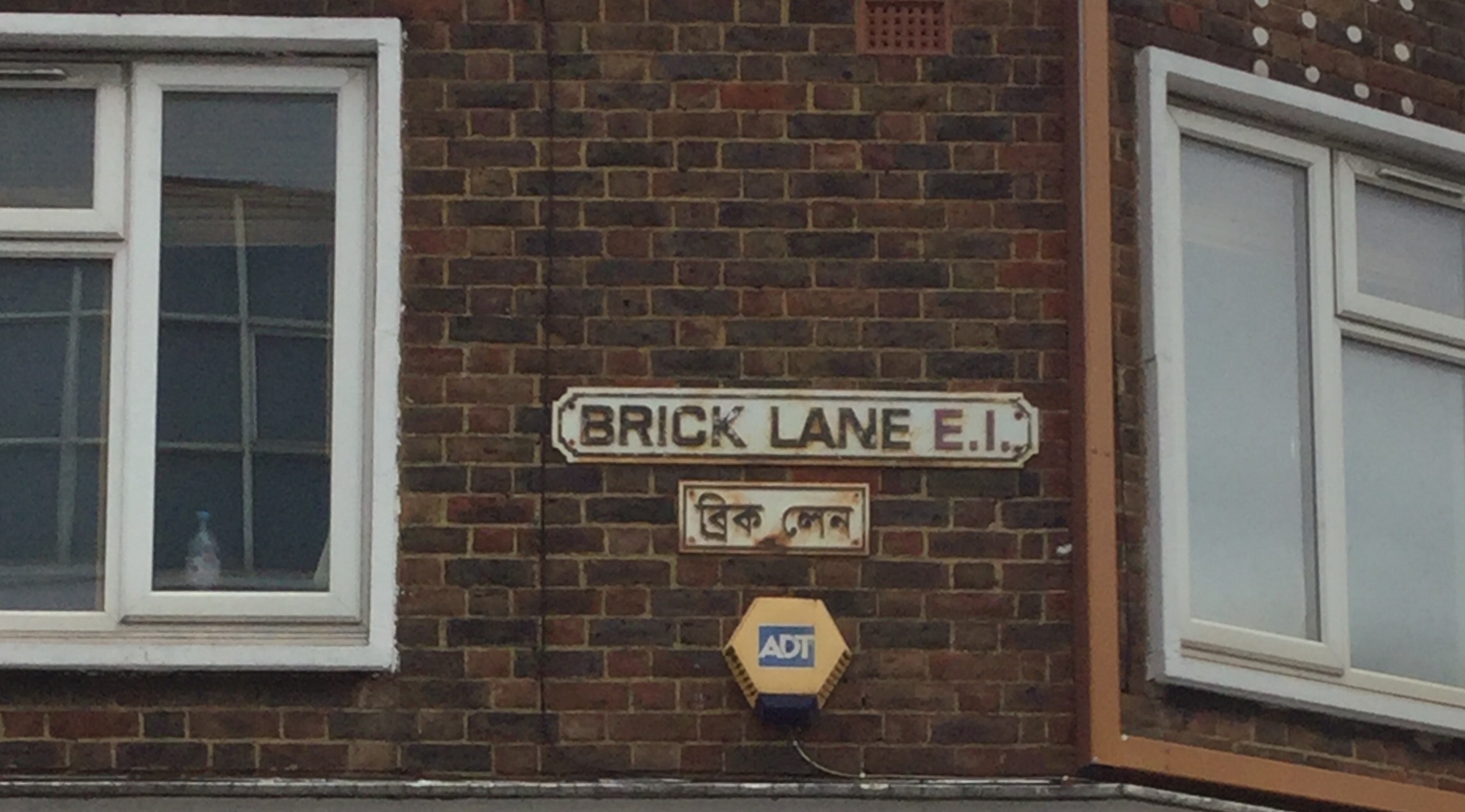 And here are some Indian foods in a store we passed by.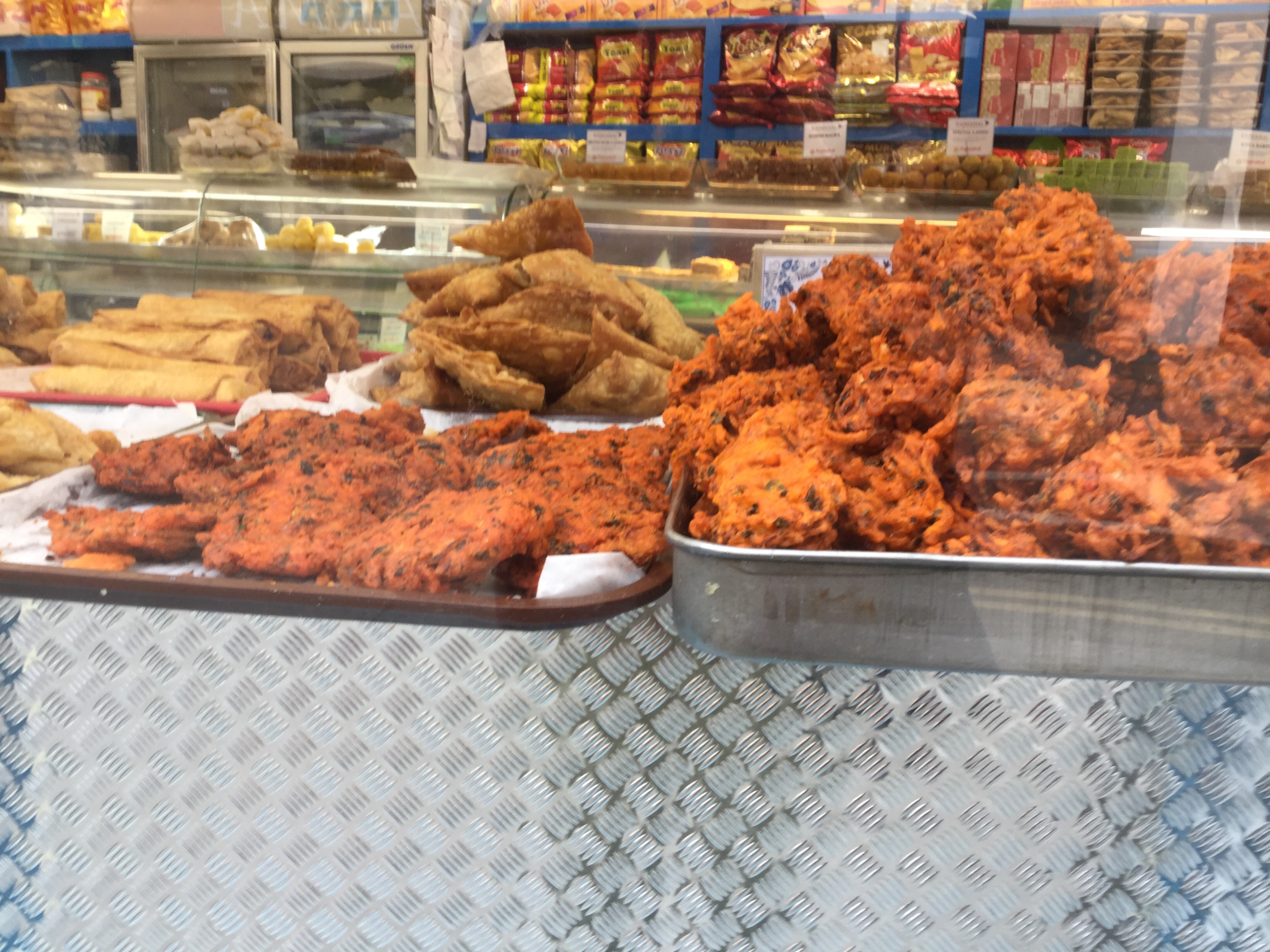 Initially, this area was a Jewish area. What remains are 2 bagel shops or beigels as they say here. We did, of course, sample these; we were not impressed.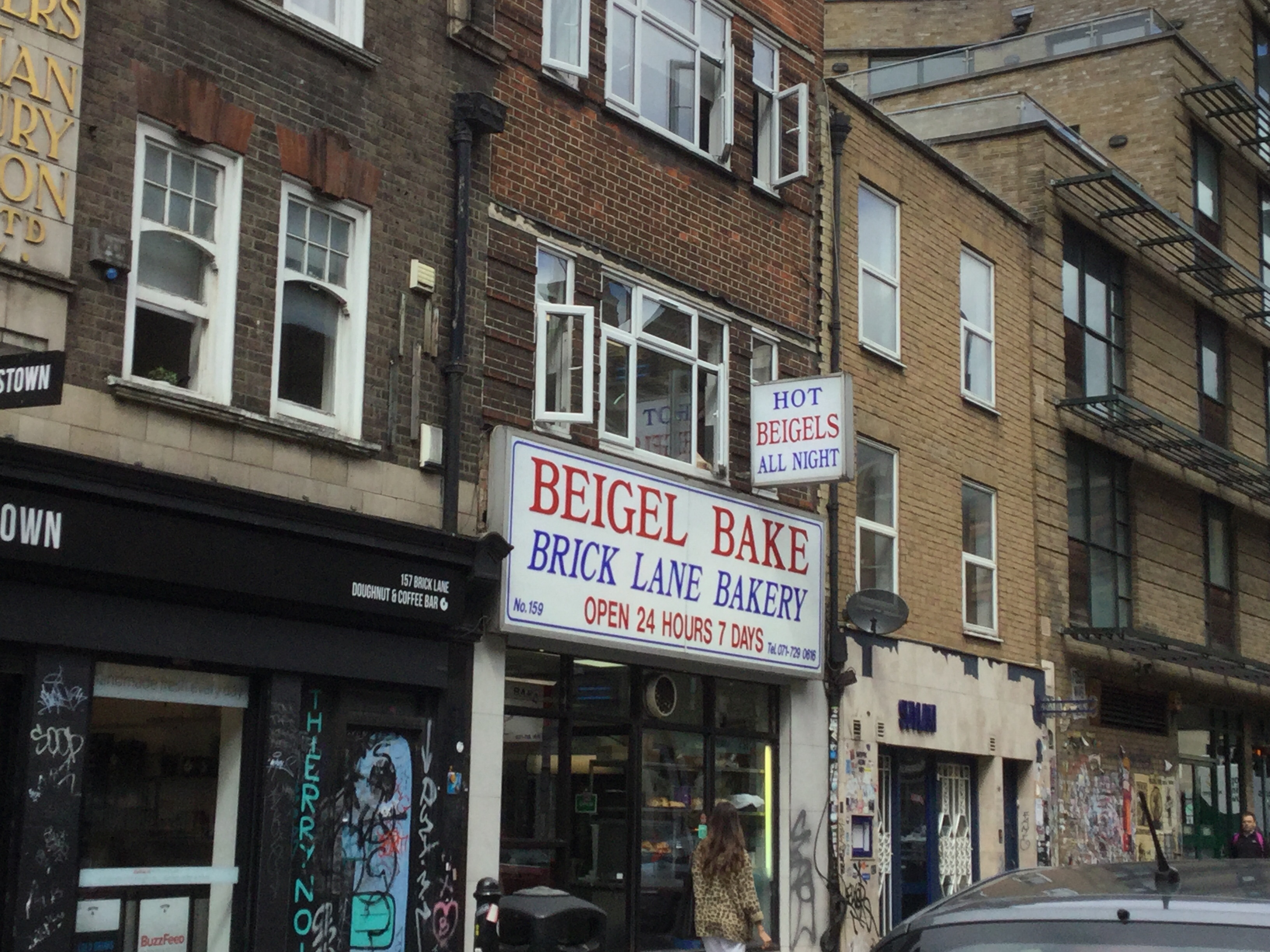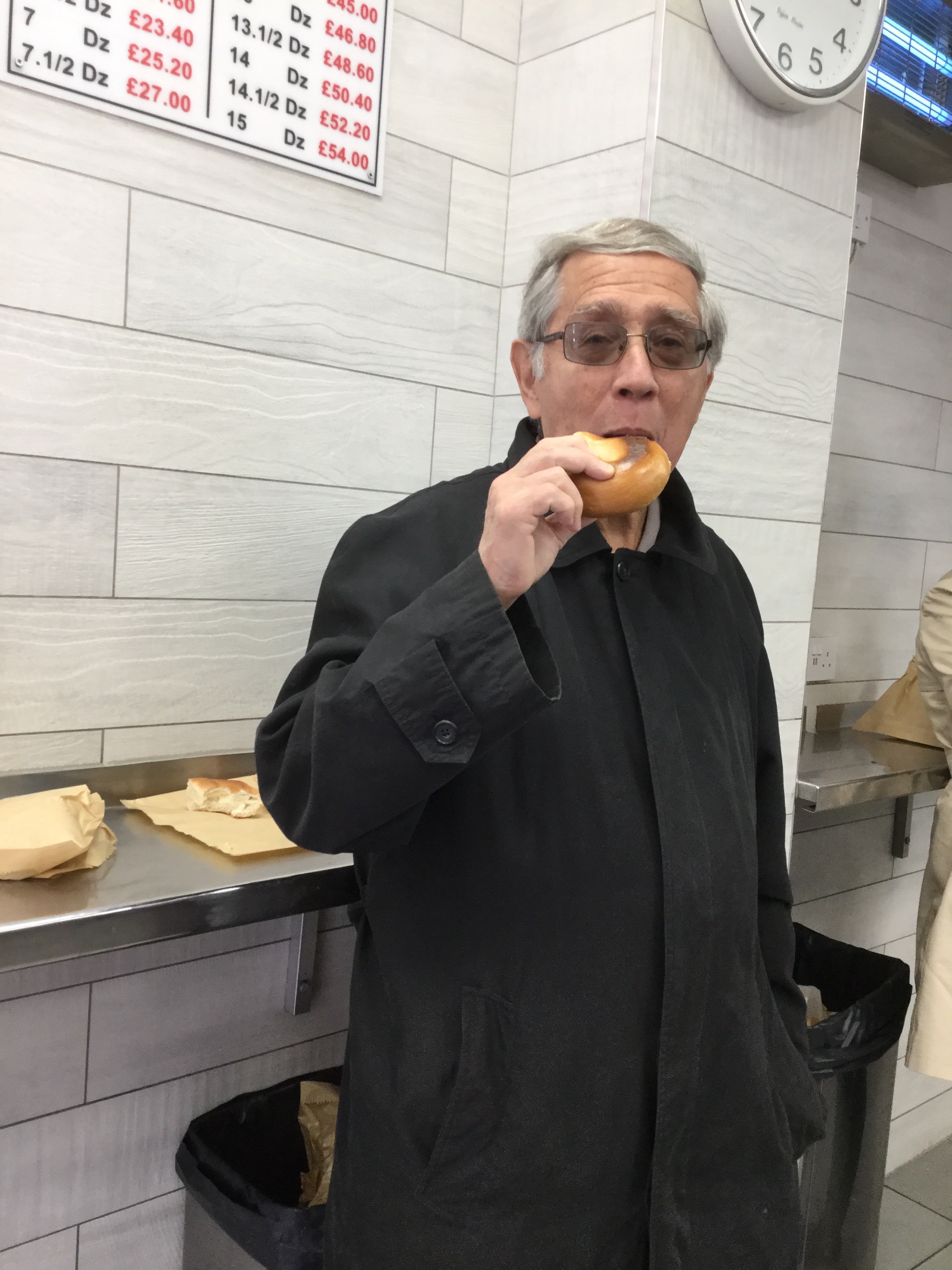 The area had some art galleries as well. The one we went into did not impress us either. Ah, those critical Habers!
And then Marty decided he'd like to see a synagogue in London. After all, we hadn't seen any on this trip yet! As luck would have it, it turned out that the Bevis Marks Synagogue was in walking distance from where we were. Times being what they are, the synagogue was behind a locked fence, but a security guard had seen us on his camera (!) and came out to let us in. It's a Spanish and Portuguese synagogue (can you say: Sephardic). It was opened in 1701 and is the oldest synagogue in England and still in regular use.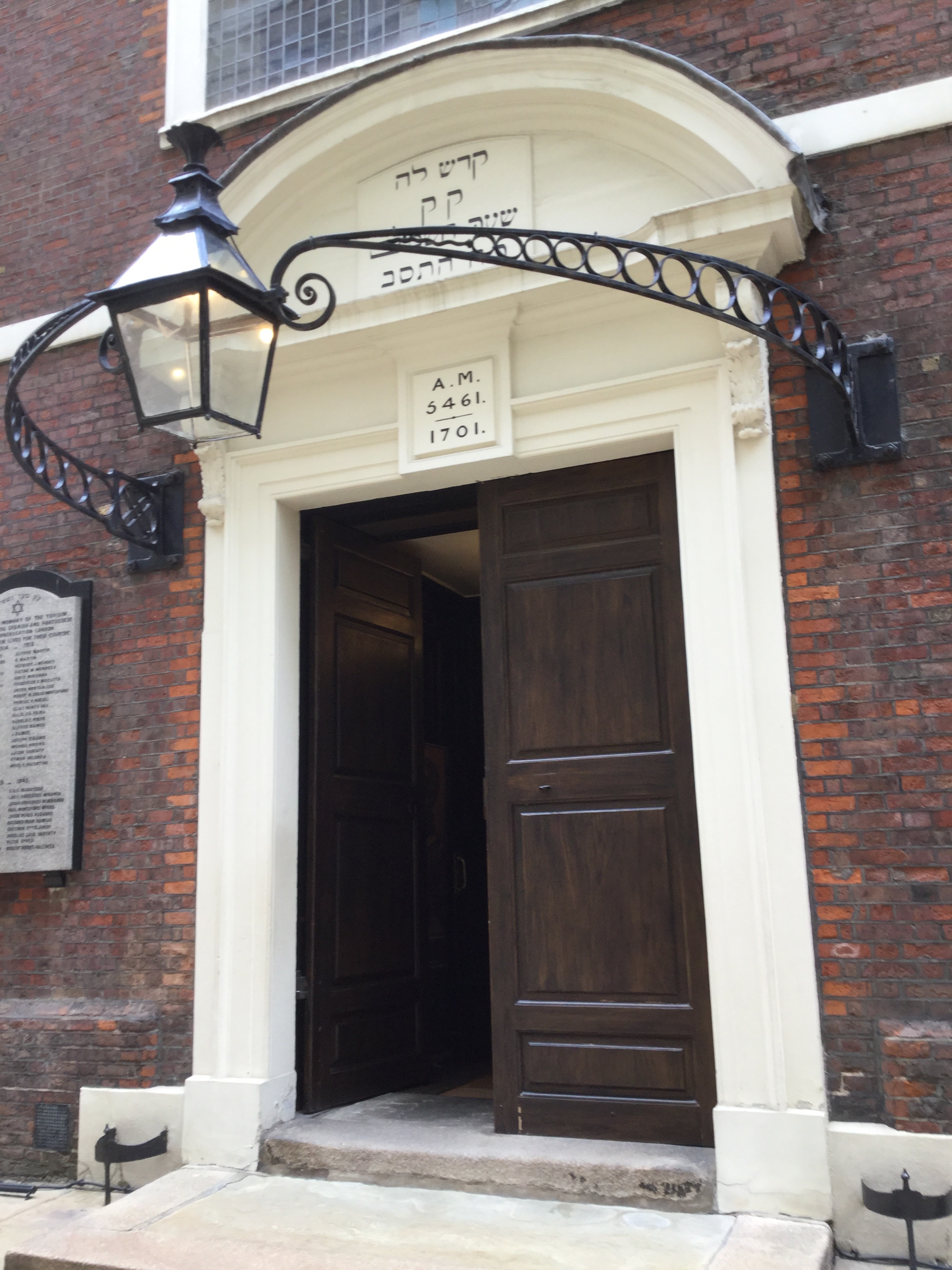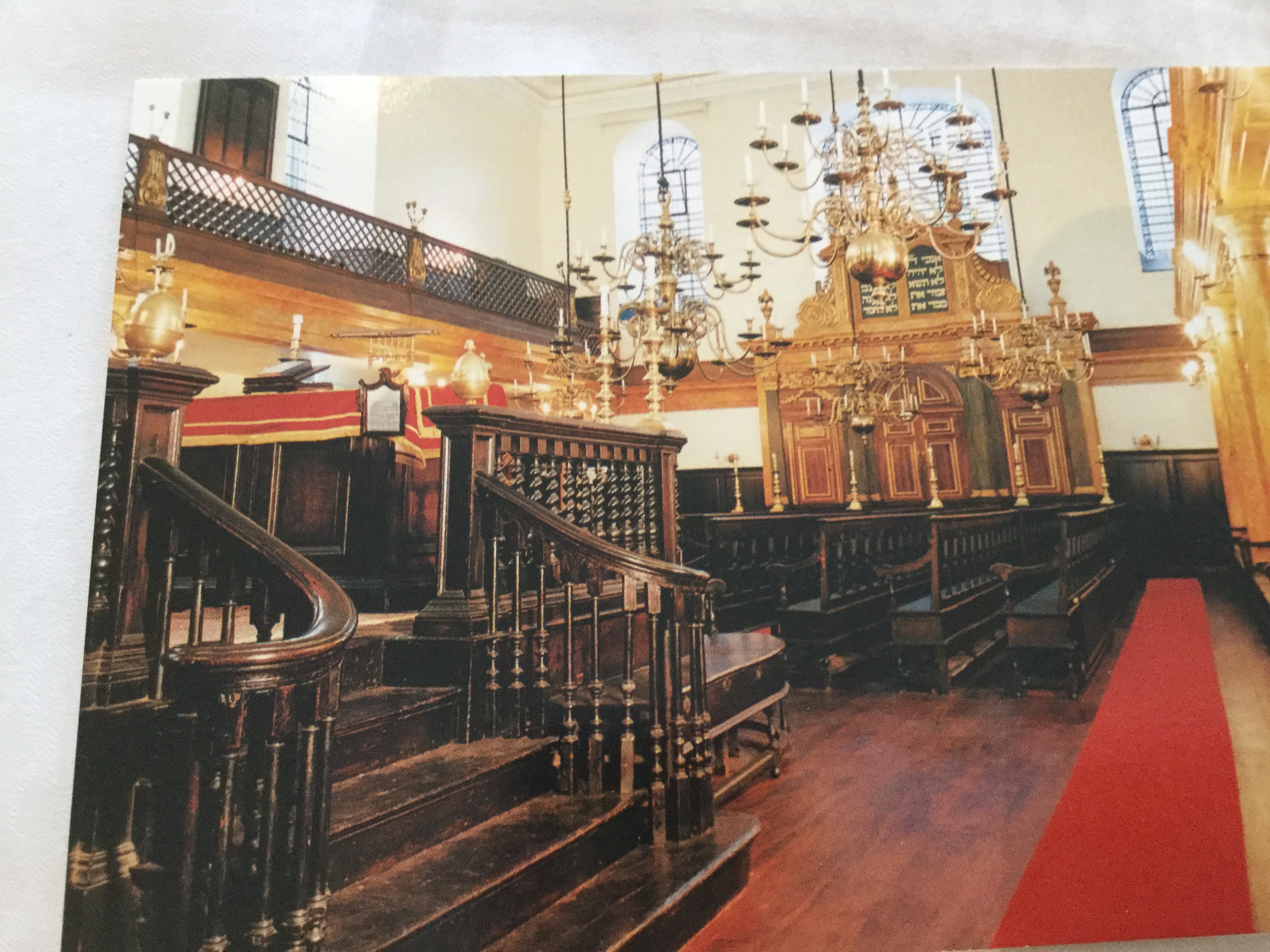 The security guard told us that the Great Synagogue had been just a block away and that there was a plaque on an office building commemorating it.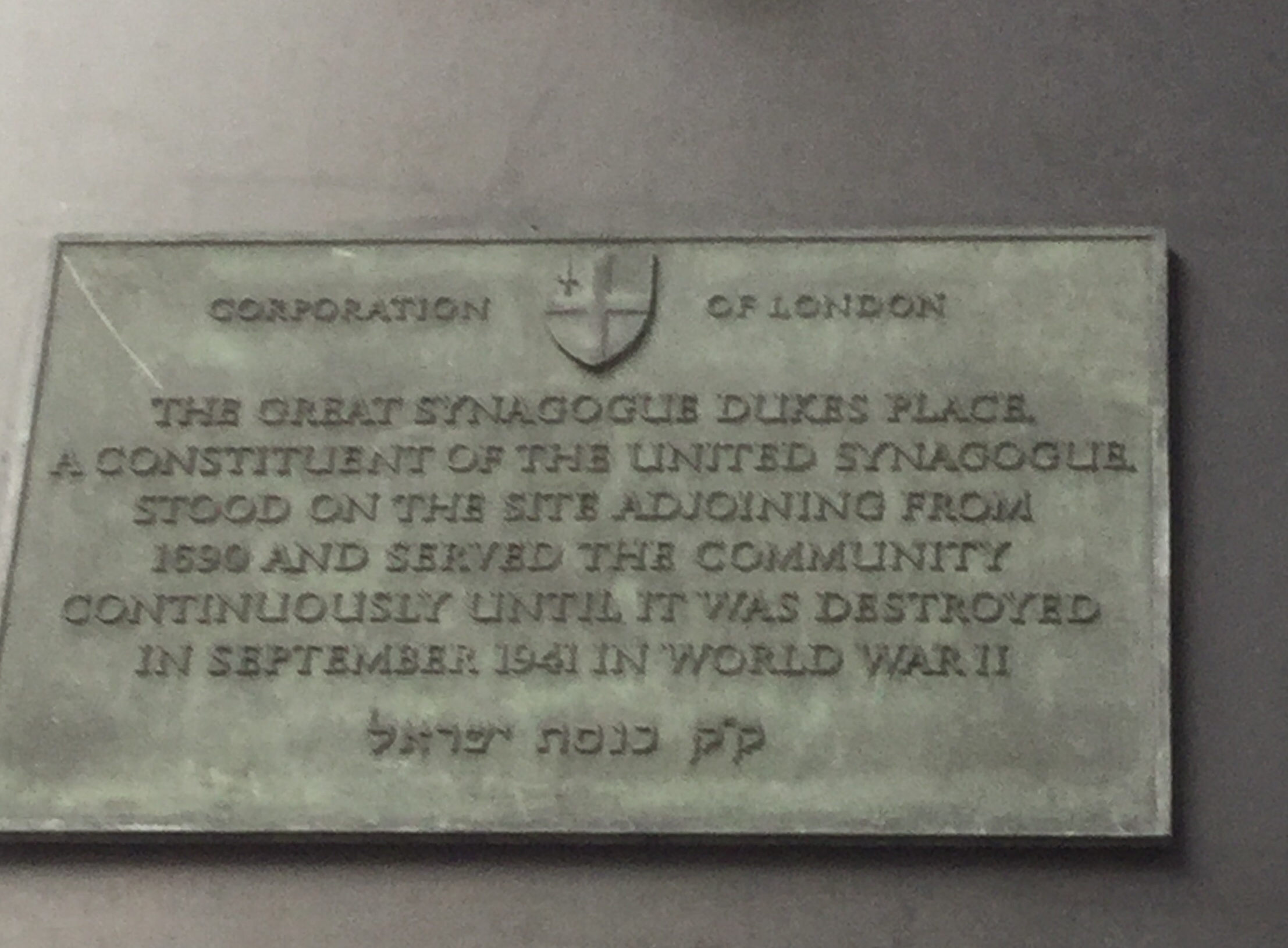 At this point we left the East End. The museum I wanted to go to next is closed on Mondays AND Tuesdays so I re-arranged things and we went to the Wallace Collection which is an art collection housed in a gorgeous townhouse. It comprises an extensive collection of fine and decorative arts from the 15th to the 19th centuries with important holdings of French 18th century paintings, furniture, arms and armor as well as Old Master paintings arranged in 30 galleries.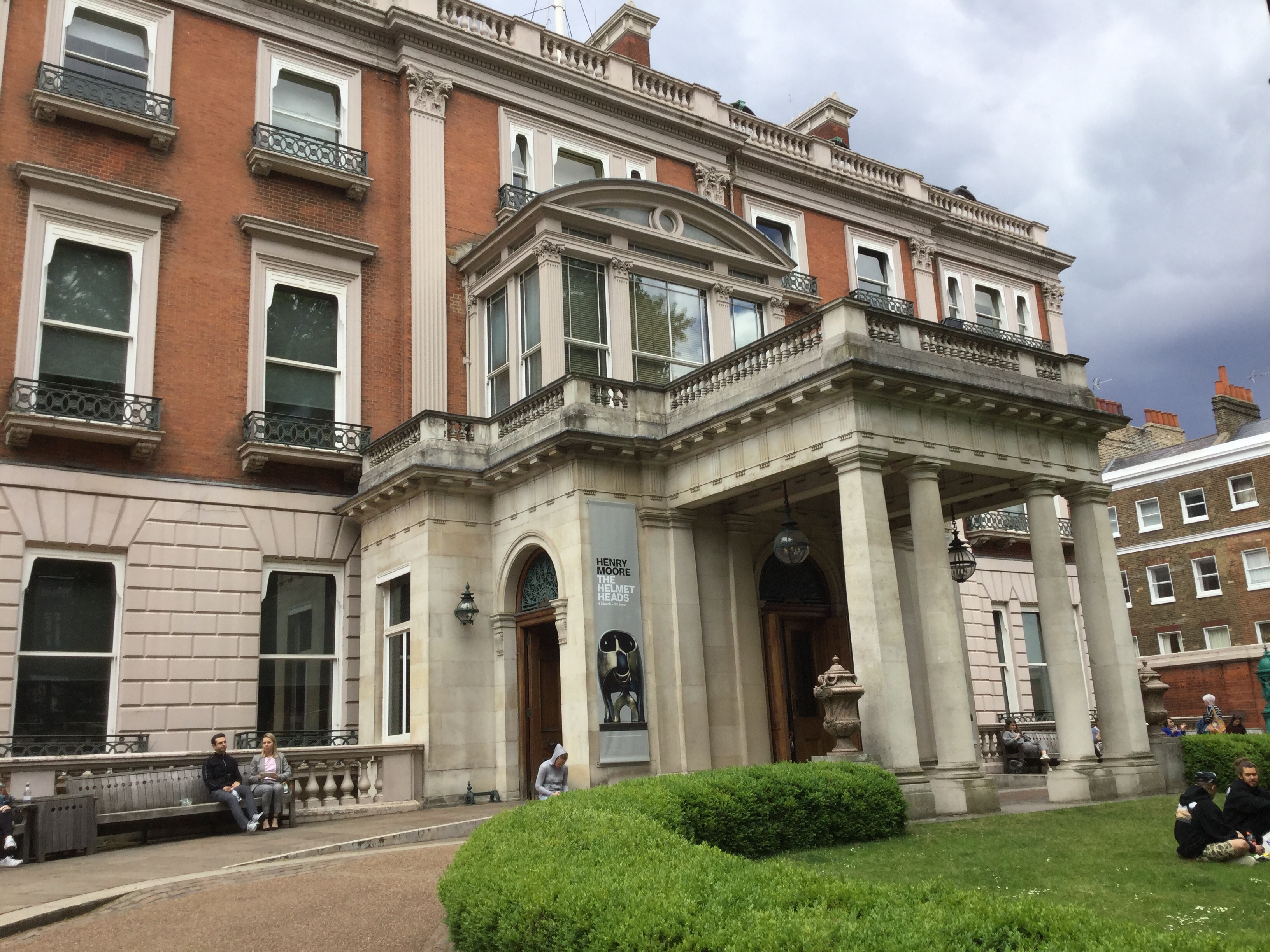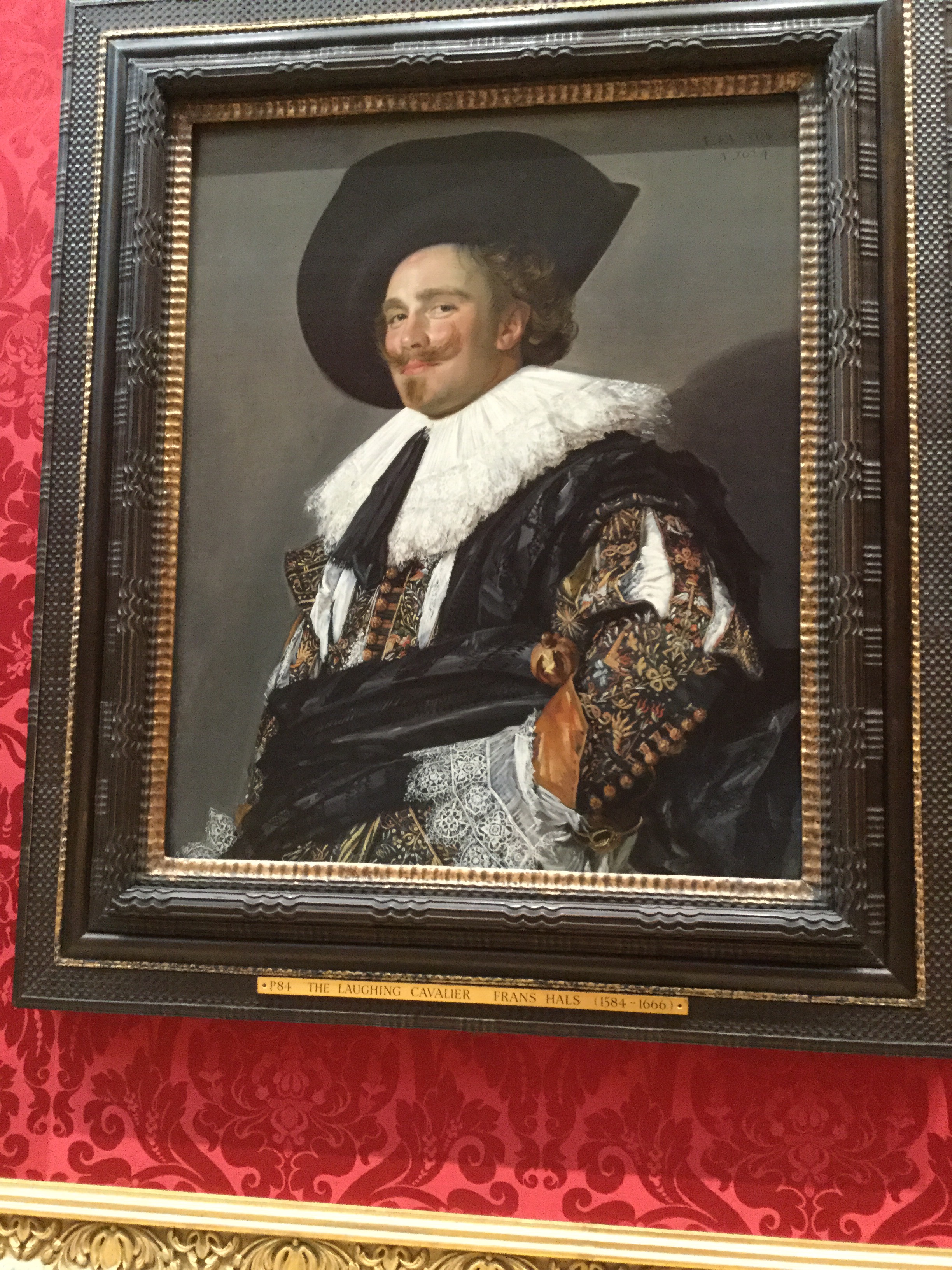 Above is a portrait by Franz Hals and below one by Gainsborough.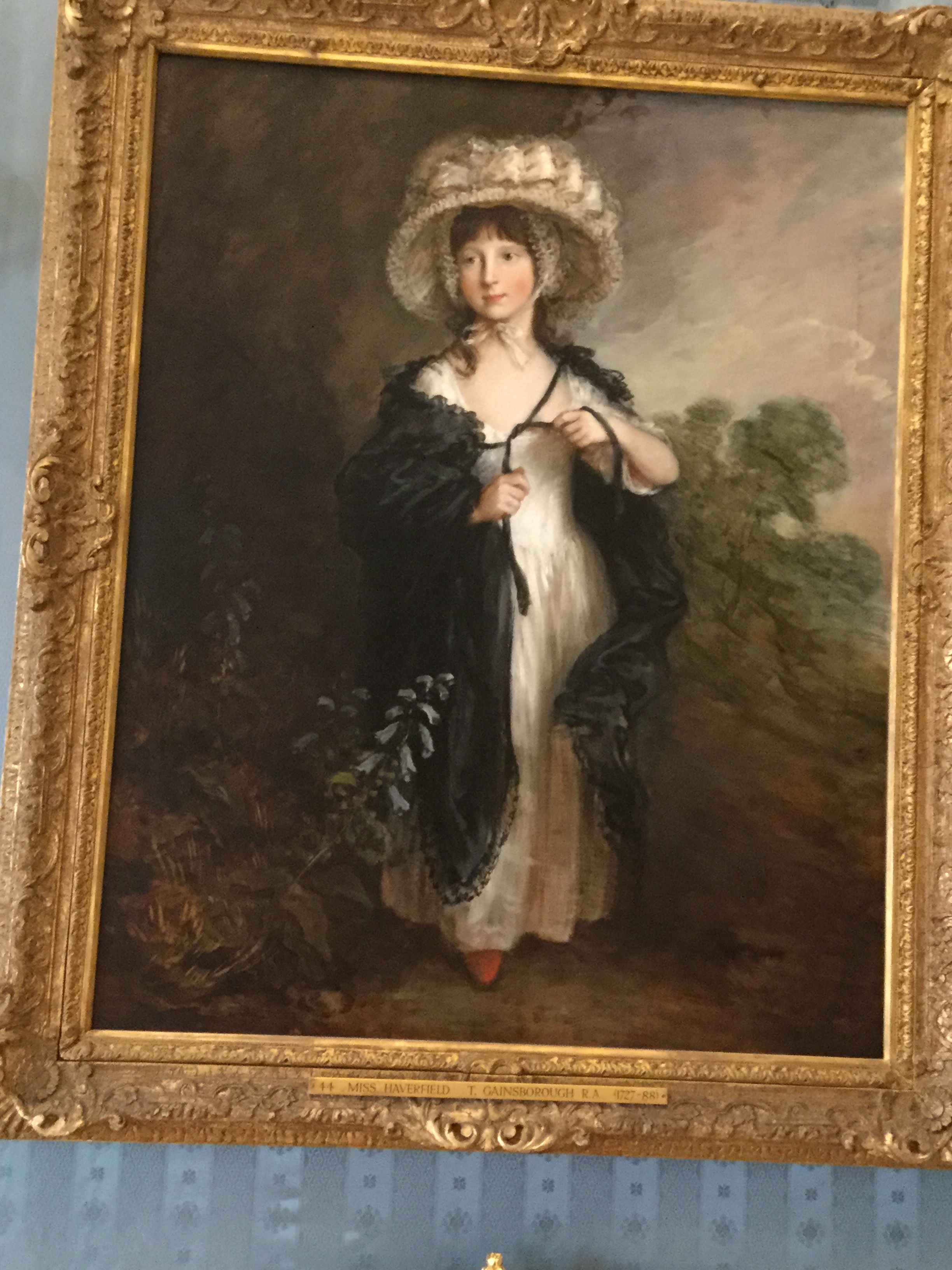 Entry into the Wallace Collection is free, but they were having a special Henry Moore exhibit for a fee. I, of course, opted to see it; Marty did not. This was my favorite piece.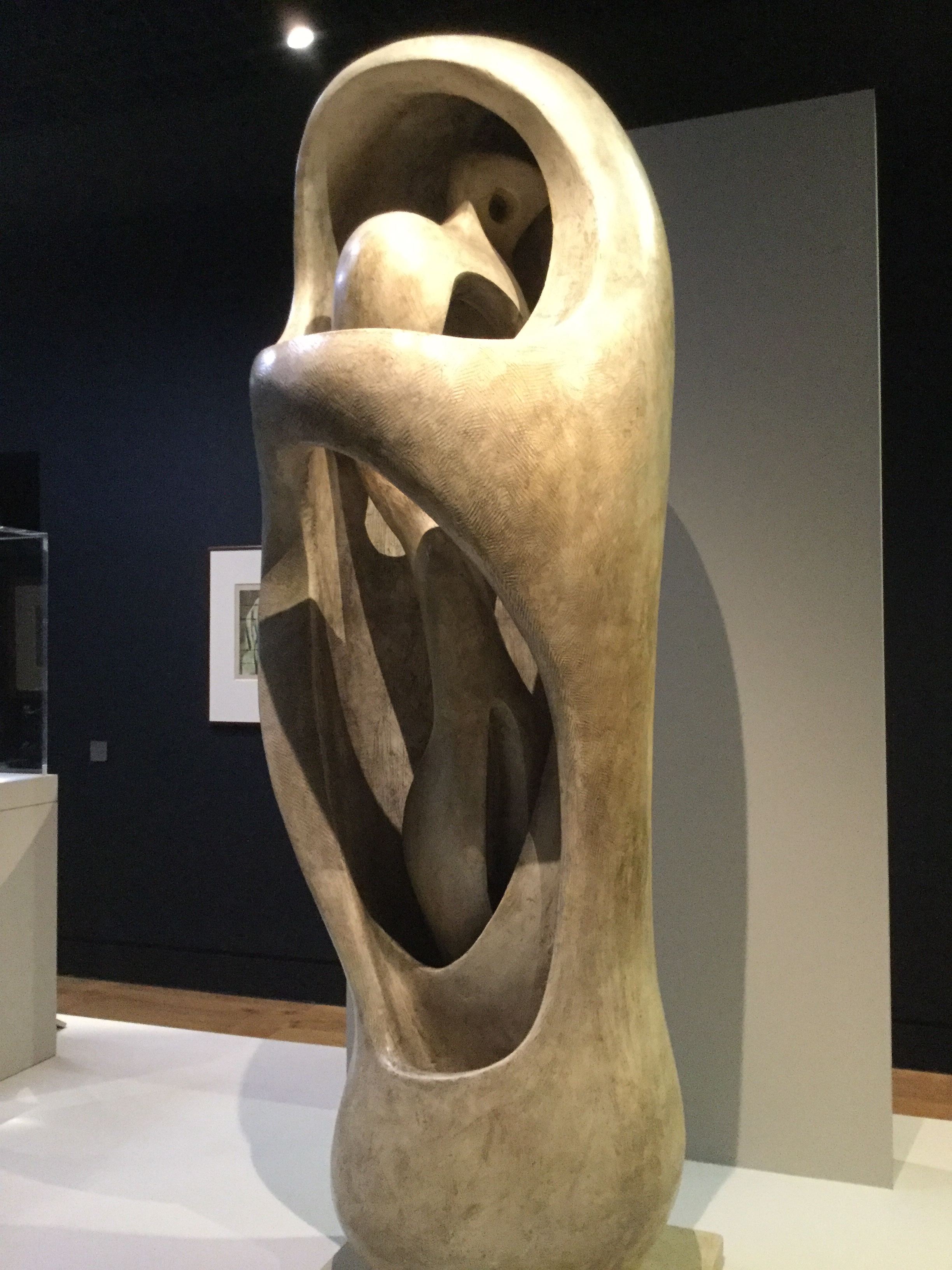 From here we went to the Serpentine Sackler Museum (which had been closed on Monday). This museum was free also.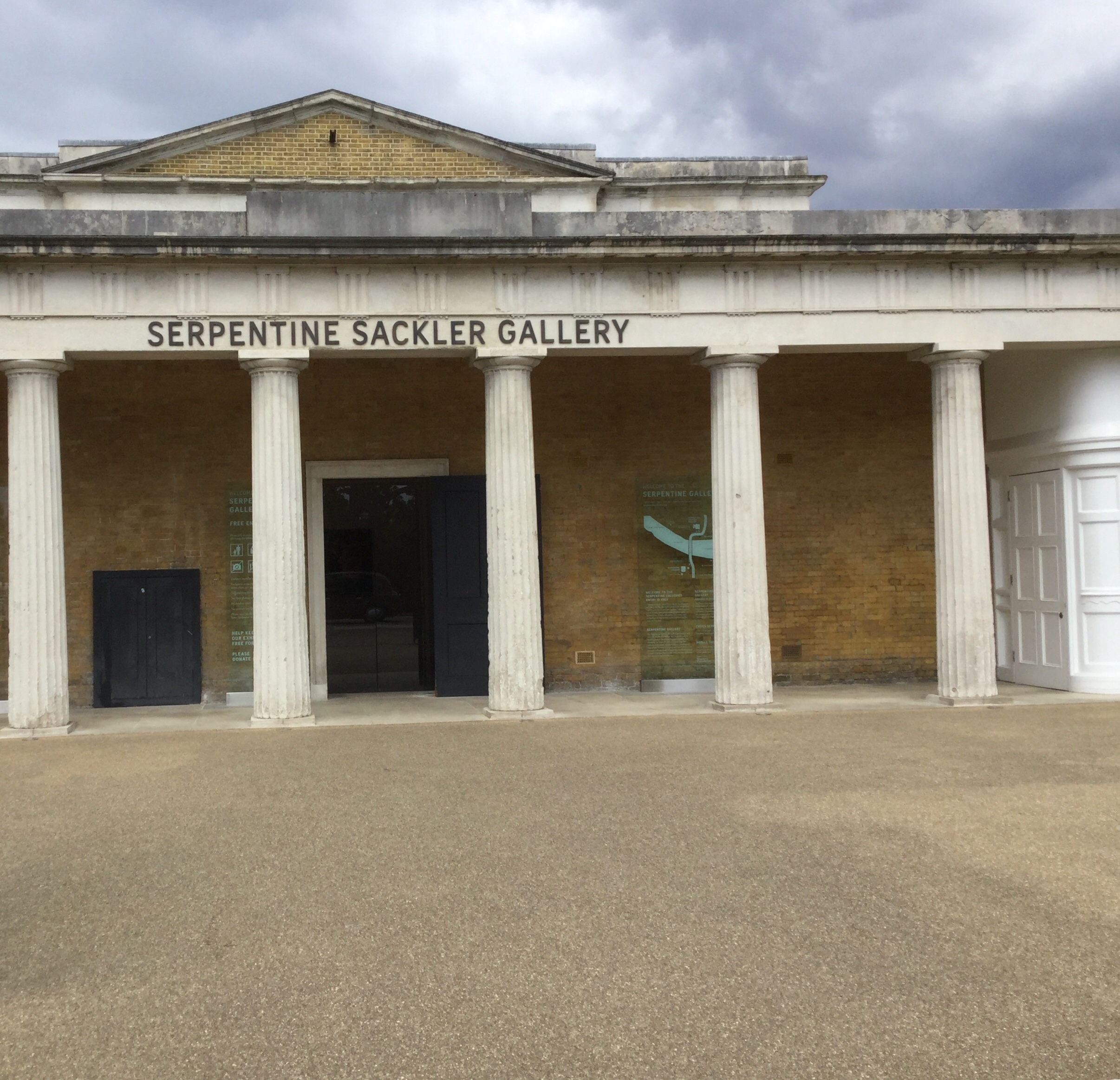 They were having an exhibit by an American artist I had never heard of before – Luchita Hurtado. I didn't care for most of her paintings, but I did like this one.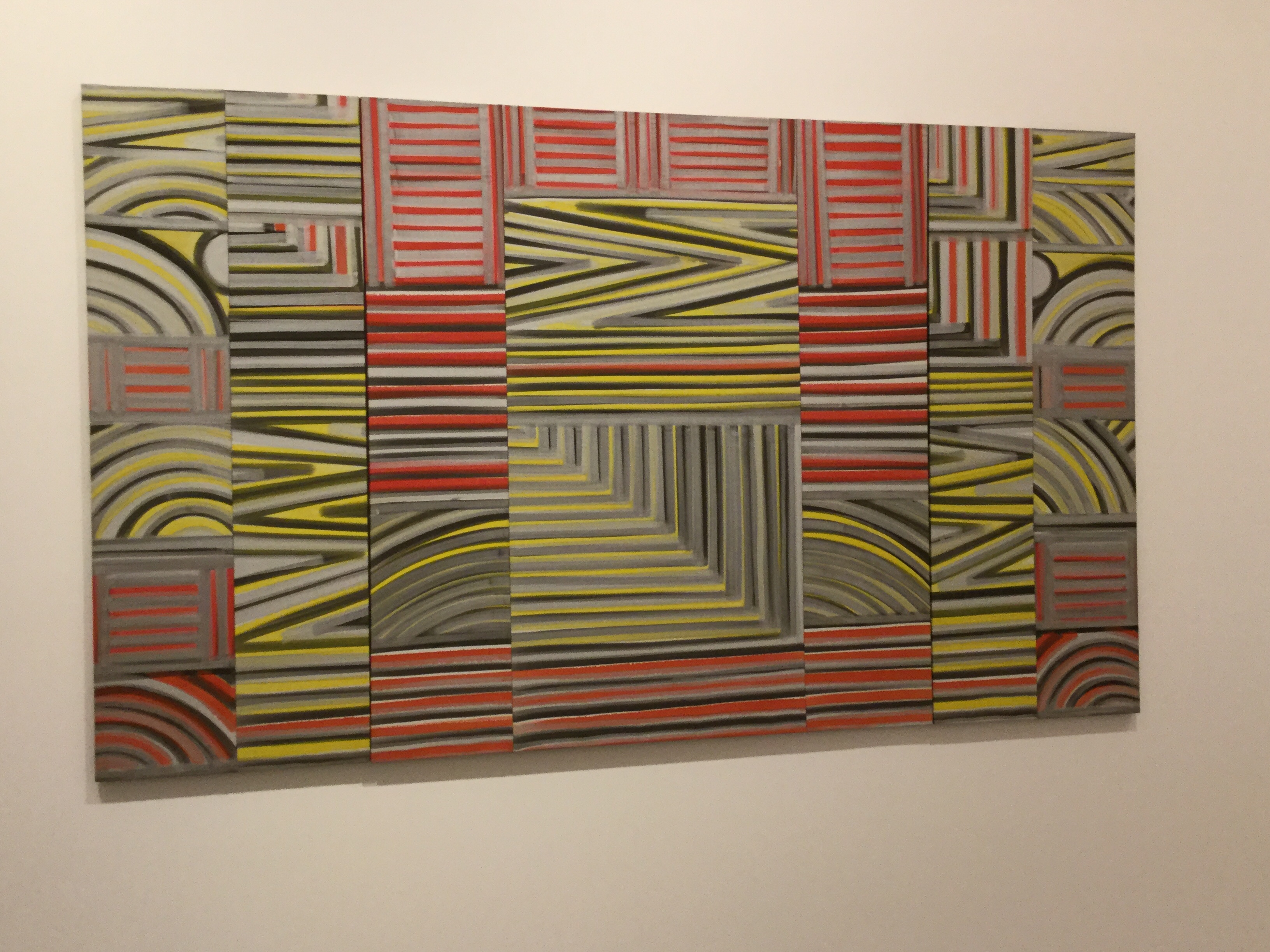 By now we had walked 13,000 steps and "called it a day" (until our evening plans).
What would a trip to London be without the theatre, especially given what avid theatre goers we are. Given the "heaviness" of our Polish part of the trip, I had decided that a light comedy would be the best thing to see. And light (& silly) it was. Marty loved it; I tolerated it as I am not a fan of slapstick. It was called "The Comedy About a Bank Robbery". At the end of the show, they mentioned that their group had another comedy the audience might enjoy: "The Play That Goes Wrong". If any of you have seen this in NY, you'll have a good idea of what the one we went to was like. And yes, we have seen this other comedy and yes, our reactions were the same to both plays.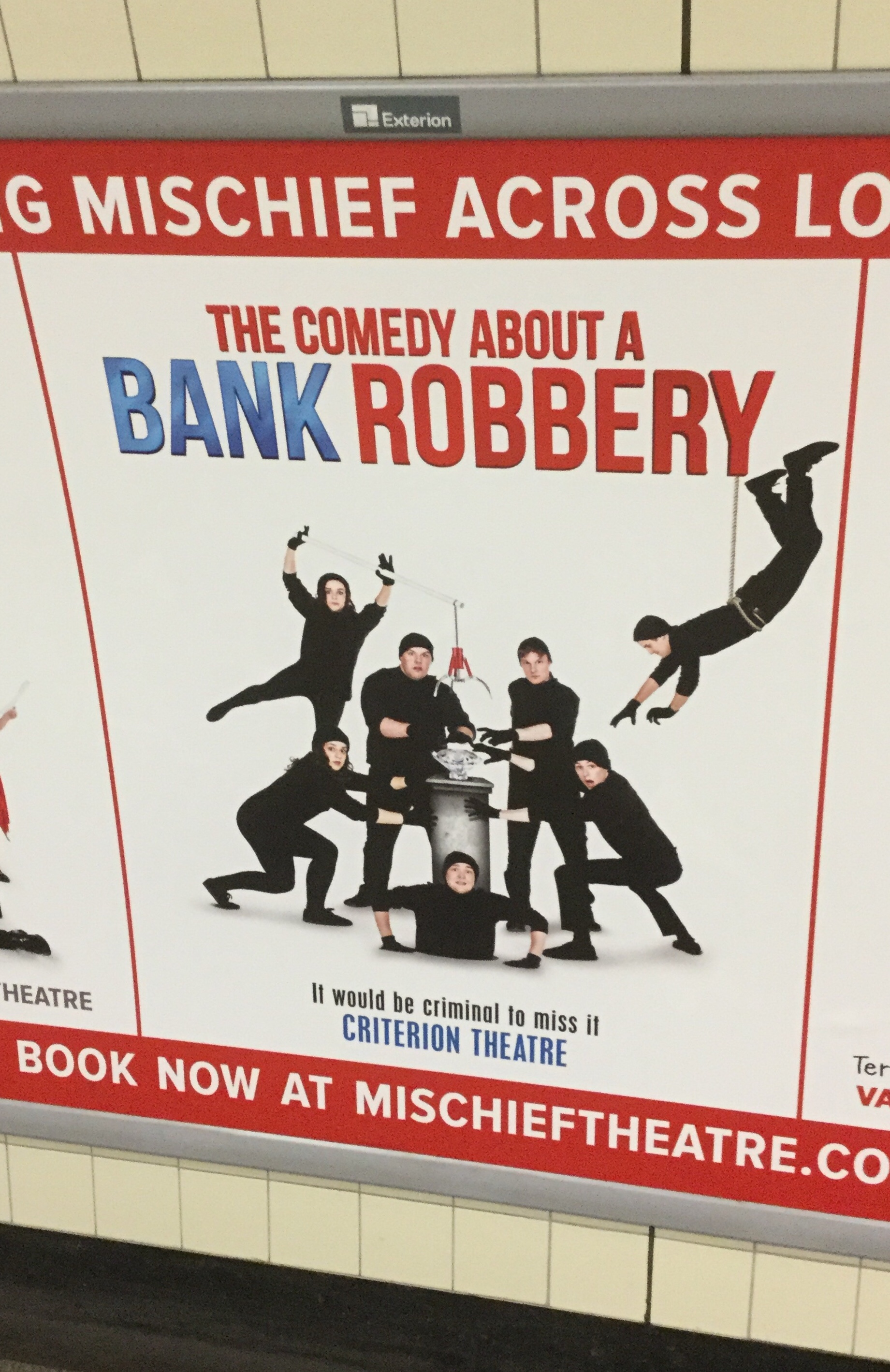 The one curious thing (that I didn't remember from our past visits) was that you had to pay for a Playbill. I was surprised that Marty didn't buy one because he collects them. You should see how much room these playbills in lovely binders take up on our book shelves. I just asked him about it. He says he was taken aback by the price (4 pounds; about $5) and automatically said "no" and now he is sorry. (As an aside, the daughter of a friend of ours is working on a project about collectors – she's a filmmaker – and she will be interviewing Marty about his Playbill collection when we return.)
Prior to the theatre we had dinner at an Italian restaurant directly across the street from the theatre. The food was very good and the location couldn't have been better. We started with an assortment of meats which I forgot to photograph and it looked so pretty.😓. I had a dish of assorted seafood and Marty had veal Milanese. And we shared an incredible dessert. We were running out of time, so we didn't finish it!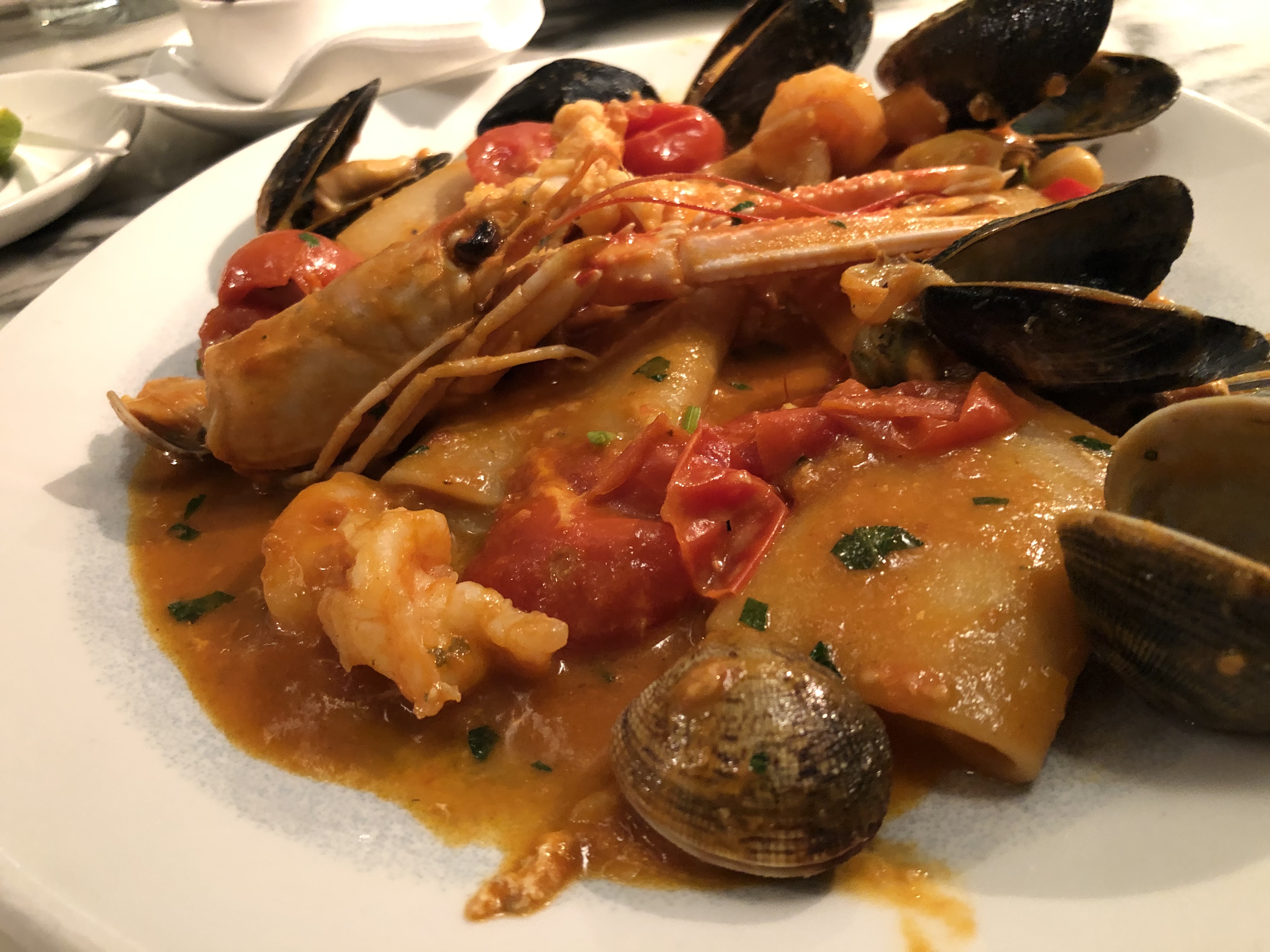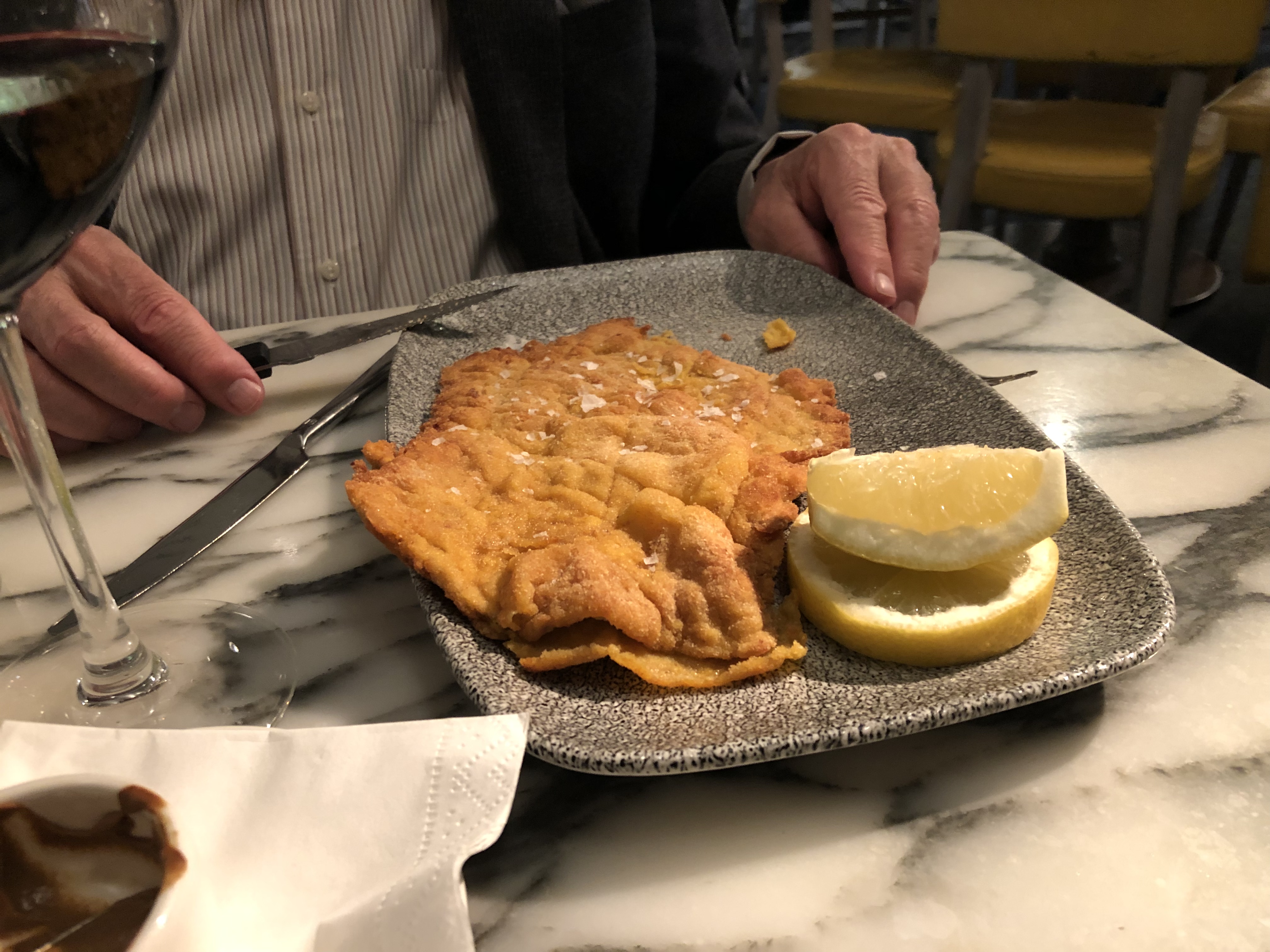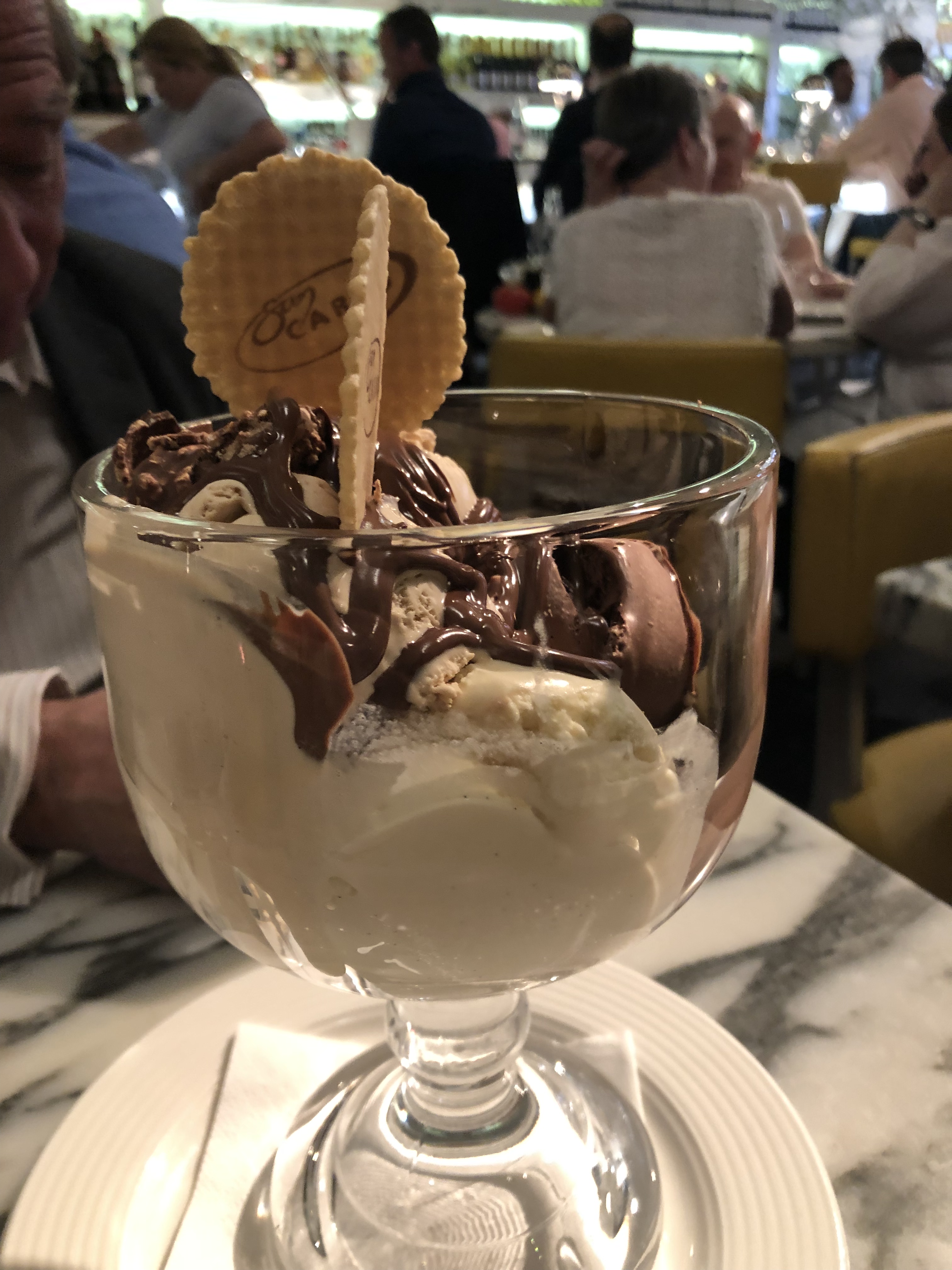 As virtually all of you know, Wednesday was my birthday and a joyous day it was. I started the day with a muffin; something I very rarely indulge in these days.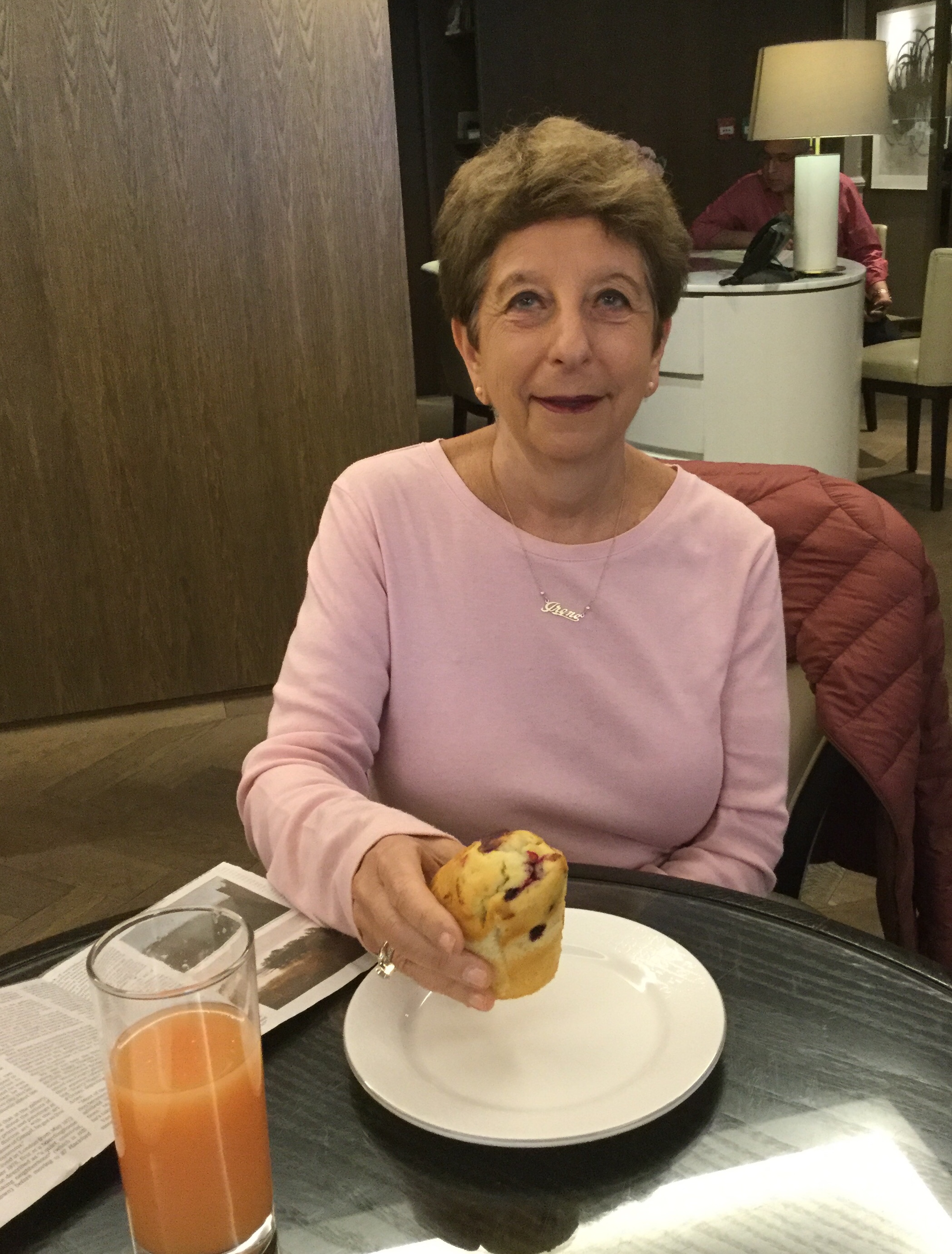 We spent the morning at the Tate Britain Museum at a Van Gogh exhibit. The exhibit had been written up in The NY Times a little while ago and as soon as I saw we would be here when it was still on, I bought timed tickets. It was a very good exhibit. It's called Van Gogh and Britain. Van Gogh spent several years living in London working for an art dealer. He had not started painting yet. The exhibit has 2 parts. The first part is about the British painters who influenced him and the second part is the reverse: British painters influenced by Van Gogh. So there were wonderful paintings by Van Gogh as well as paintings by these other artists. I thought it was a good theme for the exhibit. Some of the Van Gogh paintings I had seen before; some not. It was a perfect birthday morning.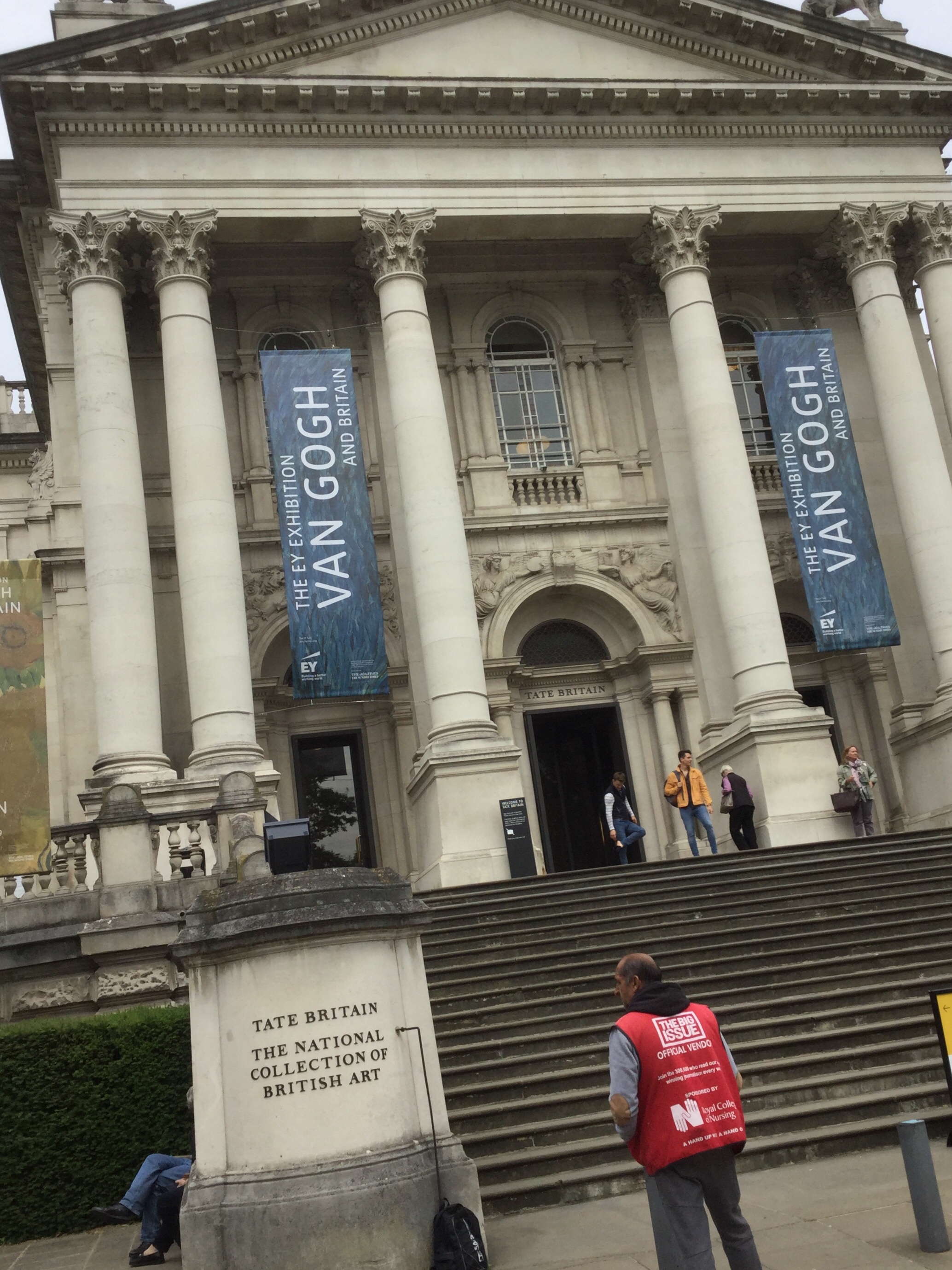 Here's a different version of Starry Night than the one most of us are familiar with. This one is called Starry Night over the Rhône. It belongs to the Musee d'Orsay in Paris. It blew me away.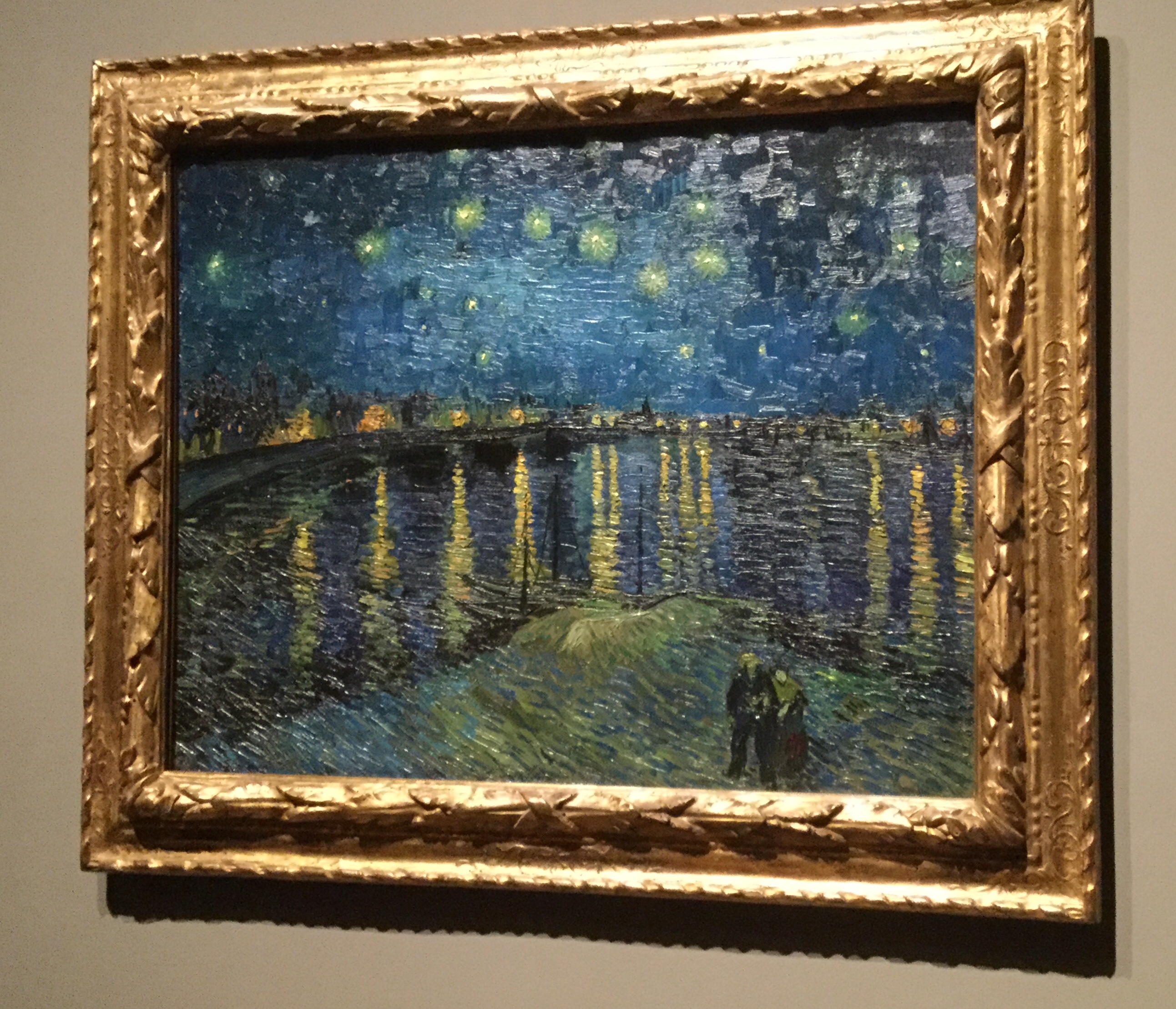 This is Eternity's Gate which is the name of a recent film about Van Gogh (which I missed but is on my video list!) and now I understand the name of the movie. It's about a man (Van Gogh) waiting to die.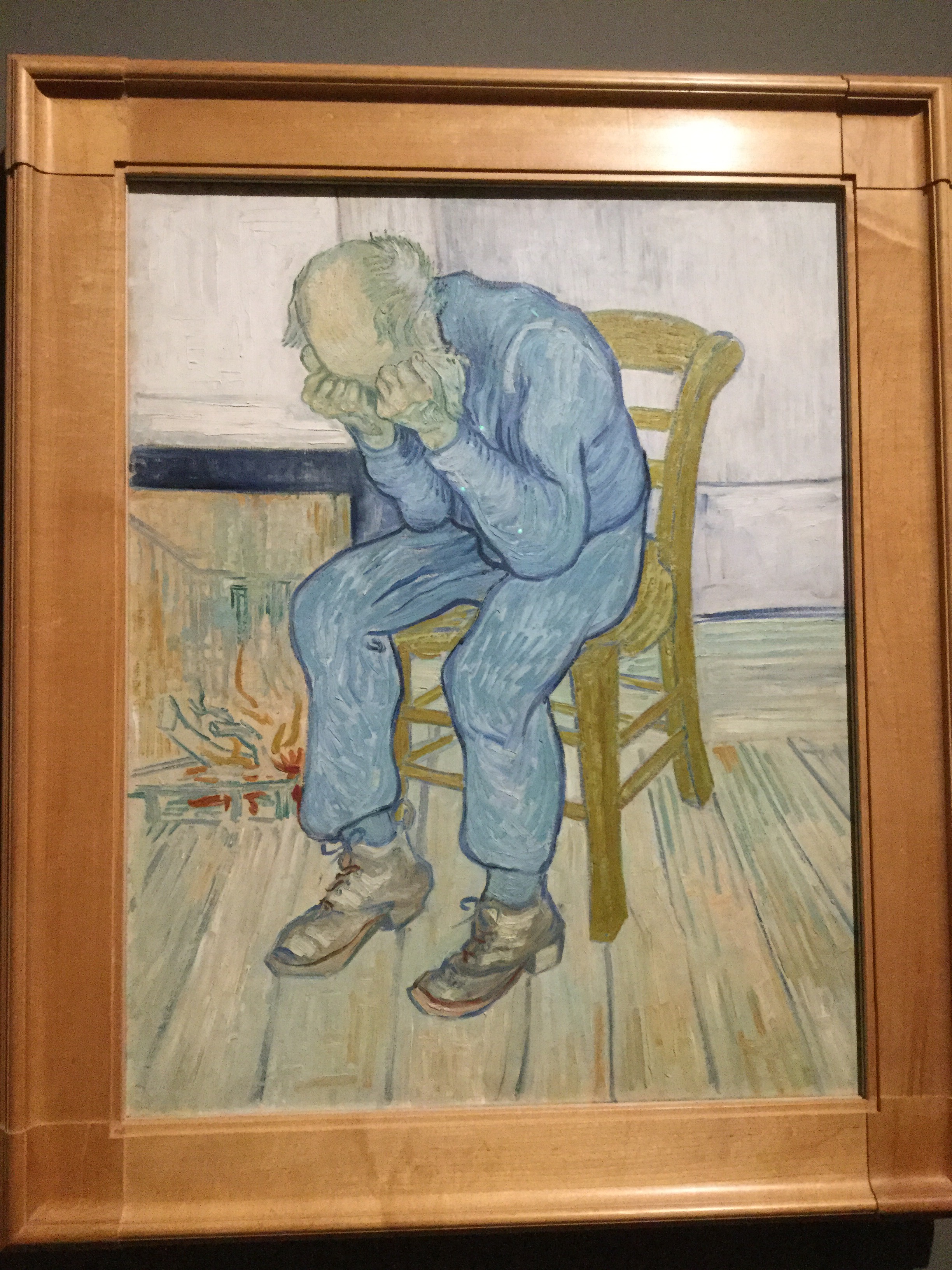 And I thought this still life with apples was quite different from his other paintings.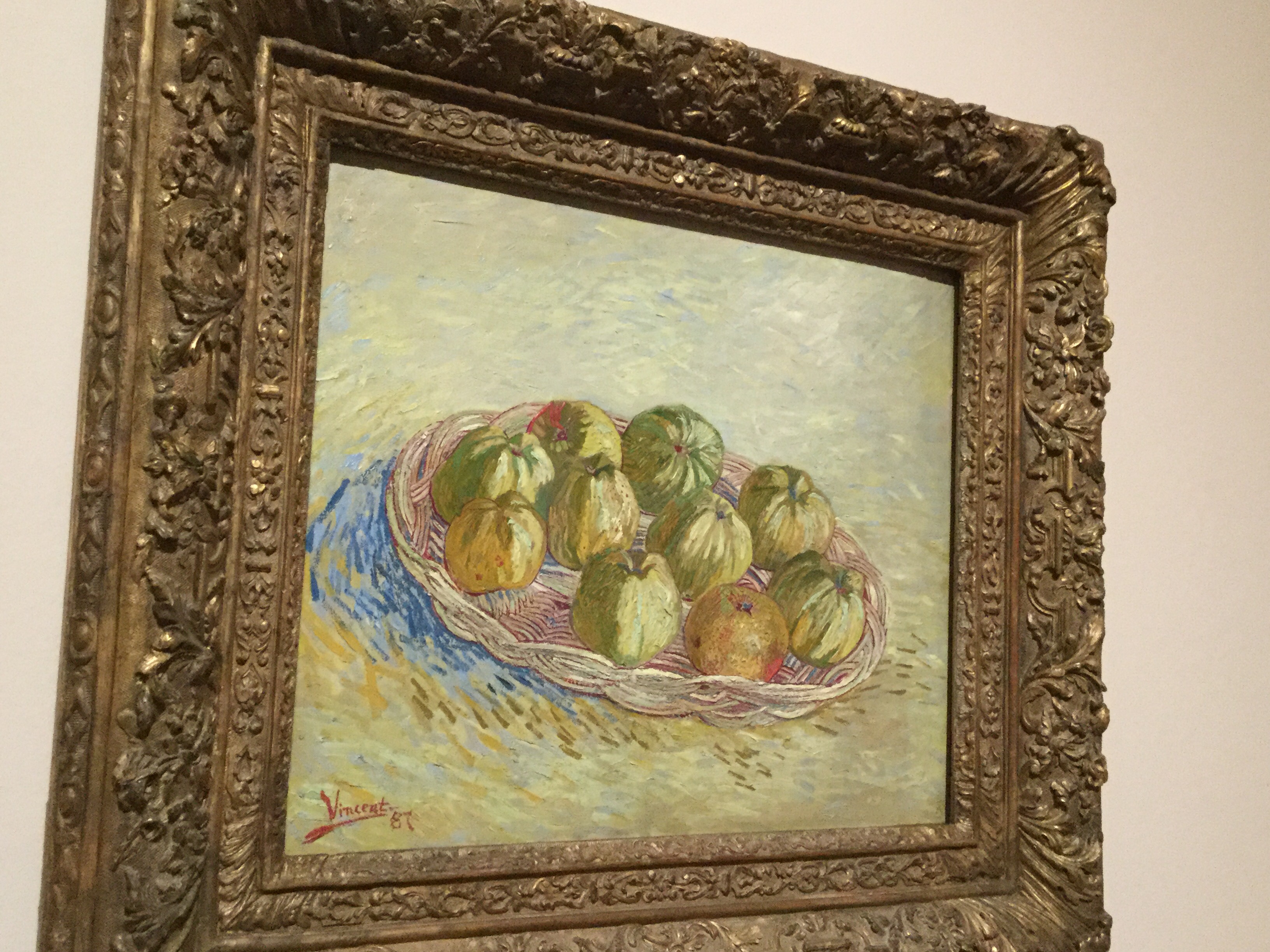 Before we left the Tate, we wandered about a bit to see what else was there. I found 2 sculptures I especially liked, one by Barbara Hepworth (who is one of my favorite sculptors) and one by Henry Moore; (Marty got to see this one!)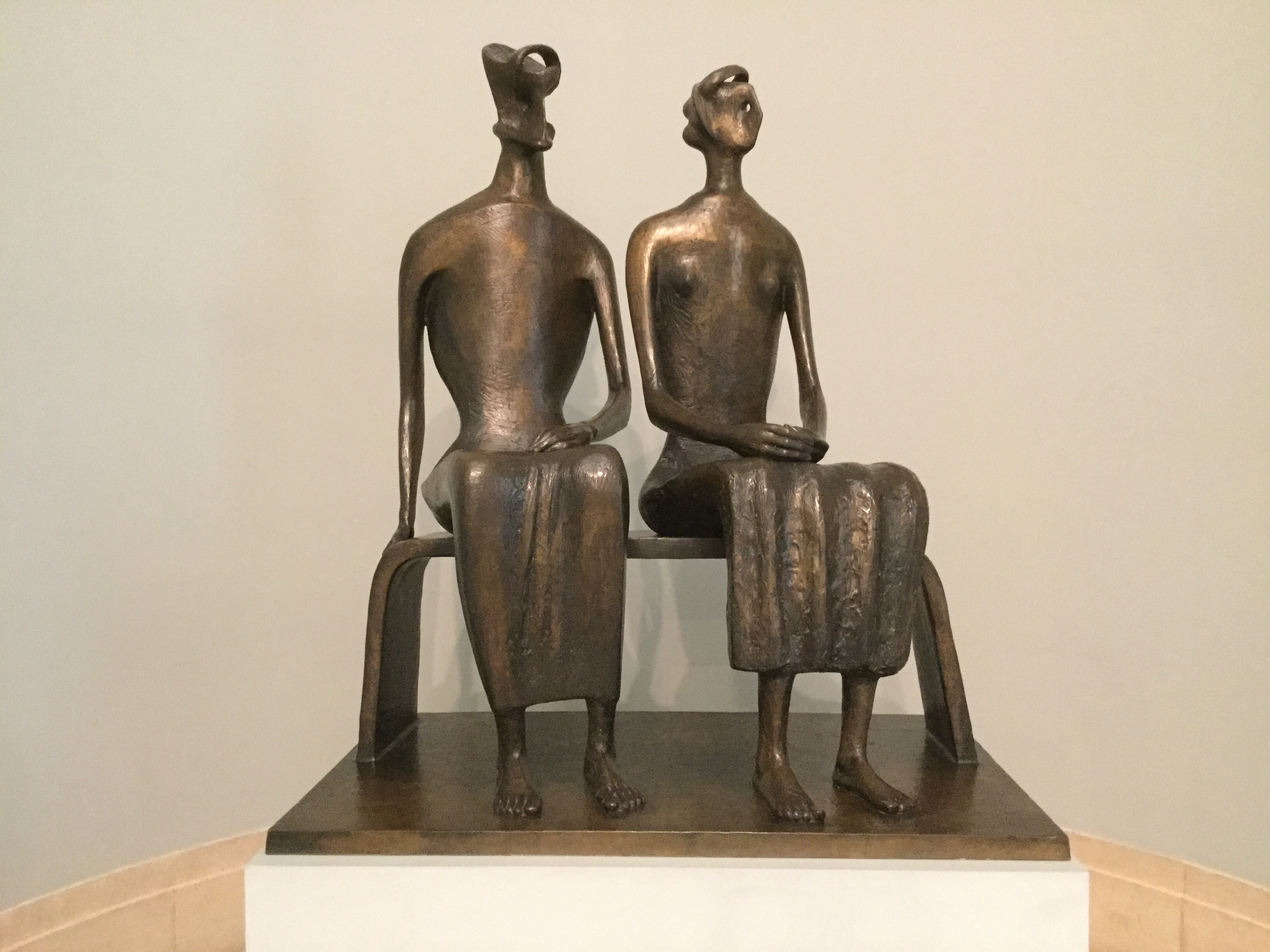 Then we took the tube (as we say here!) to yet another new neighborhood (for us) – Camden – where we had lunch in a pub.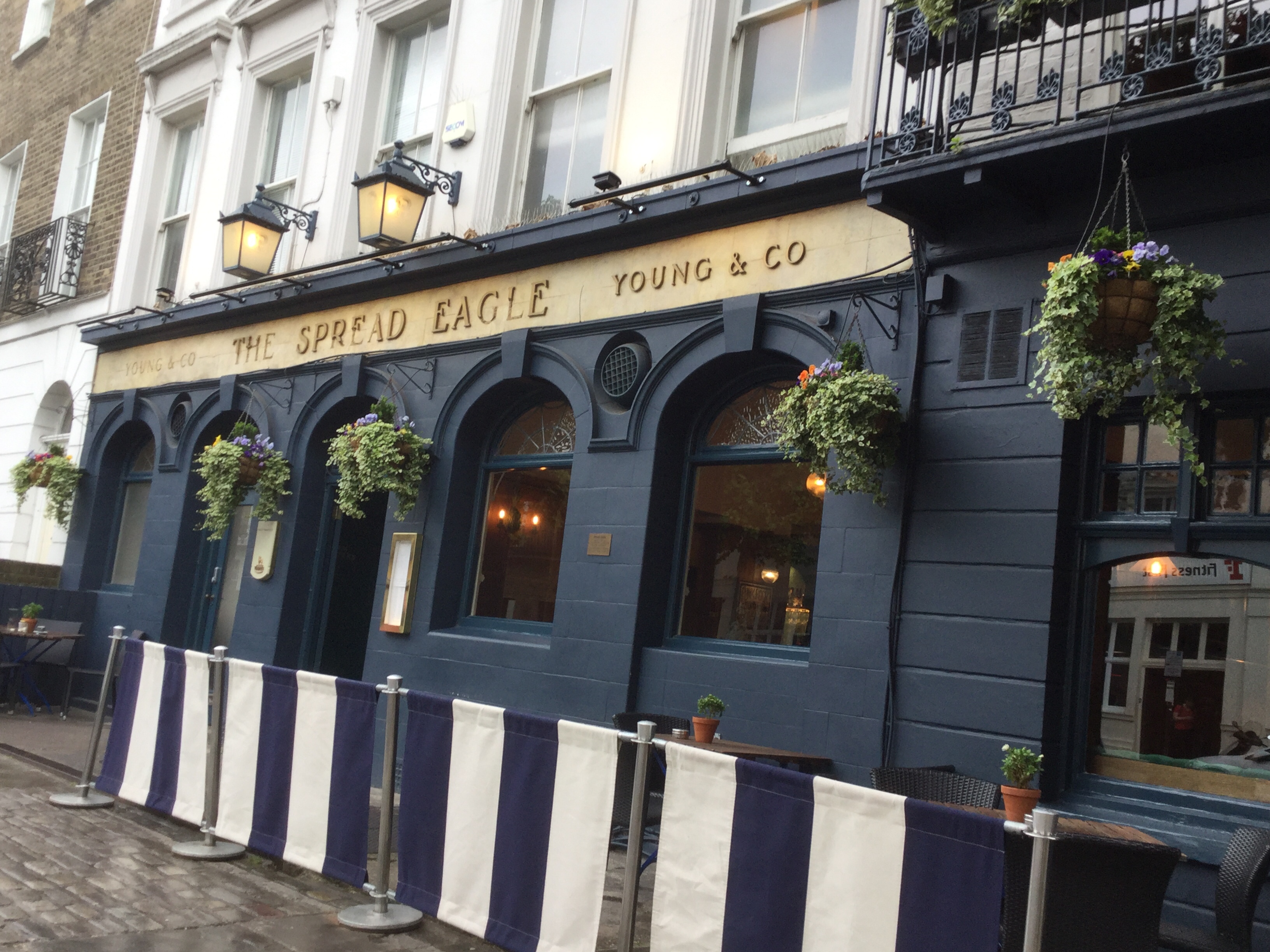 After lunch we went to the Jewish Museum; another museum I had not been to previously in London. Again, the NY Times had pointed the way with a review of an exhibit about Jews and money. There had been some controversy over this exhibit. There was a concern that it was perpetuating unfavorable stereotypes, but the curator felt given the state of the world (BTW, it was the only museum that checked my bag), it needed to be shown.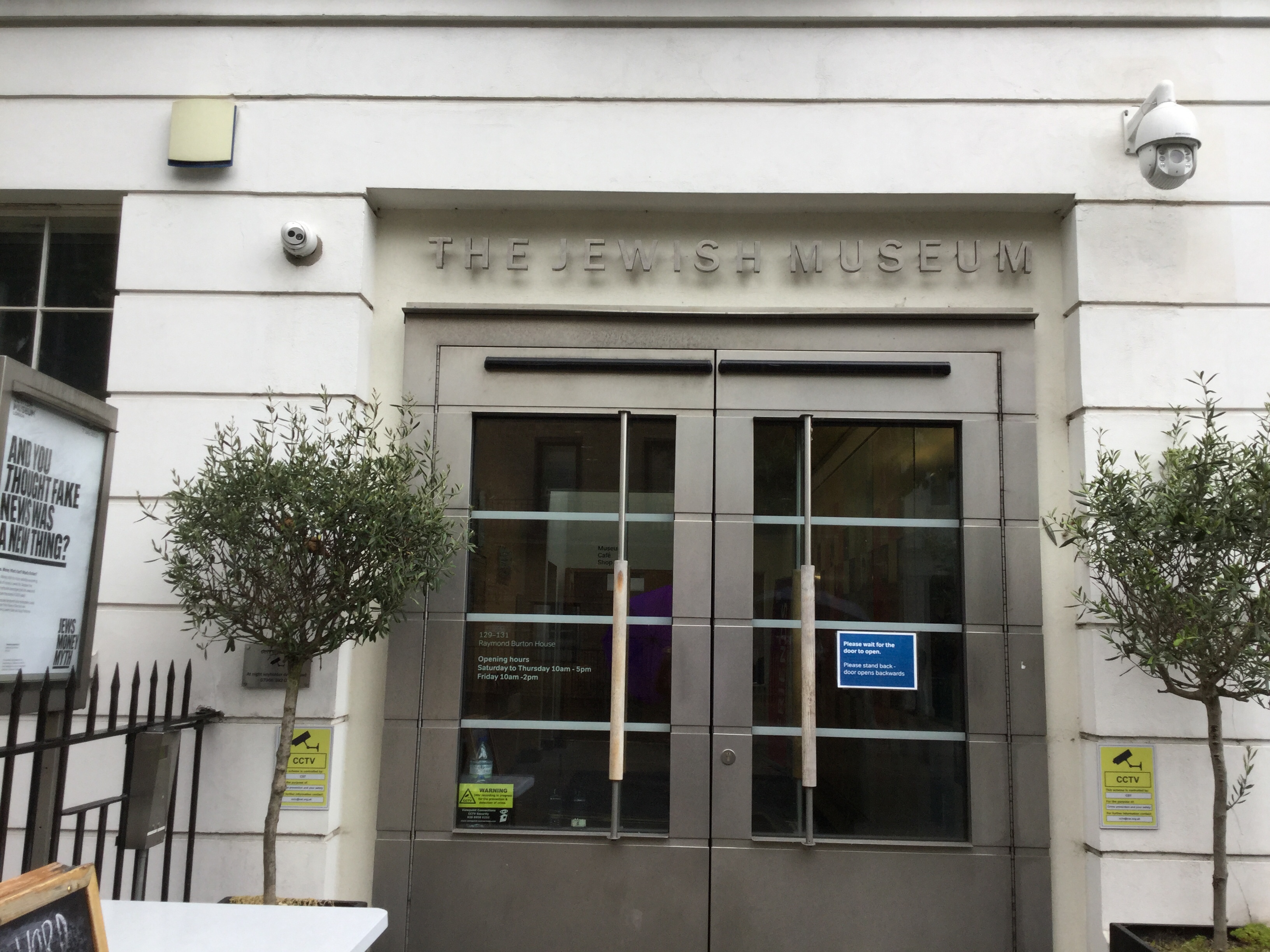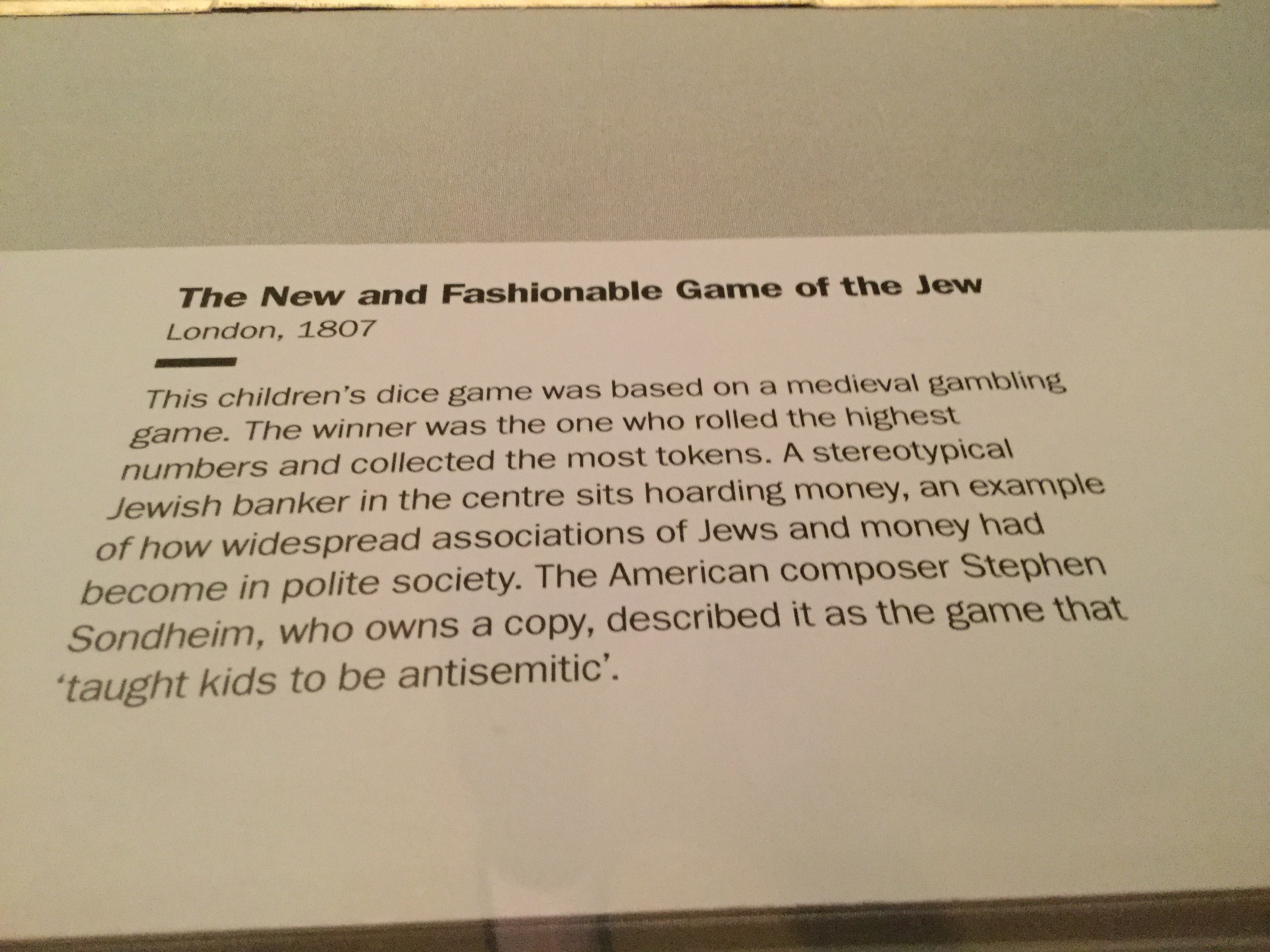 Pretty scary stuff.
By now, we had our 10,000 steps so Marty was entitled to his nap and I could work on this report!
My birthday dinner was everything I had hoped it would be. It was at a Michelin 2 star restaurant called The Greenhouse. It was (only) a 4 course dinner plus lots of canapés to start with, a palate cleanser and lots of sweets at the end.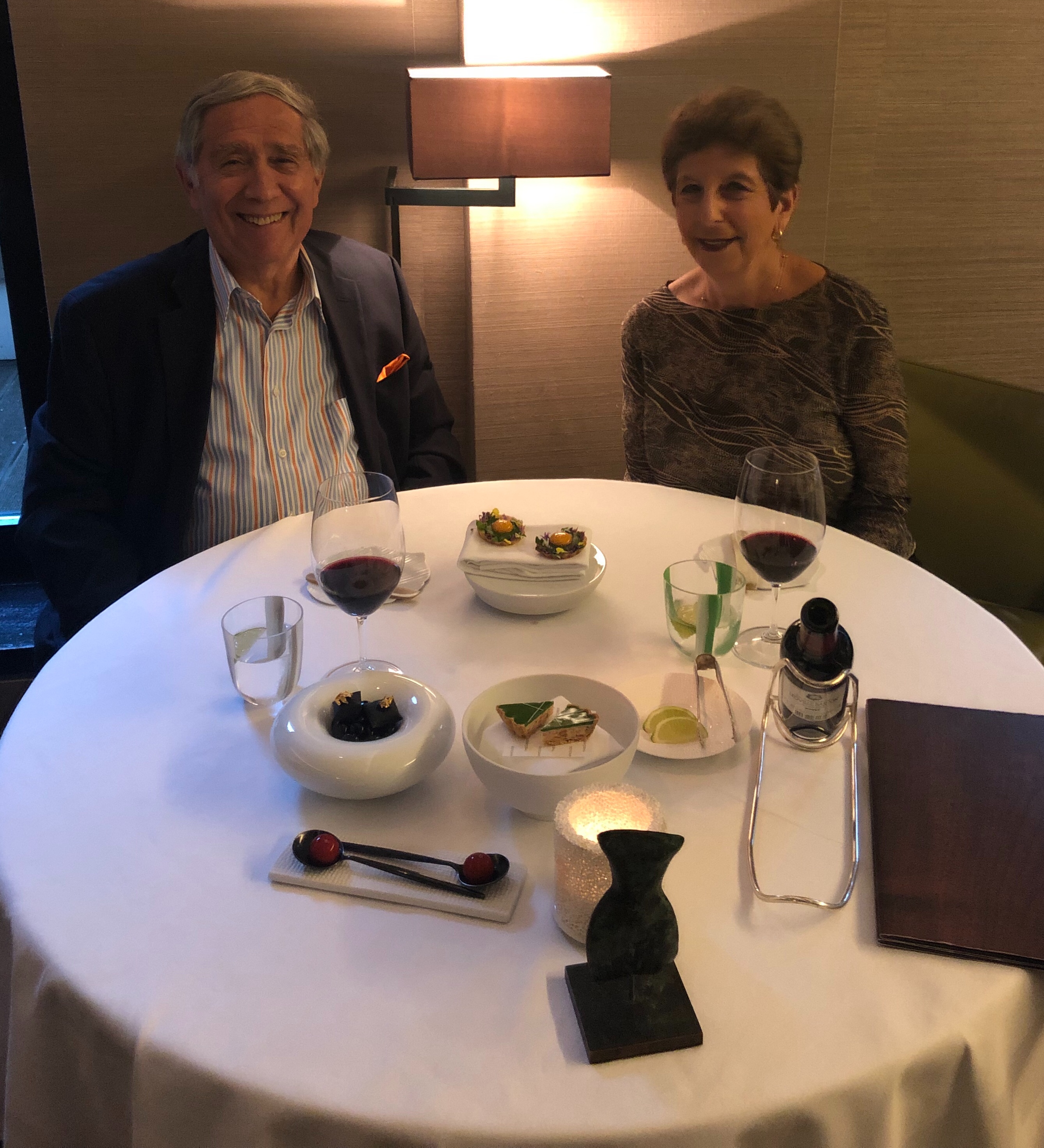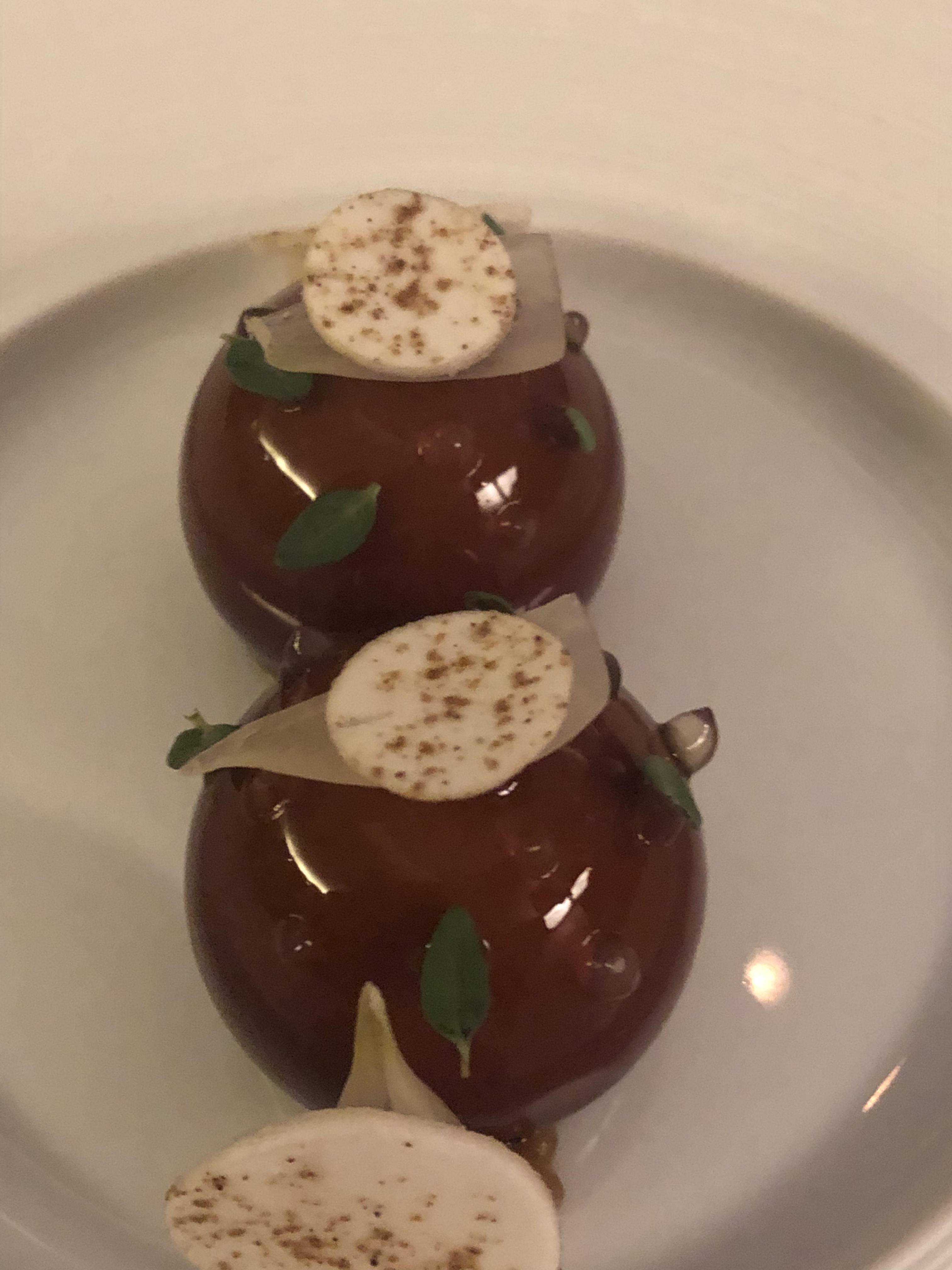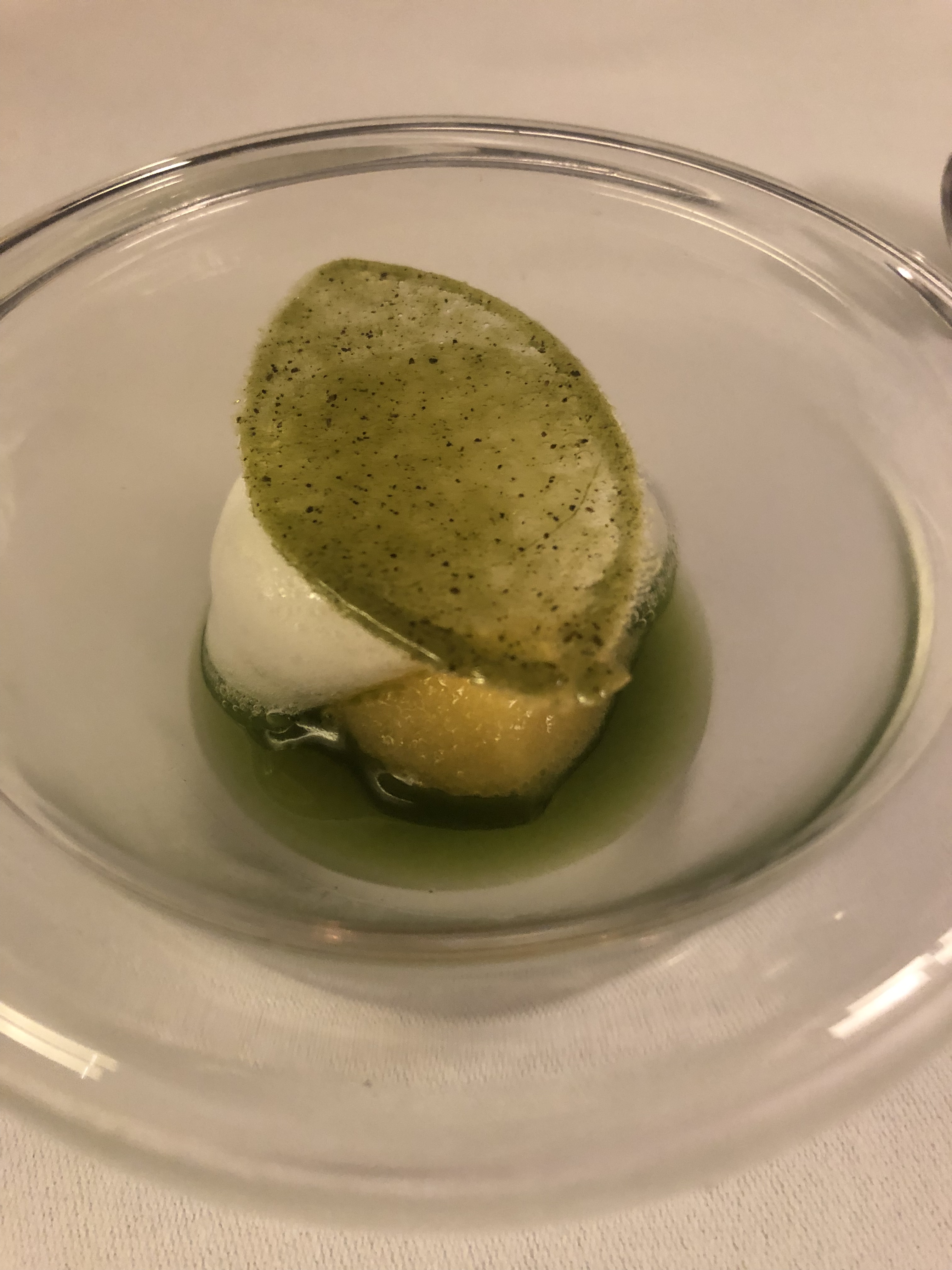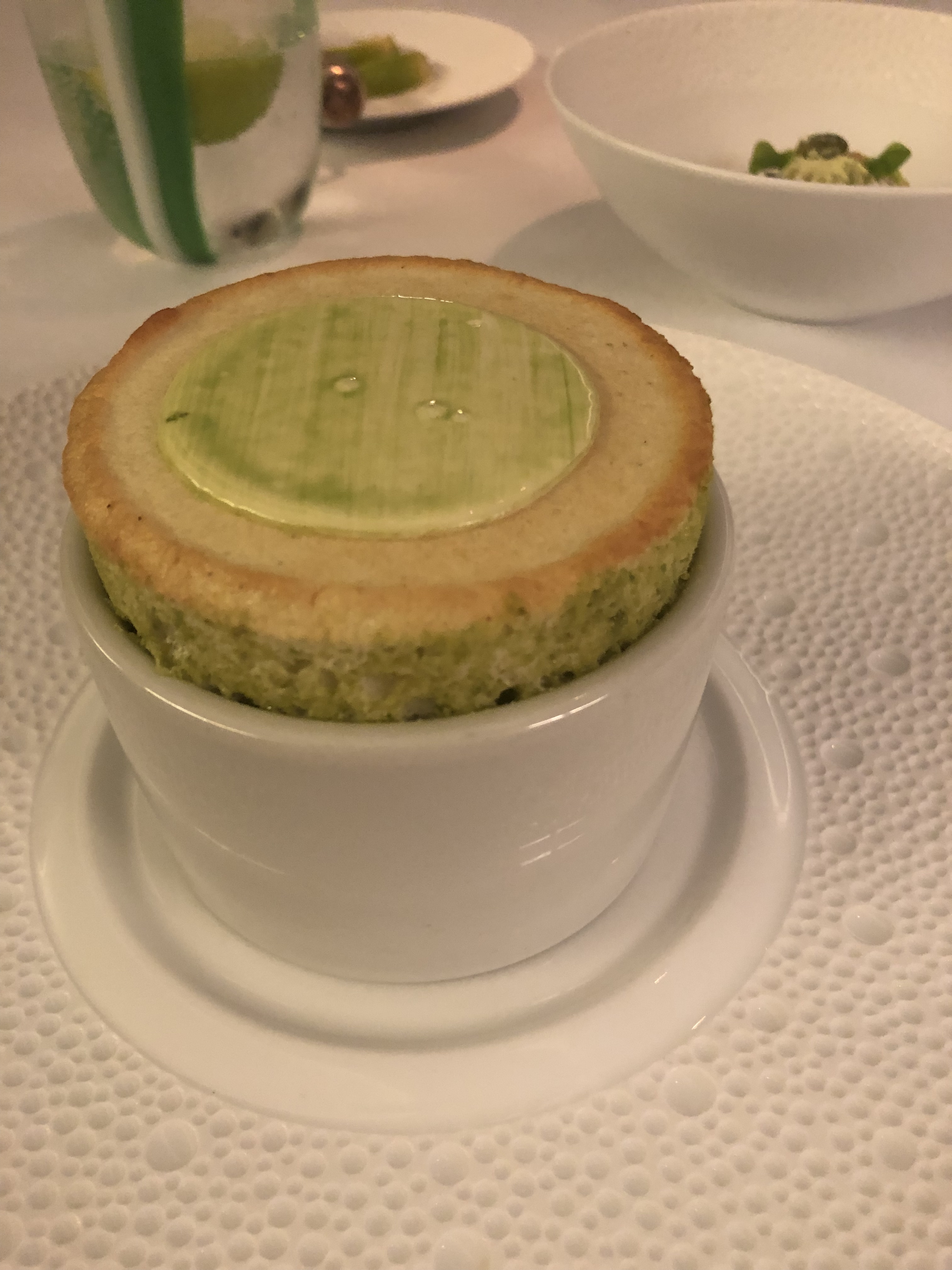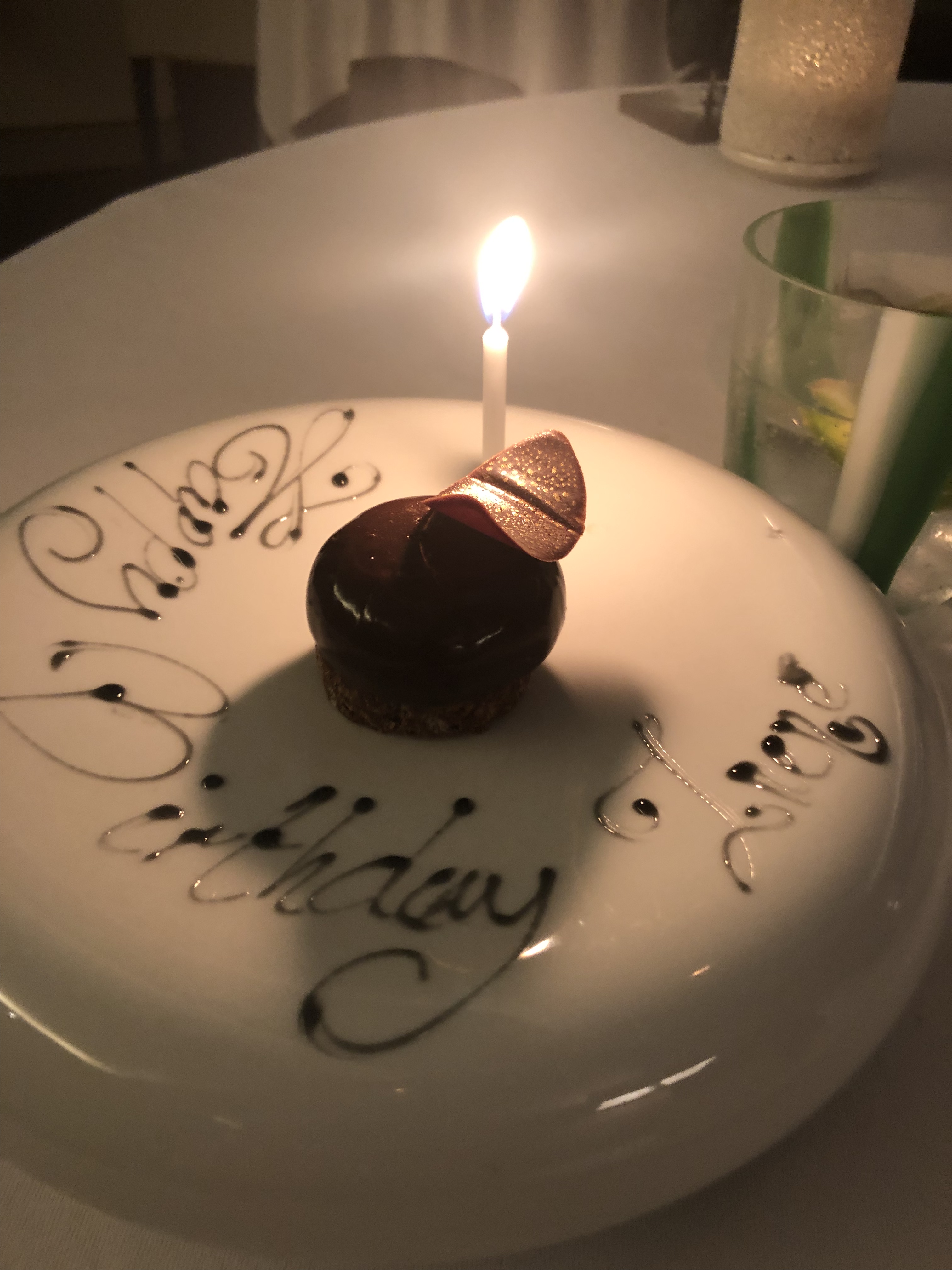 It was just a lovely day from start to finish.
Update on the a Playbill situation: Marty decided he really wanted one so we went back to the theatre on Thursday morning and he bought one.
Our very last stop in London was to Sir John Soane's Museum (the place that was closed on Mondays and Tuesdays). It is the historic house, museum and library of a 19th century architect. At his request, the house has been left untouched since his death over 180 years ago. It was chock full, but no photos allowed inside.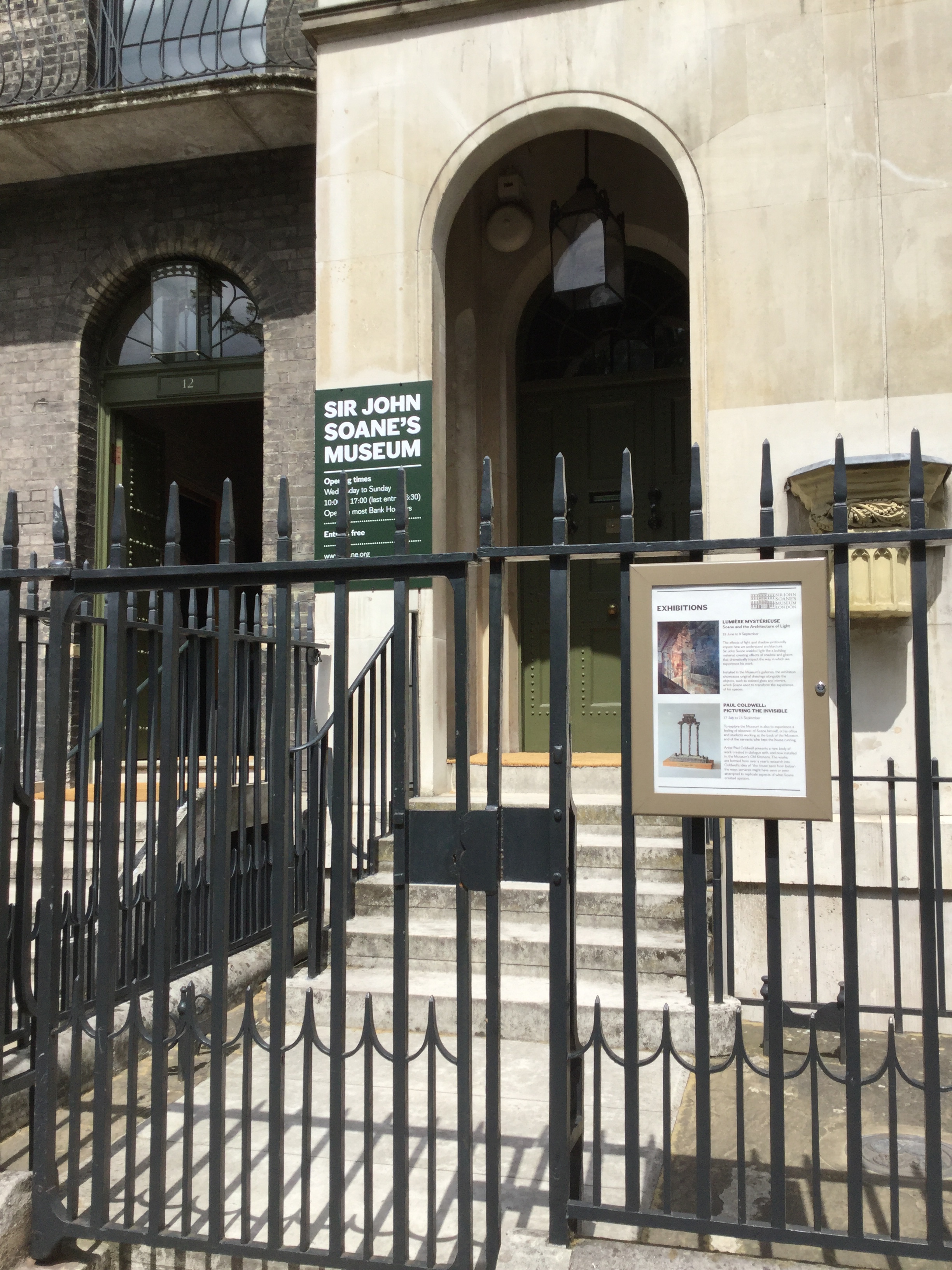 This ends our latest sojourn. Thanks again for all of the birthday love. I've enjoyed traveling with you all. I hope you've all enjoyed vicariously traveling with me. Our next trip will be to Norway in September. Stay tuned.
Till then, the roaming reporter sends her love to all of you.
Irene