Dear Loyal Readers,
A big thank you to all of you who responded to Part 1. Your comments (and praises) are much appreciated. I'd love to hear from the rest of you…
This edition of The Haber Report will concentrate on Dijon and its surrounding towns. We spent 4 delightful days here. Dijon is an actual city; not a little town. It is the largest city in Burgundy with 155,000 people and is the capital of the region. We stayed at the Grand Hotel de La Cloche (Clock) — the only 5 star hotel in Dijon. The facade of the building dates back to the 15th century, but, of course, as you might have guessed, the inside is modern and lavish.
Here's the view from our hotel room.
Day 4 – Decadent Day
This was a totally decadent day. (Some of you will have read about it on FaceBook already.). The day consisted of a winery visit complete with wine tastings, a visit to a cheese factory with cheese tastings, a second winery visit with more wine tastings and ended with a 4 course dinner at a 2 star Michelin restaurant. I've never had a day like that before.😁 Here are the specifics.
The crazy day started at 10 AM at Chateau de Marsannay which is a winery about 20 minutes outside of Dijon. Here we first learned about the wine in this part of Burgundy. The reds are all Pinot Noirs and the whites are all Chardonnays. I also learned that in this particular winery they ferment the red wine from one particular year in French oak barrels of different ages and then mix them together. I never heard of any other winery doing this before. After the wine "lecture", we toured their cellar and then tasted their wines.
From there we went to Fromagerie Gaugry where we learned how they make cheese in Burgundy and then we were able to taste 5 of their delicious cheeses (on terrific black bread). This served us well (pun intended) as lunch.
From here we drove a short distance to Gevrey-Chambertin.
We had an appointment at the Domaine Quivy winery. However, as we were walking through Gevrey-Chambertin, we passed by the Philippe Leclerc winery. When Marty was making winery reservations, he had tried unsuccessfully to go there, but they weren't taking reservations. Well, we just walked in and asked if we could taste their wines and were welcomed in! This experience was a bit different from others in that we were told to just go down to the cellar by ourselves and look around. Afterwards we were seated at a table by ourselves for the wine tastings. He did describe the various wines to us though. Always interesting to have a different kind of experience.
And then there was dinner at William Frachot. — a Michelin 2 star restaurant. It was everything you would expect – from the ambiance to the service to the food. We had a 4 course tasting menu plus little "add ons" before and after. We had a Burgundy Pinot noir that actually tasted like a Bordeaux (which is my preference).
It was a memorable day!
Day 5 – Sightseeing Day
This was a sightseeing day; no wineries today. We spent the day walking around Dijon. We definitely got our steps in.
There is a small stone owl carved into a corner of the oldest church in Dijon. His face has seen better days & he's less than a foot tall, but for over 3 centuries he has been granting wishes to all who stroke his face with the left hand (nearer to the heart). He's become the city's symbol (& I bet you thought it was mustard!)
Thus, there's an Owl Trail you can follow around the historic city center. We did that together with the walk suggested by Fodor's plus whatever happened to catch my eye.
We started at the Porte Guiliaume which is similar to the Arc d'Triomphe, passed the post office which is an Art Nouveau building with pagoda roofs, various squares, old buildings, Norte Dame church and the Palace of the Ducs (dukes) which has the Musee des Beaux Arts inside. Among the latter's holdings is a painting by Manet; a copy of it hangs in our hotel room!
Food stores that caught my eye:
One of the plazas was round and restaurants encircled it. It reminded me of Siena. It was a lovely warm day and we ate lunch there outside. As we were leaving the area, a couple stopped us. We had met them at our first winery back in Chablis. Can you remember that far back in the prior edition?!
At this point, I took us off the scheduled itinerary because I had noticed a Rue de La Synagogue on the map; yes, an actual paper map!! We found it & the synagogue itself. It looked quite large. It was locked up tight so we couldn't go inside.
We made one more stop at the Museum of Burgundian Life which was fun. It had tableaus of family life in Burgundy as well as replicas of old fashioned stores (e.g., pharmacy, candy store, shoe maker, etc.). No photos because my iPad battery ran out & I didn't think to use my phone (even though I've been using my phone in the evenings to take photos of the food!!)
Dinner that night was the one disappointment of the day (trip?). I had a pressed chicken that I just didn't care for. However, on the way back to our hotel we stopped and got delicious gelato. Funny story: 2 other couples who ate in the same restaurant we did were also in there getting gelato. Even funnier: the next day (on a day trip outside Dijon) another couple stopped us & said they had seen us at the gelato store the day before. I guess we're memorable!!
Day 6
It's funny how things turn out sometimes. You need to be flexible. We were en route to Chateauneuf-en-Auzois, primarily to see another old castle. On the way we passed an imposing chateau called Chateau de Commarin. I knew nothing about it, but we stopped & I'm so glad we did. It turned out to be the highlight of the day for me. This chateau has remained in the same family for 800 years. It stands out for the elegance of its appearance. One of the owners was Marie-Judith de Vienne. She lived from 1699-1780 & was the maternal grandmother of Talleyrand (who was a minister under Napoleon). It was such fun to see this beautiful chateau.
Then we drove to Chateauneuf which is another Medieval town. The town was cute, BUT the castle was being renovated & we couldn't get inside. I was doubly glad that we had stopped at the Chateau de Commarin.
Then we stopped at a boulongerie & had quiche for lunch followed by a linzer tart. (The latter was good, but didn't hold a candle to Ken's —for those of you who have been lucky enough to have eaten his!)
From there we went to a winery; surprised? We had a reservation at Domaine Armelie et Berman Rion Winery in Vosges Romanee. This was the highlight of the day for Marty. The tour was led by Armelie Rion herself which was very cool. It was the first time on this trip that we were taken into the vineyards (& not just to the cellars). After the tour we tasted 6 of their wines.
Dinner was at Dame d'Aquitane – another unique experience. It was in a 13th century crypt of a former abbey. I had escargot and sole – both were good.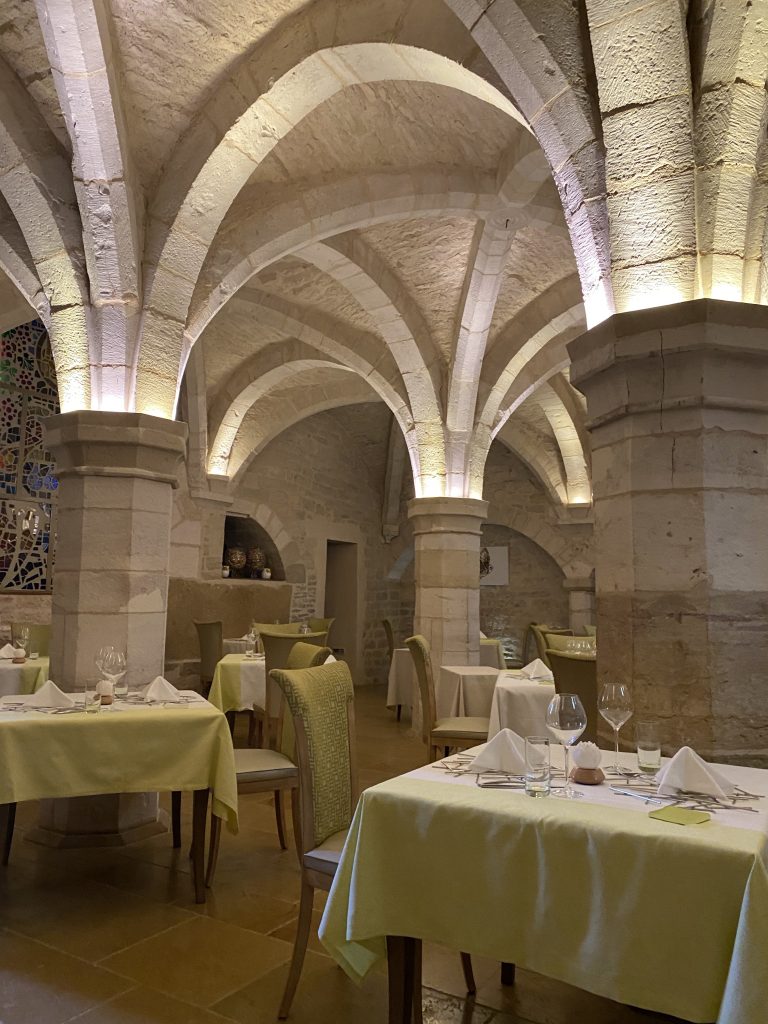 It was another lovely day.
Day 7
We left Dijon to go to Beaune, but made a couple of stops on the way (naturally). Stop # 1 was in Flavigny-sur-Ozerain where we went to the Fabrique des Anis which is a factory that makes anise candies. I love anise as a flavoring. The factory is on the site of a former abbey. (I feel like we've seen more abbeys on this trip than ever before.)
Here's some background: In 52 BC Julius Caesar set up a military camp & a hospital there. He brought some green anise seeds with him to treat his troops for digestive ailments. Following his victory, Caesar offered the hill to Flavius – one of his veterans – who gave his name to the town. The abbey was founded in 719 & anise was grown there staring in 813. Th monks started making anise candies (adding sugar cane to the anise) in 1519.
We got to go on a tour of the factory as well as watch a video about how the anise candies are made and even had a tasting. They now make the candies in 13 flavors. What I enjoyed most was the aroma room where you could smell the various aromas/flavors. It was a fun experience.
The crypt from the abbey is still there. We were able to walk through it
Afterwards we walked a little through the village itself (Flavigny). It's been my favorite Medieval town (so far).
From there we drove to yet another small town: Semur-en-Auxais and had lunch there. I had a Caesar salad which I thought was appropriate given that I had just read about him! The town was touted for the view from Pont (Bridge) Joly.
From here we drove on to Beaune which will be discussed in Part 3 of this travelogue. We are staying at Le Cep Hotel which is part of Relais & Chateaux (among our favorite hotels). In the evening instead of chocolate on our pillows there was a little packet of the anise candies from the factory we had been to earlier in the day!
Dinner was at Le Carmin – a one star Michelin restaurant. I decided that the difference between a 1 and 2 star Michelin restaurant lies primarily in the ambiance (the 1 star had no tablecloths as an example) and somewhat in the service (2 people waiting on you instead of 6). The food was just as good in this 1 star restaurant as that in the 2 star one. We had another 4 course tasting menu which included a Grand Mariner soufflé; alas not a chocolate one. In fact, I have been surprised that none of the little extra sweets at the end of a meal have been chocolate.😪
This ends Part 2 of my Burgundy report. Part 3 will cover Beaune and areas near it. Keep those comments coming, especially you shy ones who I haven't heard from yet.
❤️
The Travel Corresponder
Irene