Dear Readers:
I hope you enjoyed Edition #1 of our Portugal trip.
From Lisbon we took a train (3 hour trip) up north to Porto. Porto is the second largest city in Portugal & the gateway to the Douro Valley where the grapes are grown for port as well as for many many other varieties of wine. Similar to champagne, for wine to be labeled as a port, it MUST be grown in the Douro Valley (only). As an aside, the biggest difference we found in the wines of Portugal vs. other countries is that the vast majority of the Portuguese wines are not only blends of different grapes, but blends of many many varieties. We tasted one wine that was made with 18 different varieties. The most I had ever tasted before was maybe 4 varieties in one wine.
Our hotel in Porto was technically not in Porto but across the Douro River in Vila Nova de Gaia.  It was the Yeatman Hotel, a Relais and Chateau property and one of the great hotels of  the world.  We had an amazing suite.  Here's a view of the sitting room and the view we had.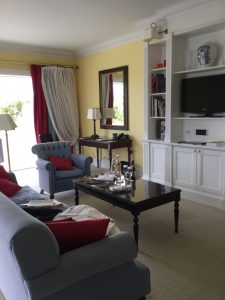 We spent the first 3 days (or parts there of) here exploring Porto itself.  While I liked Lisbon, I loved Porto.  The area by the Douro River (on both sides) was charming and the rest of Porto was lots of fun to explore.  Again, we walked & walked (which allowed me to eat & drink as much as I wanted & we did!)  I realize that I neglected to include in my Lisbon report how steep & hilly Lisbon is.  As we learned, so is the rest of Portugal.
Looking at my journal notes (otherwise how could I compose these reports 😁), I see that museums again dominated followed by churches and then miscellaneous other places of interest (to me anyway).  The first museum we went to (just about right after we got to Porto) was the Serralves Museum of Art which is a museum of contemporary art.  Here's a sculpture by Claes Oldenburg.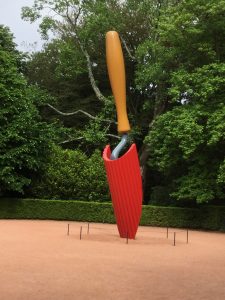 We went to the Museo Romantico which was in an 18th century mansion which was briefly the home of King Carlo Alberto of Sardinia who lived there for the final 2 months of his life in 1849.  The rooms have French, German & Portuguese furniture as well as rugs and ceramics and even a billiards table.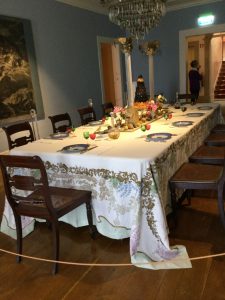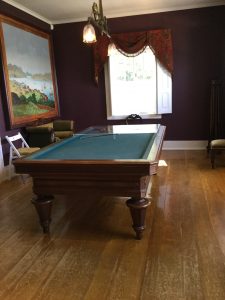 Next up was the Museo dos Reis which had been a Palace built in the 18th century.  At one time it had been a Jewish textile workshop.  Today it holds Portuguese art.  I think the woman looks like my paternal grandmother!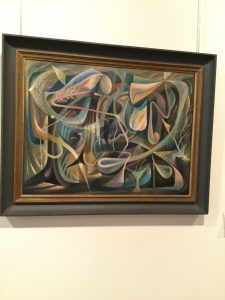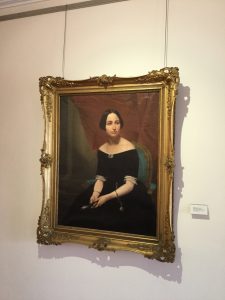 One of the churches we went to was Sao Francisco (or St. Francis).  Note the intricate ceiling.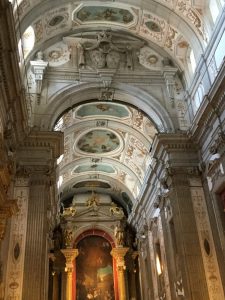 Another church we went to in Porto was the Cathedral (or Se as we say in Portuguese).  An 18th century staircase leads to the upper level where tile panels depict the life of the Virgin Mary and Ovid's Metamorphoses.  As I've mentioned before, I am so taken with all of the tile work all over Portugal.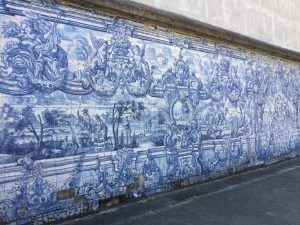 As an aside, I'm sure many of you are wondering how Marty did with the Portuguese language.  It's quite a difficult language, but he did great.  He pretty much made himself understood.  Most people spoke at least some English wherever we went.  In the hotels and restaurants, of course, the English was excellent.
Here's a church we just happened to walk by: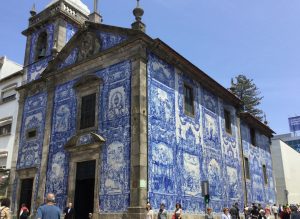 Other places of note that we went to in Porto were a bookstore, the train station and a market.  The bookstore is called Livaria Lello.  It was built in 1906 & is billed as one of the world's most beautiful bookstores.  Would you believe it cost 5 Euro to get in?!  A real money maker for the store which has an elaborate neo-Gothic facade, a beautiful ornamental ceiling & a red staircase.  They happened to have a small exhibit of Miro book illustrations when we were there.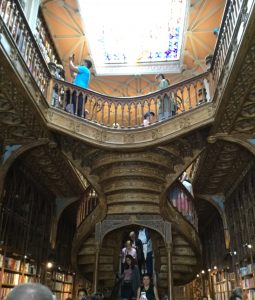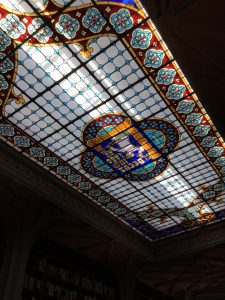 Similarly, the Sao Bento train station is one of the world's most beautiful train stations with gorgeous blue azulejo (tiles).  The train station was built at the beginning of the 20th century.  The large hall is totally faced with tiled panels that depict the history of transport & famous events in Portuguese history.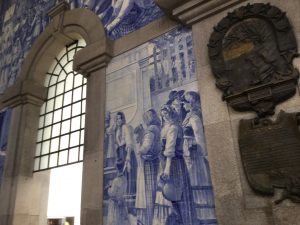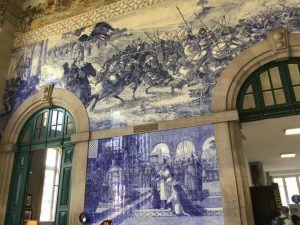 The market (Mercado do Boinao) was a traditional European market.  The building it is usually housed in is under construction so it took us a while to locate it (but she preserved!)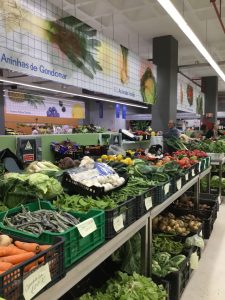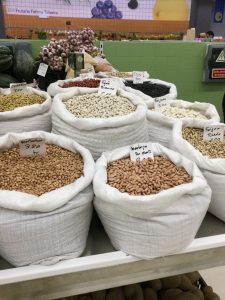 If you can remember back to the beginning of this tome, I mentioned that we went sightseeing in Porto for part of each day.  The latter part of the days were reserved for wine tastings.  While the vineyards are 2 hours away, many of the wineries have cellars & wine tastings in Porto.  We asked the hotel to make us appointments in 2 of them.  The first one was called Ramos Pinto.  I actually picked this one because the hotel's e.mail had said they gave tastings of chocolate as well as wine.  Turned out they've stopped doing the chocolate tastings. 😓. Also turned out it was a group tour, not a private one.  They did have a little museum there which we toured as well as their cellar and then we tasted 2 of their wines.  Marty was not impressed with any of it.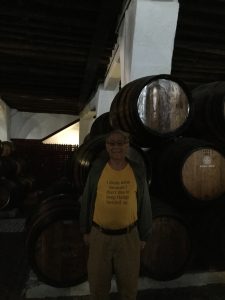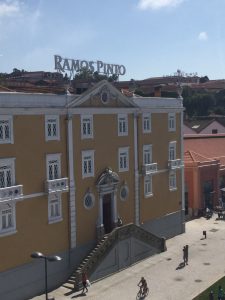 The next day we went to the Churchill Port Lodge for a private tour & tasting.  This winery was started by John Graham (from the famous Graham port family) 37 years ago. He broke away from his family & used his wife's maiden name for the winery; no relation to Winston (nor to my next door neighbor when I was a teenager whose name is John Graham!) We enjoyed this tour & tasting better, especially the 2011vintage ruby port.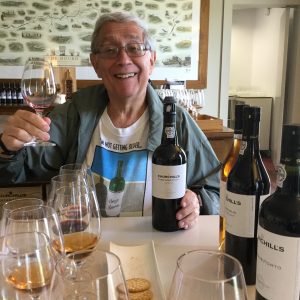 We have to catch our plane so I am going to stop now.  I will continue with the food in Porto as well as the Douro Valley at another time.
❤️
Irene