Dear Readers,
Welcome to stop #1 in Cambodia. Siem Reap means Siamese defeated as in the Thais attacked, but were repelled. It's the second largest city in Cambodia & is quite busy. We thoroughly enjoyed our time here. The primary reason for visiting here are the temples of Angkor. The temples of Angkor were built from the 9th to the 12th centuries by a Khymer empire that controlled not only Cambodia, but also large parts of what are now Laos, Thailand & Vietnam. With their grandeur & extraordinary delicacy in detail, the various temples rank among humankind's supreme artistic expressions.
We went to the 4 main/most important temples. What impressed me most is that these 4 are completely different from one another. You never felt like you were going to one more temple & had seen enough of the same thing.
On the first
morning we started by going to Angkor Thom which means grand city. As you approach it, the first thing that grabs you is the imposing gate with faces staring at you.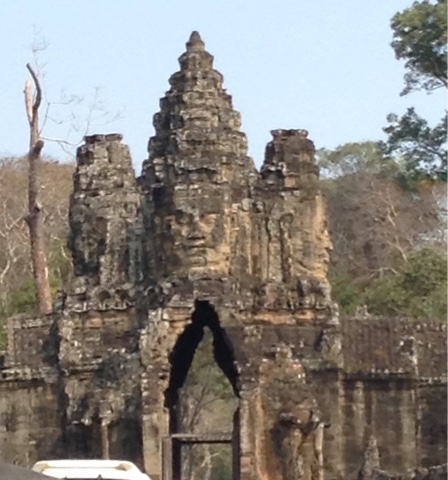 Angkor Thom is set over 10 sq km (6 miles). It is a huge complex with many temples within it. The primary temple within Angkor Thom is Bayon. It had 54 towers of which 38 remain. There are 216 faces carved on the various towers. It is quite spectacular. Here are a few pictures.
At this point we had been marching around the temples for 4 hours in 90+ degree weather. We decided to take a 2 hour break in our hotel room to re-charge our batteries both literally (as in my iPad) & figuratively.
With renewed energy
we went to Angkor Wat which is the most famous of
the Angkor temples. It is the world's largest religious building. It was built as the funeral temple for King Suryavarman II who ruled from 1112 to 1152 as well as to honor the Hindu god Vishnu. It is the Khymers' national pride. Unlike the other Angkor monuments, it was never abandoned to the elements & has been in virtually continuous use since it was built. In fact, on the day we were there it was a holy day & only the monks were allowed on the top (third) floor. Marty was disappointed that he couldn't climb the steep steps to the very top! We did get as high as the second floor though.
It was some day. The following afternoon we went to Bantaey Srei which is iabout an hour outside
Siem Reap. It is a relatively small temple constructed of rose sandstone. The preservation of its bas reliefs is the best of any Angkor temple. The details were amazing.
Prior to visiting this 4th temple on the second day, we went on another boat ride. This one was on Tonle Sap Lake which is the largest lake in SouthEast Asia & #19 in the world. It is Cambodia's dominant geographical feature. Swelling in size from 1860 square miles to over 4500 square miles during the rainy season, Tonle Sap is one of the world's richest sources of freshwater fish & provides a livelihood for half of the Cambodian population. It was the most interesting boat ride we have taken so far. On the lake we passed Kampong Khleang which is a floating village. There were houses built on 30 foot stilts (because of the rainy season),
floating houses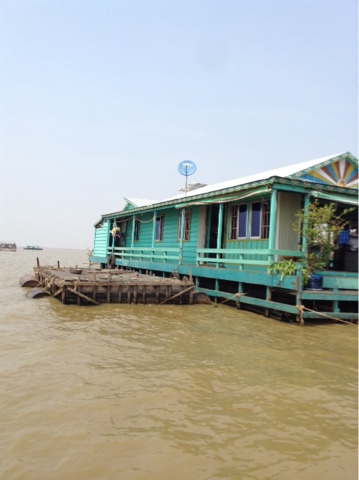 and even a floating school!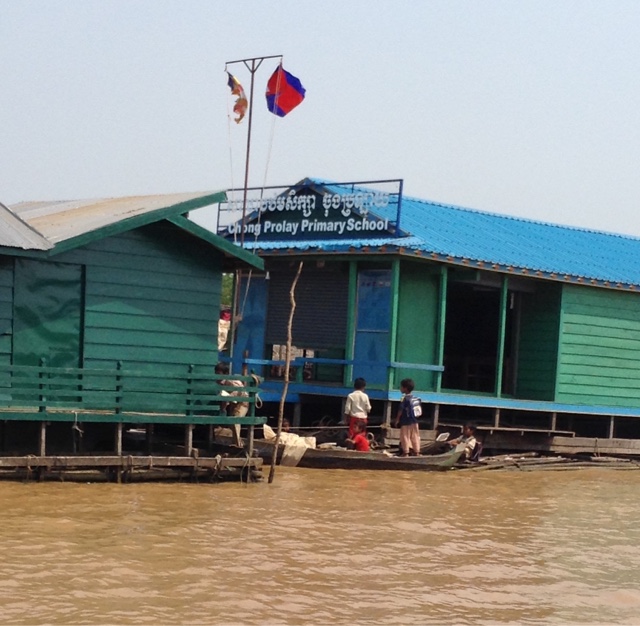 And now let me say a word about the food in Siem Reap: delicious. What more do I need to say, but I will say more! About a year & a half ago, there was an article in the NY Times about restaurants in Siem Reap. That tells you something right there. It mentioned that the first gourmet restaurant opened in this town was called Cuisine Wat Damnak. Of all the restaurants I read about while researching this trip, this is the one I was most interested in trying. I was able to make a reservation on line 2 months ago. It was a 6 course tasting menu & it cost (drumroll please): $31. You read right. It was clearly a "Haber-worthy" meal. Every course was unique & delicious. We went there on our first evening in Siem Reap (before we had even seen any of the magnificent temples here) & it was a lovely introduction to the town. I must say though that even here, the wine list was not up to the standard of the food.
On our 3rd evening here we went to another restaurant that I found in that aforementioned article. Here too the food was delicious (& the wine mediocre). The ambiance was lovely (in an old house). It was only marred by a loud group of 6 "ugly Americans" who had apparently just met on a group tour & were very loud. Ah well.
Dinners (except one in Bangkok) are not included in our package so we don't have a driver in the evenings. Although in Hue, our guide & driver volunteered to take us to the restaurant we were going to. That was the day we had bagged the afternoon planned activities due to the rain, so we accepted. They actually volunteered to wait for us while we ate, but we thought that was a bit much & sent them home. Anyway, in Siem Reap the taxis are tuk tuks – driver is on a scooter which is attached to a rickshaw (or pedicab); they go quite fast & were lots of fun to ride in. The custom here is that you buy a round trip fare. The driver takes you to your restaurant & then returns at an agreed upon time to retrieve you. He isn't paid (& it cost only $6 round trip) until you are safely returned to your hotel.
On the middle evening, we walked a few blocks to a walking street which was packed with lots of casual joints & tons of people. It was fun to be there. We were trying to find a French restaurant but couldn't find anything that appealed to us. Truth be told, that was the day we had walked & walked thru the temples in the heat. When we got back to our hotel in the late afternoon, we went to the pool & had some beer & hors d'ourves so we weren't really hungry. We wound up having some pizza for dinner!
Enough about the food for now. One last comment about Siem Reap. When we were in Australia, we got a kick out of a kangaroo crossing sign on the road. Here's a sign we saw here. In case it's not clear, that's an elephant!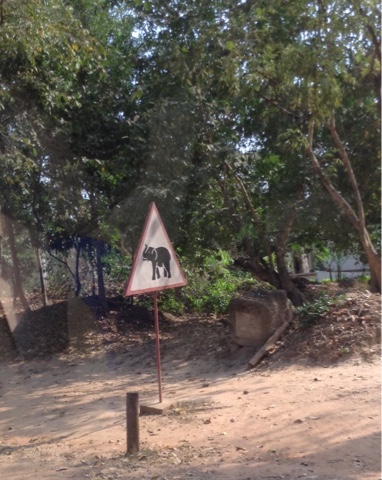 That's it for now. Next stop: Phnom Penh – the capital of Cambodia – where the tone of what we will see will turn more somber again.
Till then,
Your intrepid roving reporter,
Irene