Dear Readers,
I started this entry last night. I wrote 2 long paragraphs & then somehow managed to delete them. Grrrr. Ah well. Here's my second attempt.
We love Laos. It is so different from Vietnam. As busy & hectic as Vietnam is (with so many cars & scooters making it almost impossible to cross the street in Saigon & Hanoi), that's how calm & serene & laid back Laos seems to be. Luang Prabang is the second largest town in the country & it's just a small village. The weather (which is so important when you travel) has been great; pleasant in the mornings & evenings (nice enough to eat breakfasts & dinners outside which we both love to do) and hot in the afternoon. As a result, we spent mornings sightseeing & afternoons at the pool (a real hardship!). We are staying in another boutique hotel. This one feels like an old French colonial estate. The food has been much more exotic & tastier. I think that might be partially due to its newness; we frequently eat Vietnamese food in NY & find it to be not that dissimilar from Chinese food. The Laotian food has used unfamiliar spices & foods. And lastly, we've had experiences here that we have not had anywhere else.
Here's the view from our patio.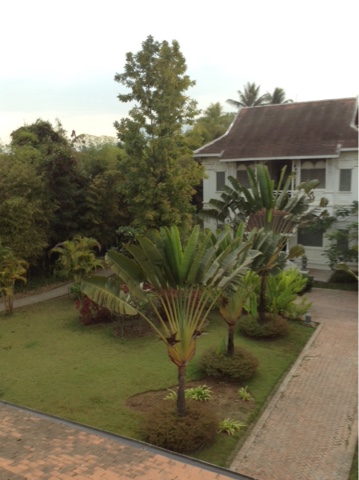 Let's start with those experiences. There is a tradition in Luang Prabang that at dawn long lines of monks walk around the town collecting rice & alms from the local people. We were "scheduled" to observe this tradition on our second day here, but hadn't decided whether we really wanted to get up that early. In our room was a note that one could observe the monks near the hotel which is outside the main town. On day 1 I happened to wake up at 6 AM & on the spur of the moment (while Marty slept) I decided to go find those monks. The concierge gave me directions & off I went into the dark all by myself. After a few blocks I came to the appointed spot. I could see that local women were sitting on the ground so I assumed I was in the right place. Then a German couple came & I even managed to have a conversation with them in German. By now it wasn't so dark any more. Eventually 10 monks appeared, walking in a straight line. When they got to the townspeople, they stopped, chanted for a few minutes, collected their rice and alms & went on their way. It wasn't as dramatic as I imagine the scene in the town proper is, but it was my own little adventure & I loved it.
New experience (of a sort) #2: While I am a big fan of dance (& go to dance performances frequently with several of you), Marty is not. While sightseeing on Wednesday in the town, we came to a theatre that announced there would be a dance performance that evening of the Lao National Ballet. The performance started at 6 PM, was only an hour long & our dinner reservation was at 7:30. It was meant to be & Marty was game. There were 3 pieces; the first & third were abstract, while the middle piece told a Laotian folk tale; they gave us a written synopsis of it (in English & French). Marty enjoyed the folk tale while I preferred the other two pieces. BTW, the tickets were $18, just like in NY; not.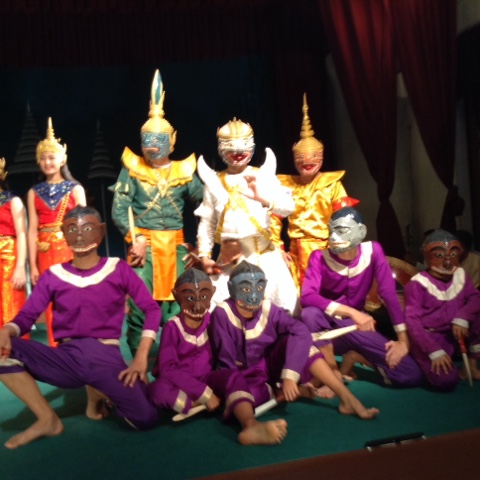 Third new experience: by now many of you have seen the photos in FaceBook of us riding on an elephant. Clearly, this was something we had not done before & it was a lot of fun. Strangely, it had not been built into our "tour", but luckily our guide suggested it. Clearly, one of the many benefits of traveling with your own guide is the ability to re-work the schedule; the pool time wasn't part of the schedule either!
Other things we saw here over our 3 day stay: The National Museum which was the former royal residence. It once
housed the sacred Emerald Buddha which is now in Bangkok where we will see it later on our trip. The museum has a replica of the Prabang – a golden Buddha from Cambodia which gives the town its name.
There were lovely murals of Lao life in shimmering mosaics & oil. The museum also houses gifts from various heads of state including a moon rock from President Nixon given in 1972 at about the same time the US bombing of Laos reached its peak. So odd.
We went to several Buddhist temples (there are 30 in this tiny town) including one where our guide studied for 4 years.
Here's the lovely grilled fish I had for lunch that day.
On the next day we went on another private boat ride on the Mekong River; yes, it's here too. When I asked what kind of boat it was, I was told it was a slow boat!
After 2 hours we arrived at the Pak Ou caves – a mystical pilgrimage site perched high above the Mekong River. There is a lower & upper cave. There are 228 steps (& yes, I counted them) to reach the upper cave. I went to both. We decided it was wiser for Marty to skip the upper cave given his knee issues; we didn't want a repeat of what happened in Tibet even if he has had several shots in his knees since then. There are over 3000 Buddhas in the caves, some inlaid with precious stones. The fact that these stones remain undisturbed in one of the world's poorest countries is a tribute to the devotion of the local people; no comment. It was too dark in the caves to get a decent picture but here is a hieroglyphic from inside as well as a view on my way up.
We had lunch at a riverside cafe near the caves. We both had Koy Pa – typical fish salad- & Laotian beer; both were very tasty. One of you asked me about the wine on this trip. Let's put it this way: we're drinking a lot of local beer. While we've had wine at dinner, it hasn't been particularly good except for the Bordeaux we had at a lovely French restaurant in Luang Prabang (where
we ate buffalo steak).
Bev: The next place we went to is for you. We went to Ock Pop Tok, a Lao textile gallery & weaving center founded to preserve & promote traditional Lao textiles & weaving techniques. They showed us how the silk
is made (we had seen this before in China), the weaving, the dyeing, the spinning & the finished products. We went to various markets & woven items were in every one. It's how many of these people make a living (such as it is).
This last photo was actually at a Hmong village (one of many ethnic minority groups) where I tried my hand at removing the kernel/seed from the cotton.
As many of you know, I love waterfalls. After our elephant ride yesterday, we went to see the Khoang Sy waterfall. It did not disappoint.
We are half way through our trip, both in terms of days and countries. This afternoon we fly to Siem Reap in Cambodia. Keep those comments & questions coming. I'll keep reporting (as long as I have the time & energy to do so.)