Dear Readers:
Welcome to the latest edition of The Haber Report. Marty and I are spending 2 weeks traveling through the Piedmont region of Italy which produces Italy's finest wines; yes, that is why we are primarily here.
Prior to our exploration of the various vineyards, we are spending a few days in Milan & then in Turin sightseeing. This way the trip works for both of us! Milan is a small city full of very fashionably dressed young women. Besides its sense of fashion, there are numerous museums here and we have gone to 9 of them in the past 2 days! I enjoyed the specialized ones better than ones devoted to paintings. For example, one of the places we went to was in a castle (Castello Sforesce) that had been a Renaissance palace. It now houses several different museums. We went to the ones devoted to Decorative Arts, Musical Instruments and Furniture. In the Musical Instrument Museum I learned about the chitarra instrument. I knew this word only as a form of pasta; turns out that the pasta was named for the instrument which it resembles. Travel is enlightening! Here's a photo of the instrument: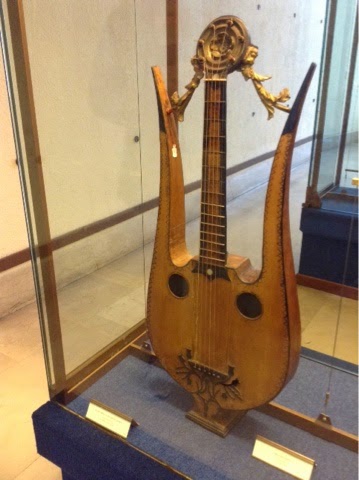 I also enjoyed the museum at La Scala – the famed opera house. They are currently staging Turandot and they had an exhibit of various costumes used in this opera over the years. At another museum there was a special exhibit on Leonardo Da Vinci which was quite good. Speaking of Da Vinci, perhaps the most famous "sight" in Milan is his painting of The Last Supper. It is on a wall in a convent. I had purchased tickets to view it several months ago which was a good thing as they sell out way in advance. Along with a small tour group, we were the only ones allowed in at our specified time. Luckily, the tour leader spoke English (& Spanish) so we were able to hear her explanation of how Da Vinci showed the different reactions of each disciple through their body language. It was quite fascinating.
The other main attraction in Milan is the Duomo which is one of the largest Gothic churches in the world. It is quite spectacular with its myriad of spires outside and 52 giant pillars inside. It is well lit by beautiful stained glass windows. I have never seen such clean, easy to view stained glass windows. Here's a photo of the outside of the Duomo: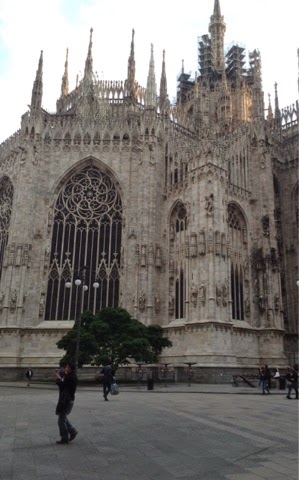 And then there's the food; hard to go wrong in Italy. I'm sure you won't be surprised to learn that I have made dinner reservations months ago for virtually every evening of our stay. Last night we ate at a Michelin one star restaurant called Al Pont de Ferr which means The Iron Bridge. The restaurant is in the canal section of Milan in between 2 iron bridges. The meal was spectacular, so creative. They gave us about 6 little amuse bouches to start. And it was considerably less expensive than many restaurants of this quality that we have been to. Tonight we are going to a restaurant that was touted on the Internet as being a favorite of the locals; Marty is looking forward to having veal Milanese in Milan.
But before that he had pizza for lunch today: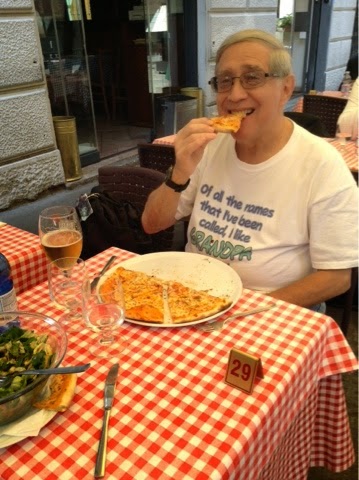 Tomorrow morning we pick up our rental car and drive to Turin where our adventure continues.
I hope all of you are doing well. I look forward to hearing from each of you!
Much love,
Your Roving Reporter.
Irene