From Rouen we drove to a small town in Normandy called Port-eu-Bessin-Huppain to a lovely hotel recommended by one of our neighbors. It was called Chateau La Cheneviere. The grounds were beautiful, the accommodations spacious & the food was wonderful. We have had really incredible food on this trip. Here's a photo of the hotel.
On the way to the hotel we drove to Camembert. Being a lover of this cheese, I was eager to see where it was made. Like real Champagne can only be made in the Champagne district, real Camembert can only be made in Camembert & a few surrounding towns in Normandy.
I must say that Camrembert was the only disappointment of this trip. The town is smaller than a NYC block. There wasn't much to see except a small museum (where they did give us a taste of the Camembert!) and a walk thru a facility that produces the cheese (as well as several others). Unfortunately, the workers were either not there at all or cleaning up so we didn't get to see very much.
We had dinner that night in a small restaurant in town recommended by the concierge of our hotel. It was quite good.
The following day we went to Mont St. Michel. It took us 2 hours because the GPS on our rental car sent us the most direct route (rather than the fastest route) on some incredibly small roads. We got to see a lot of the French countryside. As an aside, I must say that in general the GPS is a wonderful invention & worth the additional expense; so much easier than squinting at a map, especially with older eyes! Mont St Michel is a Romanesque and Gothic Abbey perched on a 264 foot high rock a few hundred yards off the coast. To get there, you park your car, ride a bus for 10 minutes & then you walk on a causeway. There are tons of tourist shops when you first arrive. You walk up quite a few steps to enter the Abbey. Once inside there are lots & lots of steps and many, many rooms to see. Luckily, Marty did not have any issues this time walking back down; (not as many steps as the palace in Tibet, but I worried nonetheless). The Abbey was quite impressive.
On our way back, we stopped at Chateau Balleroy which has a hot air balloon museum on its grounds owned by Malcolm Forbes. Having never been to a hot air museum, I thought it might be fun. It was OK. Are you keeping track? That's the second type of new museum I encountered on this trip!
That night we ate at a local pizzeria in town. It was the first (& only) non-satisfactory meal we had on this trip.
On our last day in Normandy, we went on a tour of the D-Day landmarks. Our first stop was the American Cemetery. Over 9000 Americans are buried there which is only 40% of those who died here. You see row after row of white marble crosses with the occasional white Star of David sprinkled throughout. Each one bears a soldier's name. It was quite an emotional experience, especially since it was Memorial Day week-end. There was a special service and many men in uniform; the American flag was at half mast. Some of you have already seen one of my photos from there on FaceBook. Here's another.
From here we were taken to the sector named Omaha Beach which was one of the 4 beaches where the Allies came ashore on June 6, 1944. We were also taken to Point dunHoc which had some interesting scenery and the remains of some bunkers. Too bad the tour guide was among the worst we've ever had!
The tour started & ended in Bayeux. So next we went to see the Bayeux Tapestry. It is a UNESCO site. It is a 225 foot long embroidered scroll stitched in 1067. It depicts (in 58 strips) the story of William the Conqueror's conquest of England in 1066. Despite its age, the tapestry is in remarkably good condition with vibrant colors. The extremely detailed scenes provide an unequaled record of the clothes, weapons, shops and life of the day. We were given headphones with commentary on each scene. It was an excellent experience. Unfortunately, photos were not permitted. You'll just have to go.
Our last stop in Normandy was Deauville – a seaside resort which is still visited by the rich and famous. We walked around and had a little snack.
To end our visit to Normandy, we had dinner at our chateau. It was another wonderful meal.
The next day we drove to Ghent, Belgium (on our way to Amsterdam). It took 5 hours, most of it in torrential rain. We stayed at a Marriott Hiotel which was on a non-descript street. We dropped our bags and went to explore. The concierge told us to go out the back door. Voila – we were on the edge of a canal facing the old city. It was as if we had walked into a movie set. It was really quite amazing.
We walked around the old city, taking in most of the major sites — the bridges, the main church, a belfry.
And that's when we discovered the movie theatre. The only other time we have gone to the movies on a sightseeing trip was to Easy Rider in 1969. I was dying to see it & I fell asleep during that movie! Marty never let me live that one down! As recorded in an earlier report, we saw Grace of Monaco and enjoyed it thoroughly.
After the movie (it's after 10 PM at this point and the sun hasn't set yet), we fell into a Cantonese restaurant which, surprisingly, was terrific.
The next morning we went to the Castle of the Counts which was much more interesting on the outside than inside.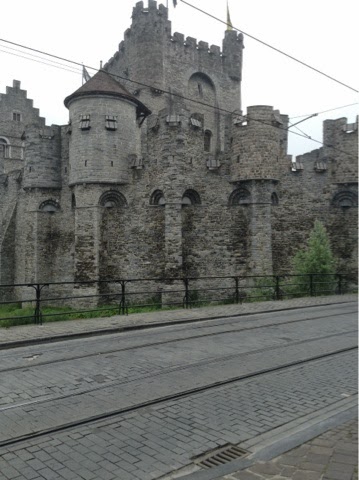 After that we drove to Amsterdam, again in torrential rain, for the remainder of our journey. To be continued.
Love,
Your Diligent Reporter