Dear Readers:
I know it's over a month since we returned from South America, but, as promised, here is my Haber Report and assessment of Buenos Aires.
I had heard that most visitors to BA love it, particularly because it reminds them of Paris with its huge boulevards. I would have to say that while there are large boulevards and lots of interesting things to see (and we were so happy to be touring on our own after 2 weeks of organized tours), I really didn't get the comparison to Paris. While I did enjoy my stay in Buenos Aires, it ain't Paris; not even close. Perhaps the weather played a part in this assessment. We were in BA for 4 days; the first day was incredibly hot; high 90's as we walked and walked around the city. The second day was grey, grey, grey; the temperature dipped a little and it rained a little. Days 3 and 4 were similar to Day 2.
There was, however, lots to see and we spent 4 fun days traipsing through the city from one end to the other. Let's start with the museums. As you might suspect, we went to quite a few of them. The one I enjoyed most was actually the very last place we went to on our last day of this 3 week journey. Since we were quite tired by then (I've decided that 3 weeks is a little too long to be away and on the go), it gives you an indication of how special this last place was. It was called El Zanjon (gorge) de Granados. All 500 years of Buenos Aire's history are packed into this unusual house. The street it is on was once a river, hence the gorge of the property's name. This is where the first unsuccessful attempt to found Buenos Aires took place in 1536. The current owner of the building bought the property in 1986. When he started to develop the rundown building, he discovered pottery, cutlery and a 500 foot network of tunnels that has taken 20 years to excavate. The building has now been restored. It originally housed a tenement with 23 bedrooms which housed 23 families. This is a photo of one of the original brick walls.
My next favorite museum was the Evita Museum. There are several tourist attractions in BA devoted to Evita. (In fact, many of them were described in last Sunday's Travel section.) Eva Duarte de Peron (known as Evita) was revered by her working class followers and despised by the Anglophile oligarchy of the time. The museum conveys facts about her life and works, particularly the social aid programs she instituted and her role in getting women the vote. Her reputation as a fashion plate is reflected in the many designer outfits on display, including her trademark working suits and some gorgeous ballgowns.




Speaking of Evita, a trip to Buenos Aires is not complete without a visit to Cementerio de las Recoleta — the city's oldest cemetery — which is where Evita is buried. The cemetery is 13.5 acres with 6400 elaborate vaulted tombs and mausoleums, 70 of which have been declared historic monuments. While many of the tombs have huge statues on them, Eva Peron's tomb was not particularly interesting to view.



My third favorite museum was Museo Casa Carlos Gandel. Carlos Gandel is credited with inventing the Tango. The museum included memorabilia about his life as well as part of the house he lived in with his mother who took in ironing to support them.
Here's Marty listening to tango music in the museum
I schlepped Marty to a bunch of other museums as well, including MALBA (Museum of Art from Latin America in Buenos Aires) which included works by Diego Rivera and Frieda Kahlo; the National Museum of Fine Arts which contains the world's largest collection of Argentinian art as well as a large collection of European painting from the 14th through the 20th century including some Impressionist paintings; the Museum of Decorative Arts which is housed in a French neoclassical mansion and included period furnishings, porcelain and silver; and the Museo de la Ciudad (which is about the city itself).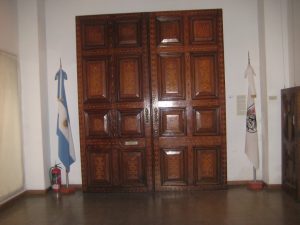 Typical porteno doors in the Museo de la Ciudad
Buenos Aires has a fairly large Jewish population and we attempted to visit several of the synagogues; attempted being the operative word. The first synagogue we went to was closed but here's a photo of the outside:
The second one we went to refused us admittance since we weren't appropriately dressed. I told you how hot it was; we were in shorts. (As an aside, I've been denied admittance to religious institutions since the summer of 1969 in Italy!) At the next 2 synagogues we went to Marty talked his way in even though in both instances the guard didn't want any strangers inside but the care taker acquiesced. They are very security minded with huge barriers in front of each synagogue and barely any other indication on the outside that it is a synagogue. Marty also wanted to visit the community center that had been bombed in the '90's. Well, he almost lost his camera in the process. Two men (Marty swears they were from the Mossad!) ran at him across the street as he lifted his camera. The community center itself is gone, so who knows what is currently housed in the building that was being so vehemently defended! In keeping with the Jewish theme, we did, of course, locate a bagel bakery on our last day. Here's Marty enjoying his lox and cream cheese:
In addition to museums and Judaica, Buenos Aires has various other sites of interest which we visited including the Plaza de Mayo (the main plaza in BA), the Puente de la Mujer (Bridge of Women), Casa Rosada (which houses the government's executive branch; the president works there), an Obelisk (a smaller version of our own Washington Monument in DC but you can't go inside), the Colon Teatro (their main opera house), a Japanese Garden as well as a Botanical Garden. A fun part of the city is called La Boca which is an Italian bohemian neighborhood complete with cobblestones, tango dancers and haphazardly constructed, vividly painted houses which were kitschy but fun.
Here's a guard at Casa Rosada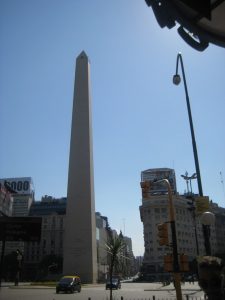 The Obelisk
The Japanese Garden




























Caminito in La Boca










Funny story/coincidence department: on our first day in BA we fell into a lovely little restaurant for lunch. We got into a conversation with a couple of Americans from Los Angeles. Turned out the guy had graduated from CCNY in 1958.
Which brings us finally to the food. Since Argentina is known for its beef, the first night we ate in a typical parillo or grilled steak restaurant called Don Julio. While the steak was good, it was definitely not the finest steak I've ever had. The frites, however, were excellent. All in all, the restaurant had lots of atmosphere and was a fun place in which to eat. Buenos Aires has a large Italian population, so naturally the second night we ate at an Italian restaurant called Sottevoce; we had a lovely dinner there. The third evening (and our last of the trip as we boarded a plane to return home on our fourth and last evening in BA) I had selected a special restaurant well in advance of our trip (no big surprise there!) It sounded fabulous–an 11 course tasting menu. I thought it would be the perfect way to end our trip. I neglected to consider the fact that at this point we'd been eating our way around South America. As the day approached, the thought of a meal of that size (and probable richness) was making me ill. When I suggested to Marty that we cancel this meal, he was all in favor. So we ended our trip with a lowly hamburger in the hotel that evening.
So this concludes my Haber Travel Report from South America. I hope you have all enjoyed traveling with us. My next report will be from a less esoteric location (but should be fun nevertheless). We will be traveling with the Davids to South Dakota at the end of June. We'll be hitting all the hot spots (!) — Mount Rushmore, the Badlands, the Black Hills, Custer State Park and a bunch of caves.


Till then I remain
Your Roving Reporter,
Irene